For Day 4 of our Stampendous Blog Hop and Giveaway, both design teams are excited to share fabulous inspiration and tips using both companies' products. Keep scrolling to see what they have done! Enter to win giveaways so stay with us until the end for details.
Tracy McLennon's Christmas Elf Card
Hello, paper crafters, Tracy here sharing my super cute little Christmas Elf card created using Scrapbook Adhesive by 3L® and Stampendous stamps, dies, and glitter.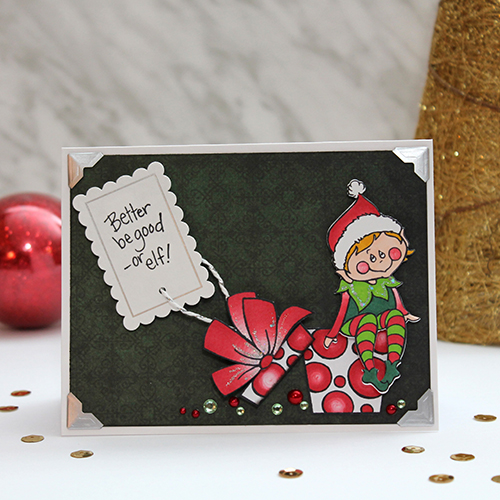 To start, I stamped and die-cut this super cute elf and gift designs from the Seated Elf Cling Stamps and Dies Set. I coloured the die cuts with Chameleon Pens. With the Dual Tip Glue Pen, I added glitter from the Frantage Encrusted Jewel Kit for detailing on gift box bow and the elf. Finishing touches include lots of dimension using 3D Foam Squares and another hint of silver with the Creative Photo Corners in silver.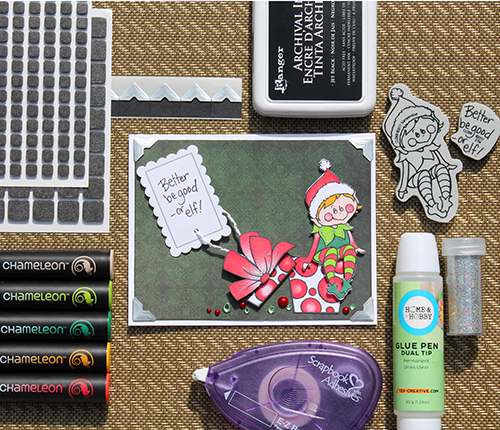 For the full tutorial, visit my blog by clicking: Christmas Elf Card Tutorial.
Scrapbook Adhesives by 3L® Supplies:
Dual Tip Glue Pen
3D Foam Squares Black Mix Pack
Creative Photo Corners in Silver
E-Z Runner® Grand
Stampendous
Frantage Encrusted Jewel Kit
Seated Elf Cling Stamps and Dies Set
Other:
Silver and White Baker's Twine; Archival Ink (Jet Black); White Cardstock; Heartfelt Creations: Patterned Paper; Chameleon Pens (YG3, GR4, RD4, NU1)
Beth Pingry's Poinsettia Card
Today I have the pleasure of using the Wrapped Poinsettia cling stamp and die set and the Encrusted Jewel White Kit, along with a little bit of gold EP too. And always, Black Creative Photo Corners and 3D Foam Squares for my adhesives.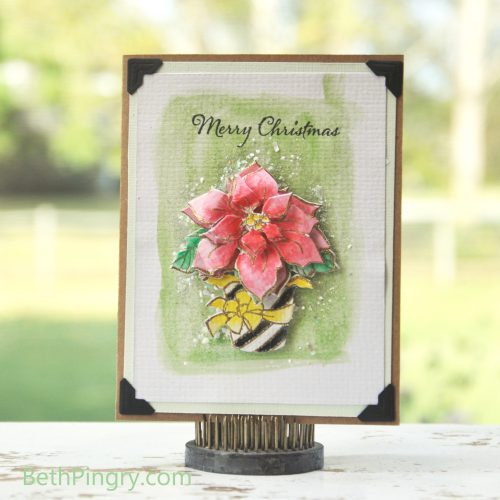 These stamps and dies are designed to be layered. First I stamped and embossed onto watercolor paper, then colored with watercolor pencils. I brushed in a little bit of water to soften the shades, allowed it all to dry, then die cut.
To create the background I swished watercolor paint onto watercolor paper. Using the Encrusted Jewel Technique, I mixed all the ingredients in the kit (mica, crystal embossing powder, glitter mix, fragments, chunky embossing powder). I spooned it onto two watercolor panels and heated it from the bottom (instructions are included in the kit and on the Stampendous website.)

Wowsers! What a fun and sparkly background technique!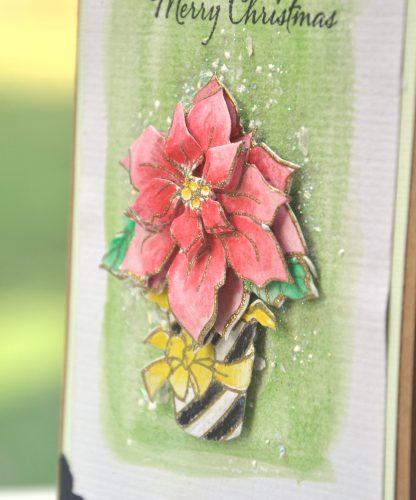 Finish by bending and 'fluffing' the pieces of the poinsettia, and adding 3D Foam Squares between the layers to create dimension. I stamped Merry Christmas at the top for a unifying black element. Due to the nature of watercolor paper, I used Premium Double-Sided Tape 1″ to adhere the paper to the light green cardstock.
Find Beth's blog at Cookies for Breakfast
Scrapbook Adhesives by 3L® Supplies:
3D Foam Squares White Mix
Creative Photo Corners Black
Premium Double-Sided Tape 1″
Stampendous
Encrusted Jewel Kit White
CLD111 Wrapped Poinsettia Stamp and Die set
Gold Embossing Powder
Other
Cardstock, watercolor paper, watercolor pencils, black ink
If you missed our other blog hop days, we've got you covered! Visit:
Day 5, click: Stampendous Blog Hop and Giveaway – Day 5!
Day 3, click: Stampendous Blog Hop and Giveaway – Day 3!
Day 2, click: Stampendous Blog Hop and Giveaway – Day 2!
Day 1, click: Stampendous Blog Hop and Giveaway – Day 1!
Blog Hop Prize Details

Enter to win by leaving a comment through the Rafflecopter App.
Winners are randomly chosen. U.S. entries only.
If you cannot see the comment section (at the bottom of this post), please click: Stampendous Blog Hop and Giveaway – Day 4 and scroll down to the bottom of the post.
Connect with us!
Visit our Website and Blog!
Sign up for our Newsletter so you never miss a contest or giveaway!