Create this DIY gift card holder using tag etched dies and put together with Adhesive Sheets 4 x 6ʺ and Extreme Double-Sided Tape ¼ʺ for a sweet and rustic package!
Hi everyone! Judy here today with this fun gift card holder idea that is easy to make. I always like to wrap a gift card as a package rather than tucked in an envelope. It can be adapted to other occasions, too!  I've added a festive tag, along with holly and berries die cuts and the back will have space to personalize it.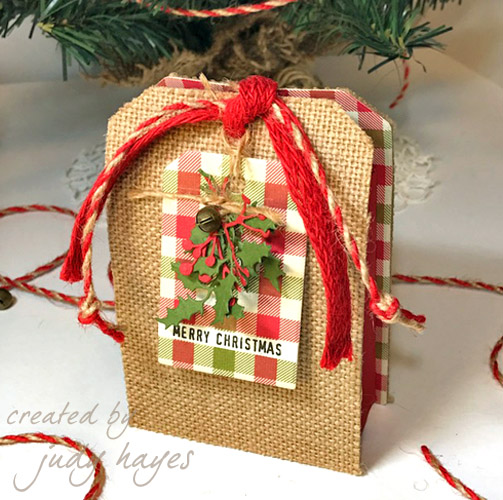 DIY Card Holder Basics
First, die-cut two 3¼ x 5ʺ tags from burlap paper. On check patterned paper, apply Adhesive Sheets 4 x 6ʺ on the back and die-cut another set of tags.  Fastened the patterned check tags to the back of each burlap tag.  By doing this, it gives the burlap texture a great festive look against the check paper!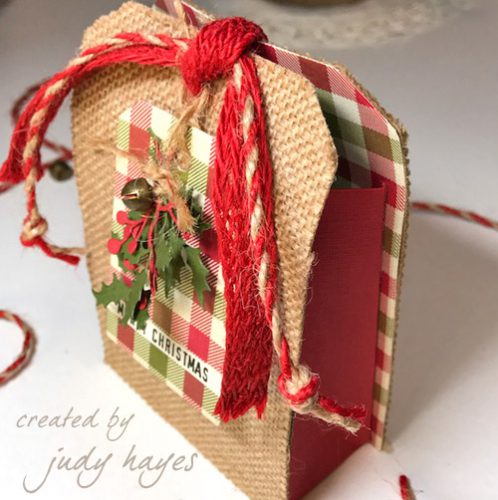 Next, we will fasten the tags together with a piece of red cardstock which forms the sides and bottom.  To achieve this, cut 2 x 11ʺ piece of red cardstock and score/fold at ¼, 4, 7, and 10¾ʺ as well as ¼ʺ along both long sides.  Extreme Double-Sided Tape ¼ʺ was applied to all edges.  Fold down short ends to make a finished edge.  The long sides fasten to the tags to form the holder.
Tag Details
Use the same patterned check paper and adhere a light color paper with Adhesive Sheets 4 x 6ʺ to create a two-sided patterned paper. Then die-cut with the tag etched die. Next, die-cut holly and berries shapes. Along with a jingle bell, adhere all to tag with Adhesive Dots Small.  The stamped greeting strip is fastened with E-Z Runner® Micro Refillable Dispenser which is the perfect adhesive for narrow strip of paper! Tie the tag with twine that closes the gift card holder.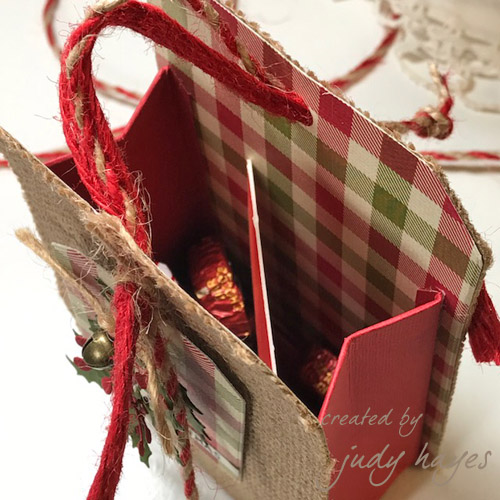 There's even room for a few candies along with a gift card!
Thanks for visiting!  Wishing you all a joyous holiday season!
Judy
Scrapbook Adhesives by 3L® Used:
Adhesive Sheets 4 x 6ʺ
Dodz Adhesive Dots Small
E-Z Runner® Micro Refillable Dispenser
HomeHobby by 3L®
Extreme Double-Sided Tape ¼ʺ
Other:
Authentique Paper: Vintage Christmas Collection; Little B: Tags Dies; DCWV: Burlap Paper; Tim Holtz: Tiny Bells, Holiday Greens Mini Dies; Cardstock: Red, Green and Balsa; Tsukineko/Imagine Crafts: Versafine Ink; Twine