Do you love rainbows? How about gold foil?  Marbled papers?  If you raised your hand for any of those then you are in luck because today I am going to share how I combined all three of those beauties to make this colorful ensemble!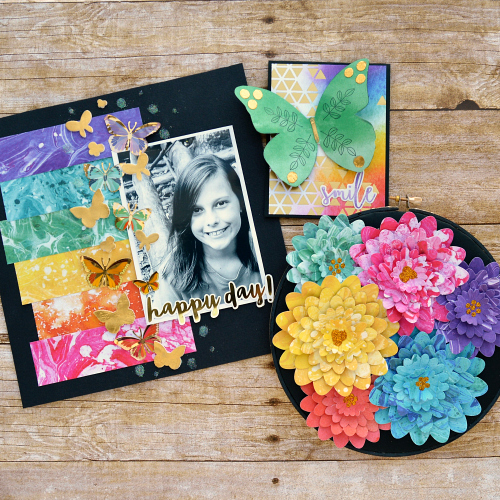 I wanted a trio that was eye-catching and bold so inevitably I went for that with my colors! Rainbow papers in a variety of marbled designs combined perfectly with the gold foil I was going to use to do a "Wear Your Adhesive on the Outside" Technique!
Scrapbook Layout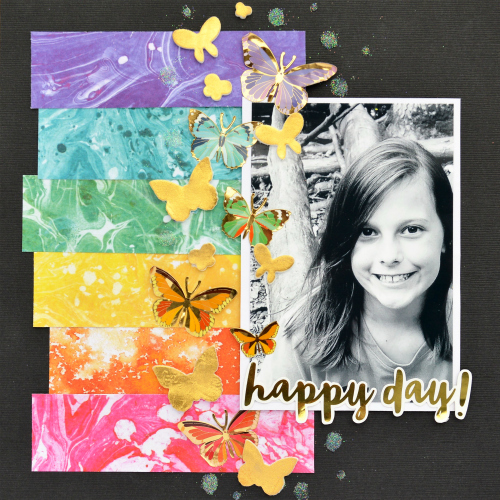 This bottom layer of this layout came together quickly thanks to the help of my E-Z Runner® Grand and Crafty Foam Tape.  Next came the fun part – adding gold foil to the 3D Foam Butterflies!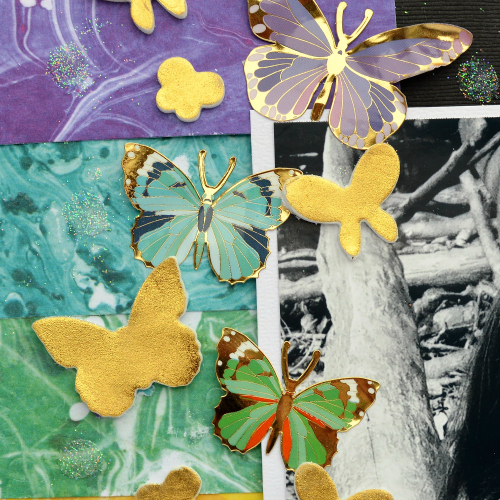 I used foil from the 3D Foam Creative Embellishment Kit. This was the EASIEST technique in addition to being so satisfying!  Have a look at my video below to see just how simple it is!
Card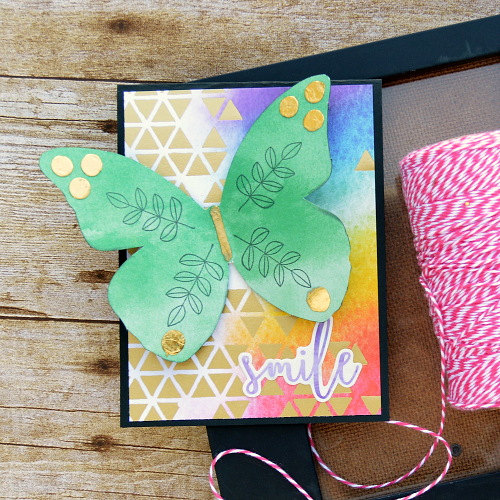 Considering I was now on a bit of a foiling kick, I decided I would carry on and see what other things I could foil.  How about Adhesive Dots and Adhesive Lines?  Believe it or not, the answer to both questions is YES, either of these products will work!  Consequently, I foiled both of those and then added them to my butterfly for this simple card.
Flower Bouquet Embroidery Hoop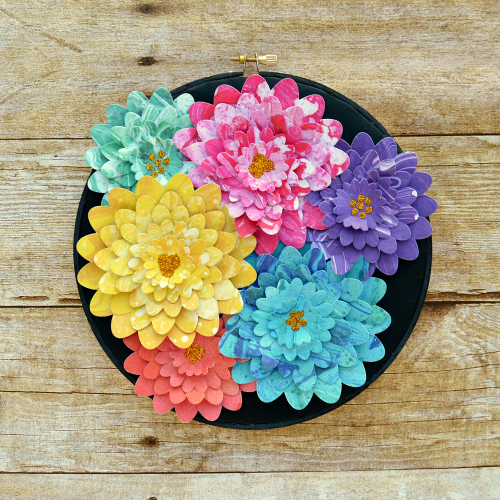 Lastly, to round out my ensemble, I wanted to create a decor piece that had some pretty colors in addition to dimension.  Unfortunately, there was no room for foil on this! Instead, it required gold glitter! After coloring my embroidery hoop black I secured black cardstock to it using a combination of Adhesive Lines and Extreme Double-Sided Tape 1/8in.
I cut out layers of flowers and due to my desire to make them really tall, I used 3D Foam Squares in between each layer.  I also pulled up the individual petals and curled them back under to give them another level of dimension.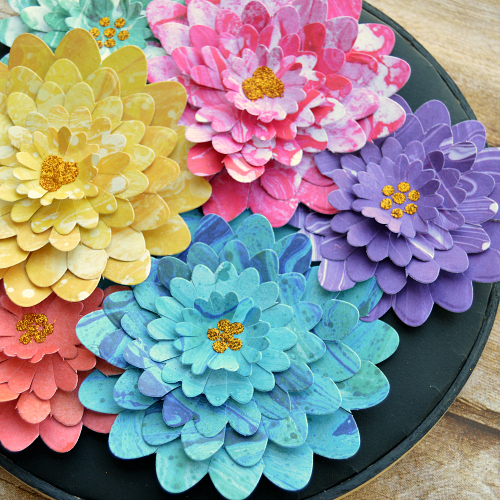 Finally to the center I added various sizes of Adhesive Dots and gold glitter to create the center of my flower. Foil probably would have worked here, but I didn't want to mess with the delicate centers!  Seems like doing this ensemble may have just turned me into a foiling machine….until next time I'll be covered in foil :)!
Thanks for stopping by today!
-Christine
Scrapbook Adhesives by 3L Supplies
E-Z Runner® Grand Refillable Dispenser
Adhesive Dots Large
Dodz Adhesive Dots Mini
Crafty Foam Tape
3D Foam Creative Embellishment Kit
3D Foam Squares White Mix
Extreme Double-Sided Tape 1/8in
Adhesive Lines
3D Foam Butterflies
Other:
Patterned Paper & Stickers: Paper House Productions