Hi friends! Dana Tatar here today sharing a fun and colorful zipper clutch. I was born in the 1980s and I am so excited to see geometric designs and neon colors come back into fashion. My young daughters aren't sold on this trend, but I'm happy to relive the days of my youth! I colored, stamped, and embossed a plain canvas clutch to make a rad accessory.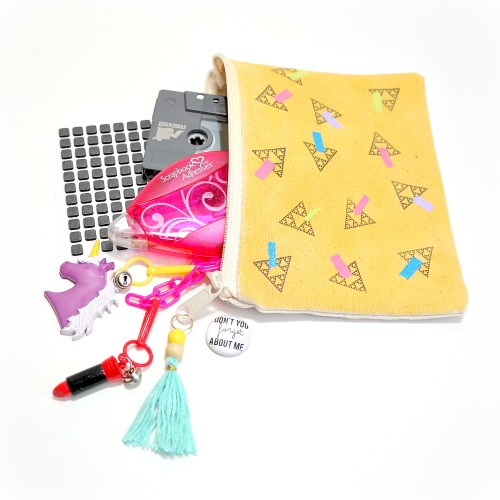 I used Adhesive Sheets with embossing powder to add neon accents to this clutch. Adhesives Sheets are flexible enough to adhere to a textured surface like canvas and also provide a strong bond for a no-mess application of embossing powder. The solid blocks of bright color really helped add flair to my design.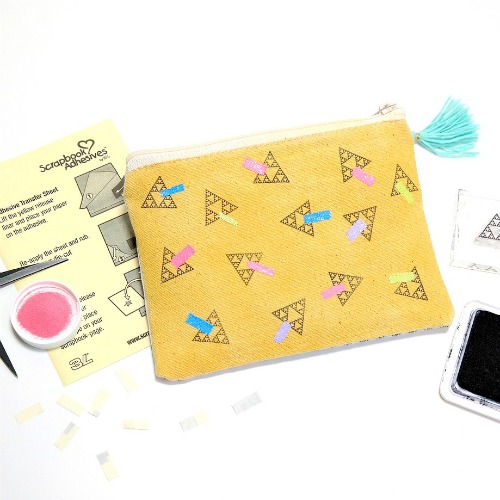 How to Transform a Canvas Clutch from Blah to Bodacious
First, prime the canvas for maximum color absorption with a spritz of water. Next, choose a bright color of spray mist to apply to the clutch. Spread the color around the canvas with a paintbrush and blend with more water if necessary to achieve a solid base color. Dry with a heat tool.
Stamp a geometric pattern onto the canvas in a random fashion. Be sure to use a dark color of permanent ink.
Cut an Adhesive Sheet into quarter-inch rectangles. Then, remove the yellow backing layer and firmly press the Adhesive Sheets onto the stamped shapes.
Finally, peel off the backing paper, apply neon embossing powder to the adhesive, and apply heat to set.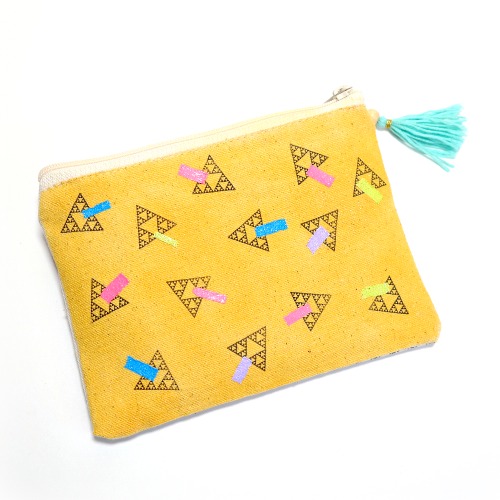 I'm ready to jet with all my essentials like my mix tape, a charm bracelet, and emergency adhesive! Thanks for stopping by today! What would you carry in this clutch? Let me know in the comments section.
Scrapbook Adhesive by 3L®:
Adhesive Sheets 4×6 inch
Other Supplies: Zipper Clutch; Mist; Black Permanent Ink; Neon Embossing Powder; Sacred Geometry 2 Clear Stamp Set (Paper Wings Productions)