Have you ever been working with a collection and found that an embellishment isn't quite what you need? Maybe it's missing a color or some texture? Often times adhesives can rescue you and help you modify the project! Christine joining you today to showcase how I used the Dual Tip Glue Pen to modify a chipboard embellishment and make it work better for my layout!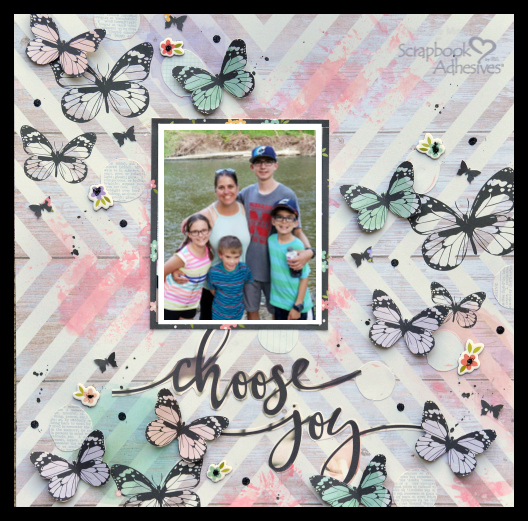 In the Paper Crafting Industry we have lots of pre-made embellishments and products.  But when you want to add a personalized touch OR the product just isn't quite the look you are going for, adhesives can become your best friend.  Especially if you are willing to "Wear Your Adhesives on the Outside."
Dual Tip Glue Pen to the Rescue
In this case I had these adorable chipboard flower embellishments.  But because I was working with a lot of black they were overwhelming the layout in their original form.  They needed just a touch of black.  Dual Tip Glue Pen to the Rescue! I used this handy little adhesive and just added a dot to the center of each flower.  I then added black glitter to bring in some black.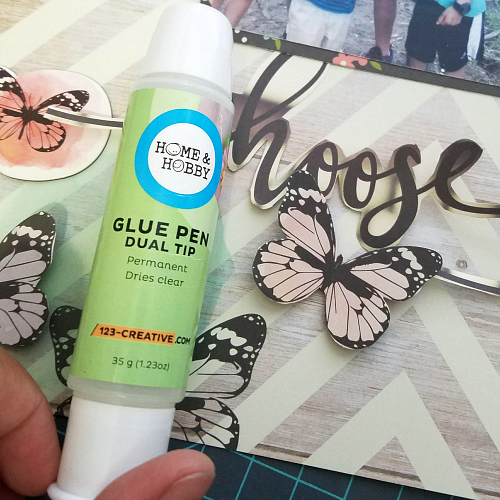 Of course let's not forget the usefulness of this adhesive in a traditional manner as well!  I cut out a thin script title and it made securing it much easier!
Other Handy Adhesives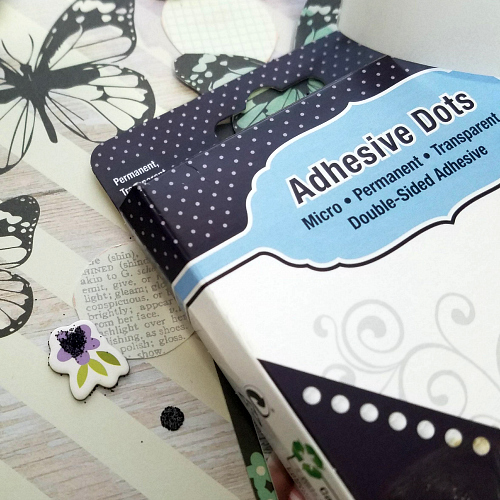 I used a similar approach with my glitter to add some dots to the patterned paper however in this case I used the Micro Adhesive Dots to add glitter. Adhesives are a great way to add color and texture – be it through glitter, embossing powder, flocking, foil….the possibilities are endless!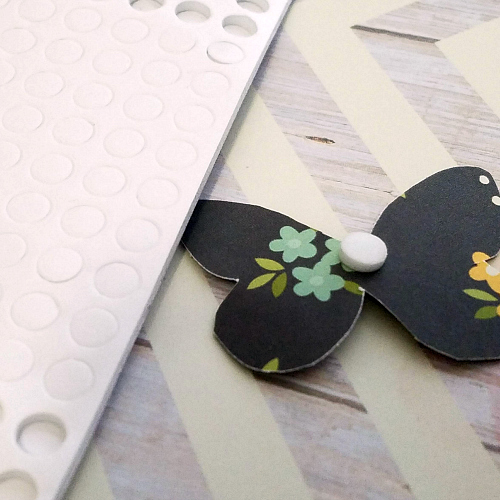 Most of the butterflies on this layout were fussy cut from a patterned paper.  Then I added them using the Small 3D Foam Circles!  By adding them to the center I was then able to make the wings pop up and add some dimension to the whole layout.
So the next time you are looking to make the product work for you – consider pulling out your adhesive to change things up!
Creative Time: 25 minutes/Beginner Level
Materials Needed:
Scrapbook Adhesives by 3L®:
E-Z Runner Grand Refillable Dispenser
Adhesive Dots Micro
3D Foam Circles White Mix
HomeHobby by 3L®:
Dual Tip Glue Pen
Other Supplies: The ScrapRoom May Flavors of the Month Kit, Black Glitter from Doodlebug Design