Did you know that this Mixed Media Collage is assembled with Scrapbook Adhesives by 3L®? OH yes! There is more to these adhesives than meets the eye. Hi friends, Linsey here today. In addition to card making and scrapbooking, I also enjoy creating mixed media art. Take a look at how I mixed media with Scrapbook Adhesives by 3L®.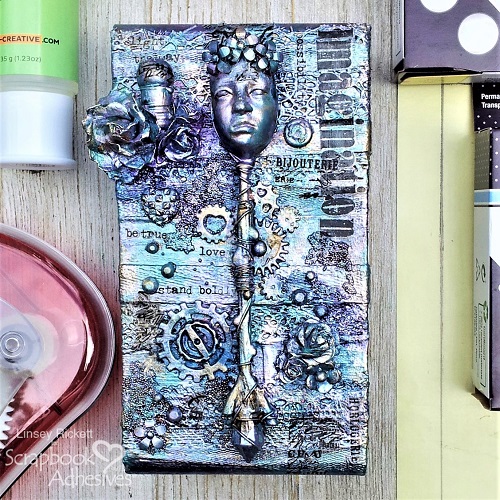 Mixed Media Collage Background
I started with a small wood block. To create a textural background, the block was covered with an Adhesive Sheet cut to size and a variety of ribbon strips and lace trims were wrapped around the block horizontally from top to bottom. Adhering fabric to wood has never been easier. Using Adhesive Sheets allowed me to continue on to my next step without interruption or wait time versus a liquid adhesive. It's no secret to us makers how wonderful instant gratification is when crafting (insert happy crafty dance here)!
In this step, I also used the E-Z Runner® Grand Refillable Dispenser with the E-Z Runner® Grand Ultra Strong Refill.  I found it to work just as well, if not better, for some of the more stubborn strips of trim. The E-Z Runner® Grand Ultra Strong Refill is perfect for heavier papers and embellishments as well so it came in handy on a few other areas of my project.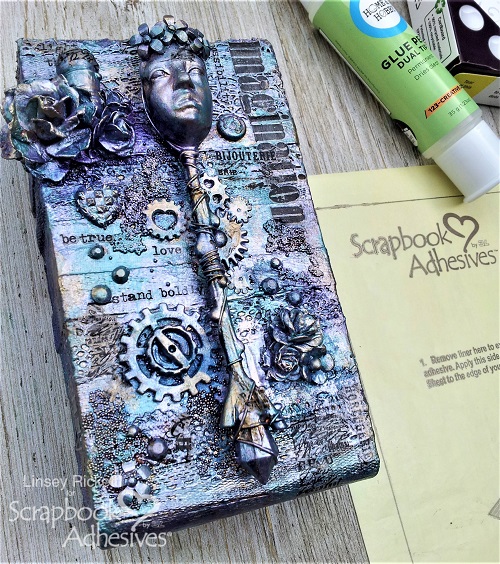 Painted and Embellished Process
Paint three layers of white gesso over the block, allowing to dry between each layer.
Determine the arrangement of the Collage pieces on the block. Then paint each one individually before adhering them down. The face on the spoon was adhered using Dual Tip Glue Pen to the spoon and the spoon itself adhered with the same glue pen onto the block. Let dry for several hours as I used heavier amounts of liquid adhesive on the heavier embellishments. Under normal circumstances, the Dual Tip Glue Pen would normally bond in minutes.
The Adhesive Dots Micro and Adhesive Dots Large were used for smaller embellishments such as mini gems, bling brads, and acrylic accents. I covered the entire piece with another layer of gesso and let dry. I placed tiny microbeads on the board, securing them with the Dual Tip Glue Pen.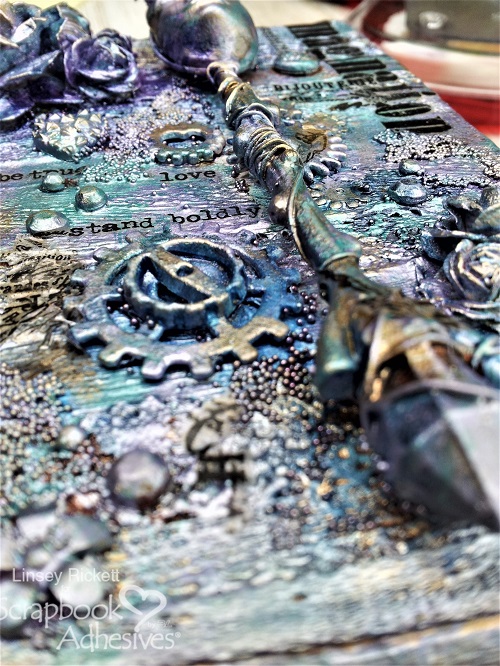 To make it more interesting, I used a variety of inks and sprays and dried with a heat gun. Lastly, rub-on words were added to the project.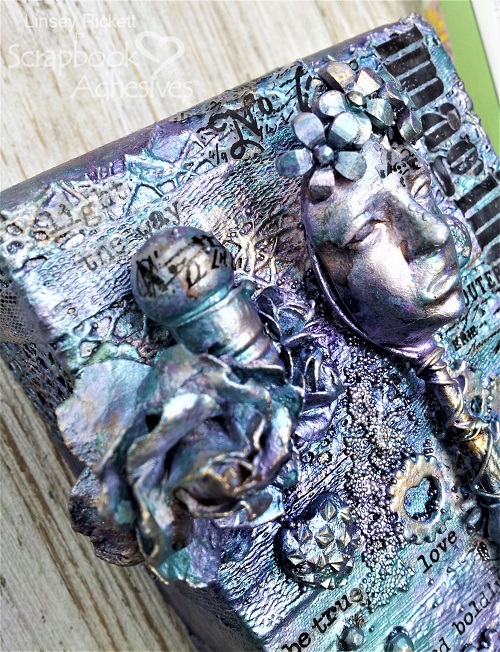 I hope that you enjoyed my mixed media project! Thank you so much for stopping by today and until next time, happy crafting!
Creative Time: 60 minutes
Skill Level: Advanced
Materials Needed:
Scrapbook Adhesives by 3L®:
Adhesive Sheets 12×12 inch
E-Z Runner® Grand Refillable Dispenser
E-Z Runner® Grand Ultra Strong Refill
Adhesive Dots Micro
Adhesive Dots Large
HomeHobby by 3L®:
Dual Tip Glue Pen