It's getting close to one of my favorite times of the year; the 4th of July!  I love to celebrate the birth of our great nation with fireworks, grilling out and sharing special treats.  Terri here, sharing this festive trio of patriotic treat boxes with creative embellishment tips!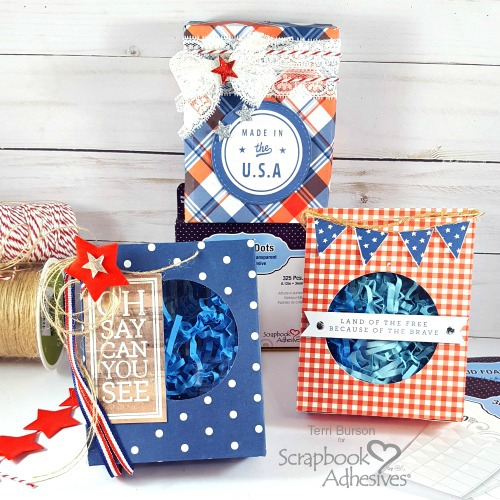 Patriotic Embellishments Using Foam Shapes
I pulled out several foam shape kits to decorate my die cut treat boxes, including the 3D Foam Stars and 3D Foam Pennants.  I wanted to incorporate my decorative paper onto my foam shapes.  It's quick and easy!  Simply trace the outline of the foam images onto decorative paper, then trim with scissors.  Apply the paper star (as pictured below) to the foam star and you have instant dimension!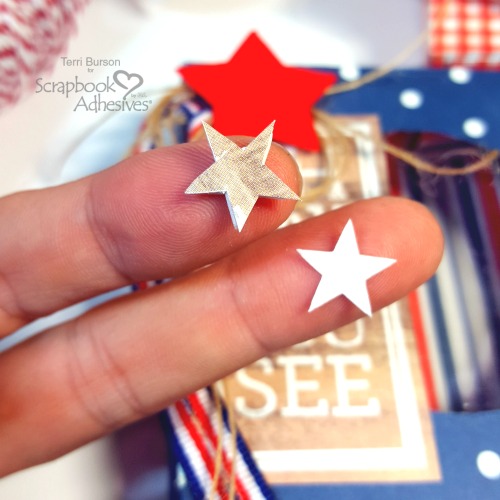 Embellish With Glitter and Foil
Foiling is always fun, so I brought out the 3D Foam Creative Embellishment Kit.  I chose the red foil from the kit to embellish one of the 3D Foam Stars.  It ties together so nicely with the plaid paper design, don't you think?  I also added silver glitter to a few stars and scattered about.   The die cut circle sentiment is also popped up, courtesy of the large foam circles from the 3D Foam Circles White Mix.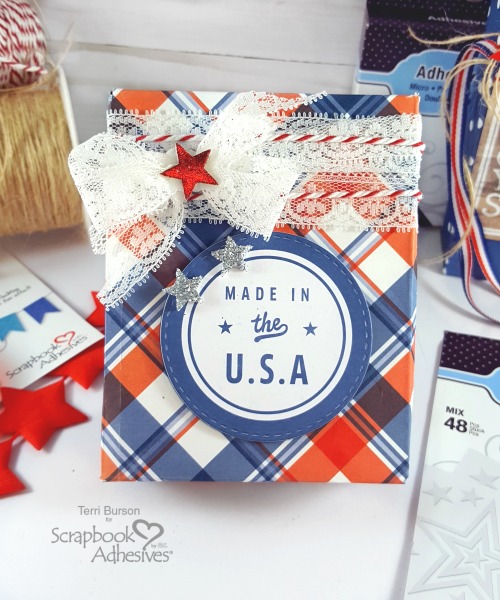 Creating The Magic Seal
There's one thing that all three of my patriotic treat boxes have in common.  Any guesses?  The E-Z Runner® Grand Refillable Dispenser!  I swapped my cartridge for the E-Z Runner® Grand Ultra Strong Refill.  It truly is my favorite for having that added level of security to seal all those tabs inside.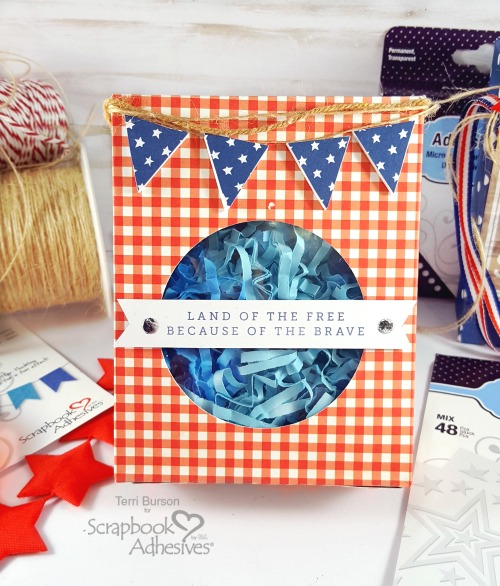 The last elements that I'm using today are the Adhesive Dots Micro for my patriotic treat box above.  I used the silver foil sheet from the 3D Foam Creative Embellishment Kit to add a little sparkle and shine on my border sentiment.  It's another great way that you can "Wear Your Adhesive On The Outside!"   I also really love the starry paper that tops my 3D Foam Pennants and adds that extra touch of Americana!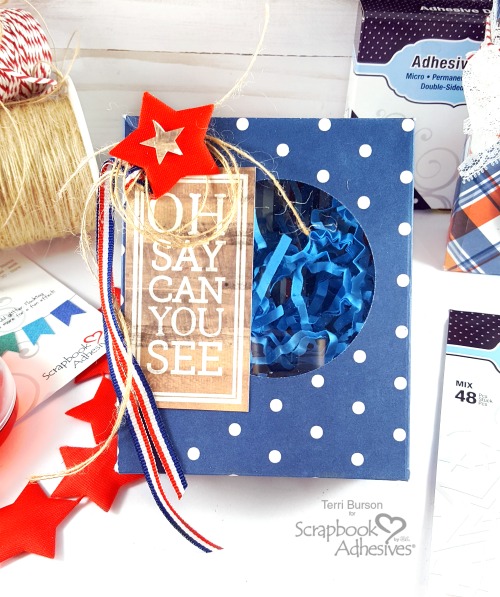 Thank you so much for stopping in.  If you would like the full list of product links, please visit my blog at Waving My Wand.
Creative Time: 30 minutes
Skill Level: Beginner
Materials Needed:
Scrapbook Adhesives by 3L®:
3D Foam Stars
3D Foam Pennants
E-Z Runner® Grand Refillable Dispenser
E-Z Runner® Grand Ultra Strong Refill
3D Foam Circles White Mix
3D Foam Creative Embellishment Kit
Adhesive Dots Micro
Other:
Pebbles Inc Americana Collection, ATC Mailer Box file from svgcuts.com, May Arts Ribbon, circle die, manual and electric die cut machine, scissors, score board, trimmer
ROUND ROBIN BLOG HOP + GIVEAWAY with Hero Arts
Ends Tomorrow (11:59 PM Central)!

For details, CLICK: BLOG HOP + GIVEAWAY with HERO ARTS!