Hi friends! Dana Tatar here today sharing a colorful mason jar ring ribbon wreath. I'm anxiously awaiting the arrival of Spring. I freshened up my front door décor with this simple farmhouse style wreath made from mason jar rings, ribbon, and double-sided tape.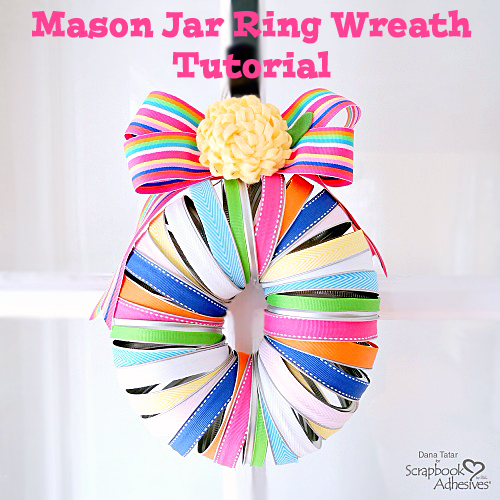 Double-sided tape is my preferred medium to use with ribbon for several reasons. I'm able to avoid the mess and drying time of liquid glue. Also, the ribbon does not become discolored from coming into contact with a wet adhesive.
How to Use Double-Sided Tape on Mason Jar Rings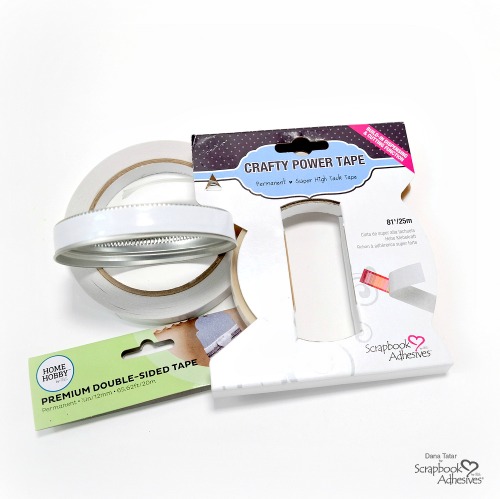 Cut (or tear) Premium Double-Sided Tape to length and apply to the mason jar rings. I used Premium 1/2-inch Double-Sided Tape on the majority of my rings. Most of the ribbon I used for this project is 5/8-inch wide, so the 1/2-inch tape fits nearly edge to edge underneath. One ribbon I selected for this project is 3/8-inches wide, so I used Crafty Power Tape, which is about half the width of the Premium Double-Sided Tape, for those rings.
All varieties of 3L Double-Sided Tape are strong and are great for use on off-the-page projects. The paper liners tear by hand which makes this tape so easy to use! The tape is available in four widths and holds embellishments permanently. Try sticking it to paper, canvas, ribbon, wood, and photos, in addition to the metal shown here.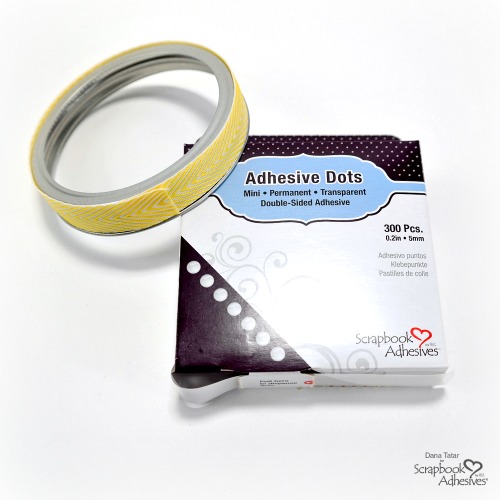 Once the tape was applied to each mason jar ring, I peeled off the white liner from the tape and smoothed ribbon over the adhesives. Next, I used a Mini Adhesive Dot to seal the end of each ribbon to the ring.
Please visit by my blog for instructions on how to assemble and embellish the wreath.
I'm thrilled with my new door décor! I chose a bright color palette for Spring, but this project can easily be adapted to match the mood of any season, sports team, or favorite color combination. Just change the ribbon.
Thanks so much for stopping by today!
~Dana
Creative Time: 30 Minutes
Skill Level: Beginner
Materials Needed
Scrapbook Adhesives by 3L®
Adhesive Dots Mini
Crafty Power Tape
HomeHobby by 3L®
Premium Double-Sided Tape 1/2 inch
Other
Wide Mouth Mason Jar Rings (32); Ribbon (Offray); Felt Flower and Leaf (Jillibean Soup); Twine
Save It to Pinterest!