Hi friends! Dana Tatar here today sharing how to use Adhesive Dots and Metallic Transfer Foil Sheets to create a mandala bud vase centerpiece.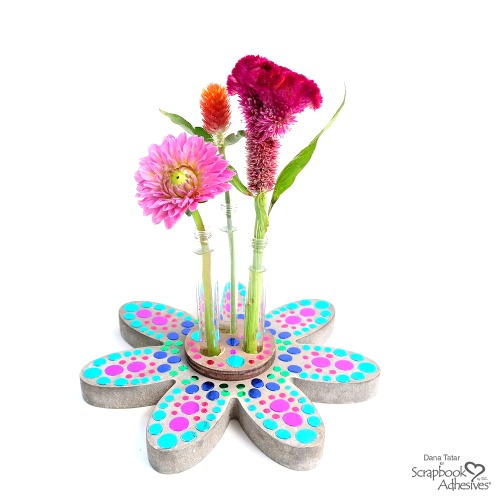 I'm always looking for fun ways to "Wear Your Adhesive on the Outside," which means using it as an embellishment, not hiding it between layers. This lustrous dot mandala pattern brings a fantastic pop of color to my décor.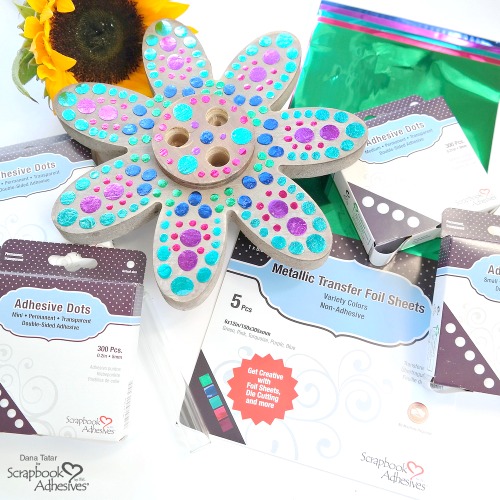 I started this project with a wood flower hanging. It made a great sturdy base for this centerpiece project. You can see I upcycled some old glass mist bottles into bud vases. The colored Metallic Transfer Foil adds a touch of sparkle to this piece.
Make the Bud Vase Base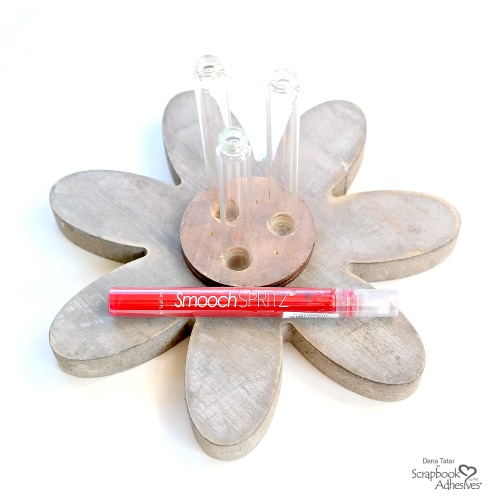 To begin, look around the house for items that would create a sturdy centerpiece. Any block of scrap wood or a wood slice will work. If empty misters aren't in your stash, try using an old perfume bottle or other piece of decorative glass.
Next, use an electric drill and bit to create holes to hold the glass bud vase, or vases, depending on your design. Three holes drilled with a 9/16th bit work for my design. You can vary the depth of holes so that each bud vase sits at a different height.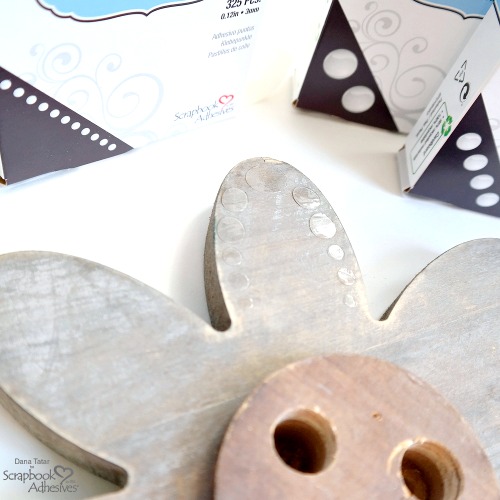 Apply Metallic Transfer Foil to the Base
Gather several sizes of Adhesive Dots and apply them to the wood base in a mandala pattern.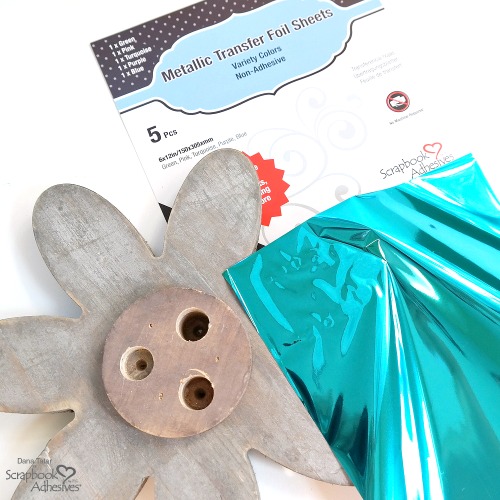 Then, apply Metallic Transfer Foil over the adhesive. This teal color is part of the Variety Colors.
Designer Tips: Work in sections, one color of foil at a time. Press the foil onto the adhesive, colored side up, and rub to transfer the foil. Then, quickly remove the sheet, like tearing off a band-aid.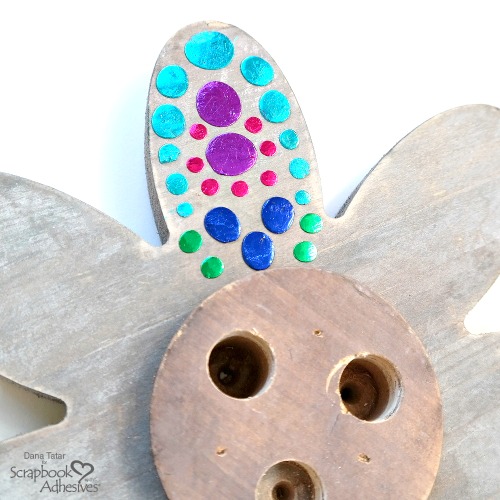 Repeat this process until all the Adhesive Dots on the base are foiled.
Finish the Mandala Bud Vases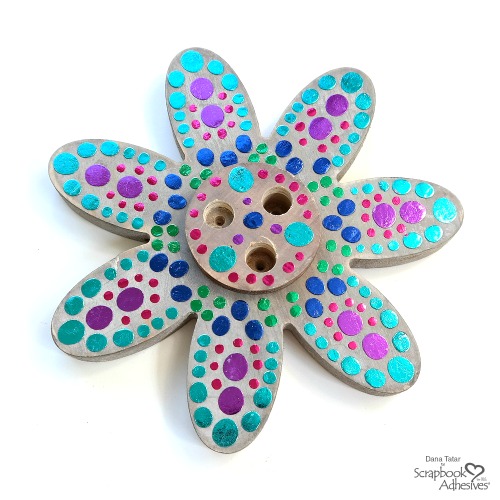 Fill the empty mist bottles with water and insert them into the drilled holes. Add a flower to each bud vase and enjoy!
Thanks for Visiting!
~Dana
Creative Time: 45 Minutes
Skill Level: Beginner
Materials Needed:
Scrapbook Adhesives by 3L®
Metallic Transfer Foil Sheets Variety Colors
Adhesive Dots in Micro, Mini, Small, Medium, and Large
Other:
Wood Flower: Jillibean Soup; Glass Mist Bottles: Clearsnap; Fresh Flowers, Drill and Drill Bit
Love It. Pin It!