Hi, Connie here with a unique re-purposing project to create Art Hangers! I have the perfect adhesives that are up to the challenge of making them.
For the artwork has to be secured and have dimensional elements, I used a combination of the Crafty Power Tape and the 3D Circle White Mix. What a great way to display artwork mixed media-inspired Art Hanger!
The Inspiration Behind the Art Hangers
The inspiration came from the Mixed Media Canvas by Judy Hayes. I loved how she created with the paper dolls giving the canvas a vintage look. My idea was to take vintage pant hangers and re-purpose them to hold ART creations. It could be for family photos, created ART, or just about anything you would like to display in a unique way.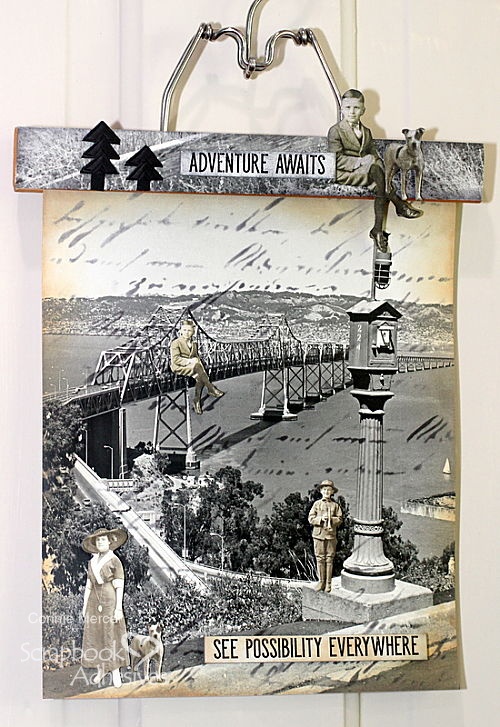 A close-up of the ART Canvas.
Designer's Note: The hangers are from resale shops. I paid about a dollar each. The other option is to use new hangers at retail stores and online stores too.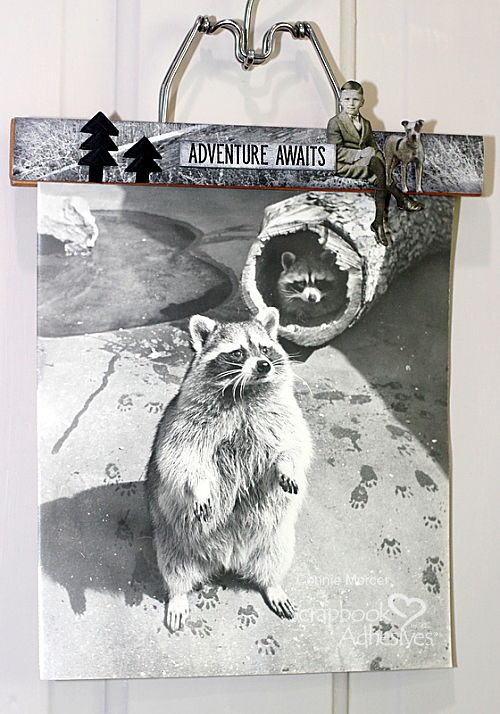 Gather the Supplies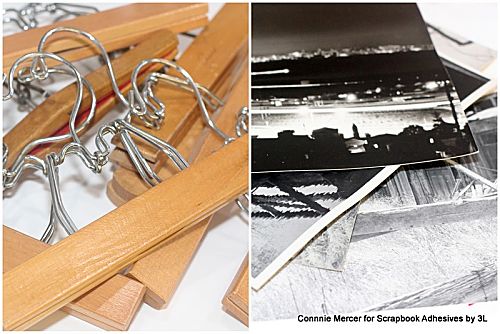 Supplies needed are the hangers and vintage photos. The photos can be found at resale and antique shops, and are pretty reasonable. You know it is all about the hunt, right?
The ART Hanger Process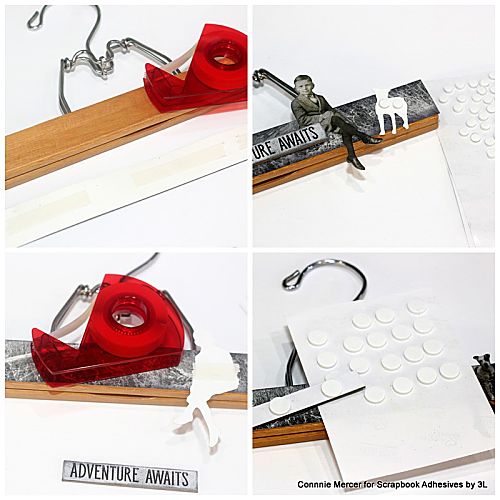 Cut the photo 1-inch by the length of the hanger. The hanger I used is 9-inch long.
Next, I adhered the photo strip to the front of the hanger using Crafty Power Tape.
Use a combination of the Crafty Power Tape and 3D Circle White Mix to adhere the paper doll embellishments to the hanger.
Distress the photo strip and the paper doll embellishments with black ink.
Creative Photo Corners Trees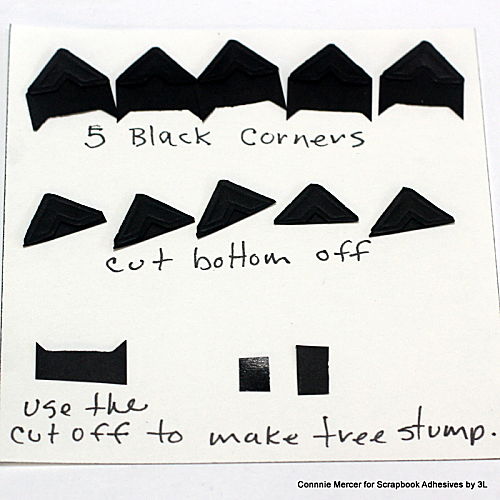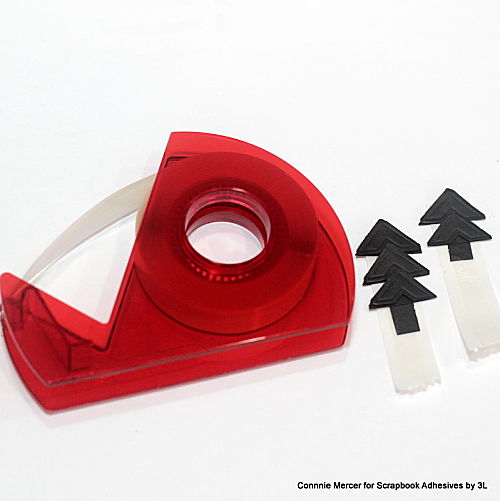 The trees were added to the front of the ART hanger with Crafty Power Tape and the Dual Tip Glue Pen.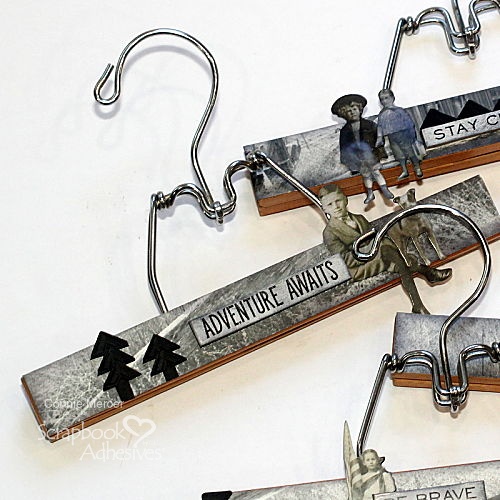 Each ART hanger was created using the steps listed above. Just change or add the paper doll embellishments and use the Creative Photo Corners Black in different ways.
Now go junkin'! Thanks for stopping by!
Connie Mercer
Creative Time: 60 Minutes
Skill Level: Intermediate
Materials Needed
Scrapbook Adhesives by 3L®
Crafty Power Tape
3D Circle White Mix
Creative Photo Corners Black
Home Hobby by 3L®
Dual Tip Glue Pen
Other
Vintage photos (8″x 10″) black / white mat finish, paper dolls by Tim Holtz, vintage hangers, Distress ink/Jet black, chipboard words by Tim Holtz
Save It to Pinterest!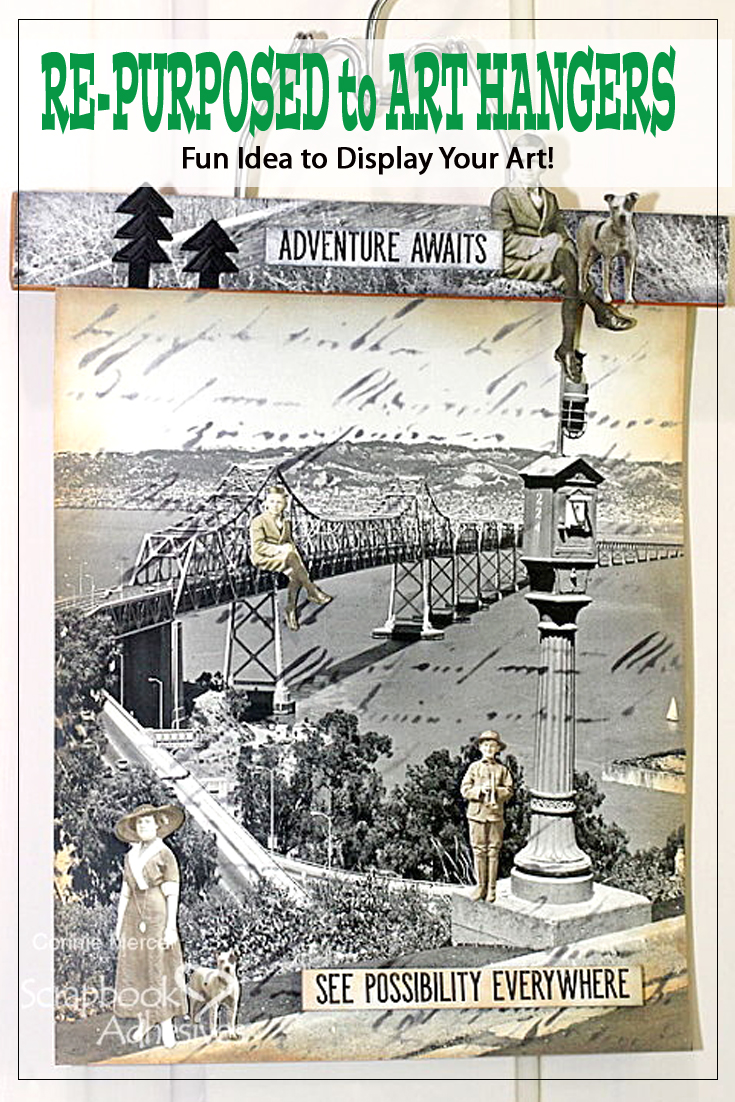 Visit our Website and Blog!
Sign up for our Newsletter so you never miss a contest or giveaway!