Hello everyone! Judy here today. I'm thinking ahead to Father's Day with a mixed media canvas for Dad. I've been watching many craft and art videos during this stay at home time. Sure enjoying those!
One of those videos gave me a spark of inspiration for the color scheme for this canvas. This is one time that I picked out a collection of supplies including dies, papers, and canvas with embossing powder. Then began to create! Very happy with how it turned out!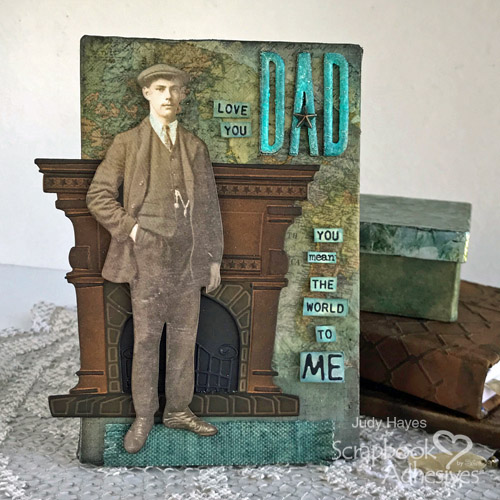 Mixed Media Canvas for Dad
Start with a 4 x 6-inch canvas, I was lucky to find the canvas at a dollar store. The size is perfect for this project!
Cover the canvas with patterned paper (you can see visible at the top right corner) and a map collage paper layered over it. Use another piece of pattern paper that fits across the bottom for the floor. Adhere the papers with the Dual Tip Glue Pen.
Stamp on the corners and across the floor. Ink the edges to hide the white canvas.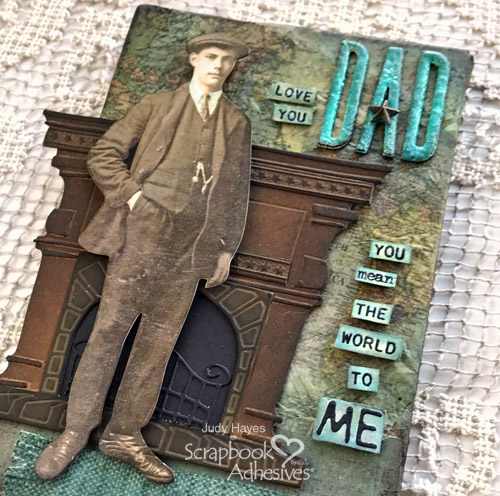 The Fireplace Feature
Kraft and black papers were used to make the fireplace pieces. Apply Adhesive Sheets 4×6 inch to the back of all pieces for the small die cuts which makes for easy assembly.
The Kraft pieces were inked with Distress inks. The fireplace was attached with Crafty Foam Tape White to pop it up. The star strip was added to finish the fireplace.
Mixed Media Dad
Dad is a photo paper figure with a touch of color from markers. The figure was secured with two layers of 3D Foam Squares Black Mix behind the head. In the middle (over the fireplace) and the feet, a combination of 3D Foam Squares Black Mix and Thin 3D Foam Squares Black Mix were used to allow for the extra thickness of the fireplace and the rug.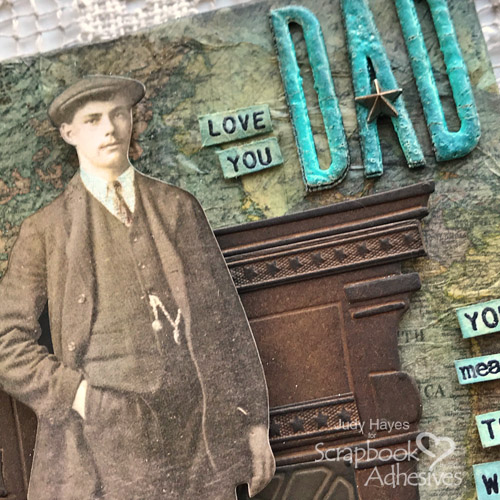 Working on the Title
Letters for "DAD" were die-cut from 3D Foam Creative Sheets Small in Black and a piece of black cardstock. Set the letters aside to work on another layer that will be added.
Next, I applied Adhesive Sheets 4×6 inch to the back of a piece of black cardstock and adhere to another piece of black cardstock. Then apply another Adhesive Sheets 4×6 inch on the back before die-cutting the letters DAD again.
Layer all the matching letters together by placing the layered cardstock piece on top of the foamed letter. The layers accomplish a couple of things: keeps the foam from stretching as the font is narrow, and to add more depth.
Heat emboss the letters with two layers of embossing powder. Then lightly rub black ink over the surface.
Now, I attached the letters to the canvas with E-Z Runner® Ultra Strong Refillable Dispenser. Use the same adhesive to hold the star in place. "Love you" strips are secured with Thin 3D Foam Squares Black Mix.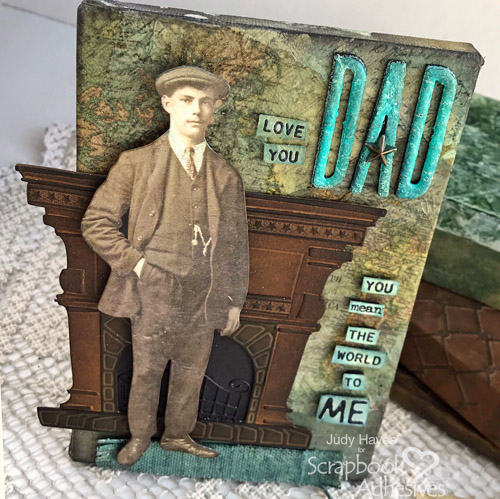 Other Details
Stamp the words (except "ME") with Tiny Text and heat embossed. "ME" are die-cut letters from black cardstock with Adhesive Sheets 4×6 inch. Ink all with Distress inks and popped up with 3D Foam Squares Black Mix.
At the bottom of the canvas, a tiny "rug" cut from a piece of natural canvas with fringes. Color the material with Distress inks.
This was certainly a fun project for me to put together! I hope you enjoyed it! And perhaps found some inspiration for your own project!
Thanks for Visiting!
Judy Hayes
Creative Time: 90 minutes
Skill Level: Advanced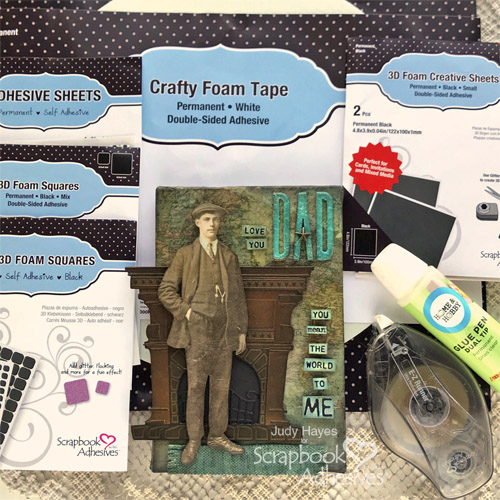 Materials Needed
Scrapbook Adhesives by 3L®
Home Hobby by 3L®
Dual Tip Glue Pen
Other:
Inks: Ranger Ink (Distress Ink in Tumbled Glass, Antique Linen, Iced Spruce, and Black Soot, and Archival Ink in Black Soot and Ground Espresso); Craft Die: Sizzix (Fireside, Alphanumeric Label and Alphanumeric Classic Upper); Stamps: Stampers Anonymous (Ledger Script, Tiny Text, and Mini Glitch); Papers: Tim Holtz (Paper Dolls, Etcetera Patterned Paper, Travel Collage Paper, and Stars); Powder: WOW! Embossing Powder (Sprinkle Powder in Angel Eyes); 4 x 6-inch Canvas; White, Kraft and Black Cardstock; Natural Canvas Fabric
Save it for Pinterest!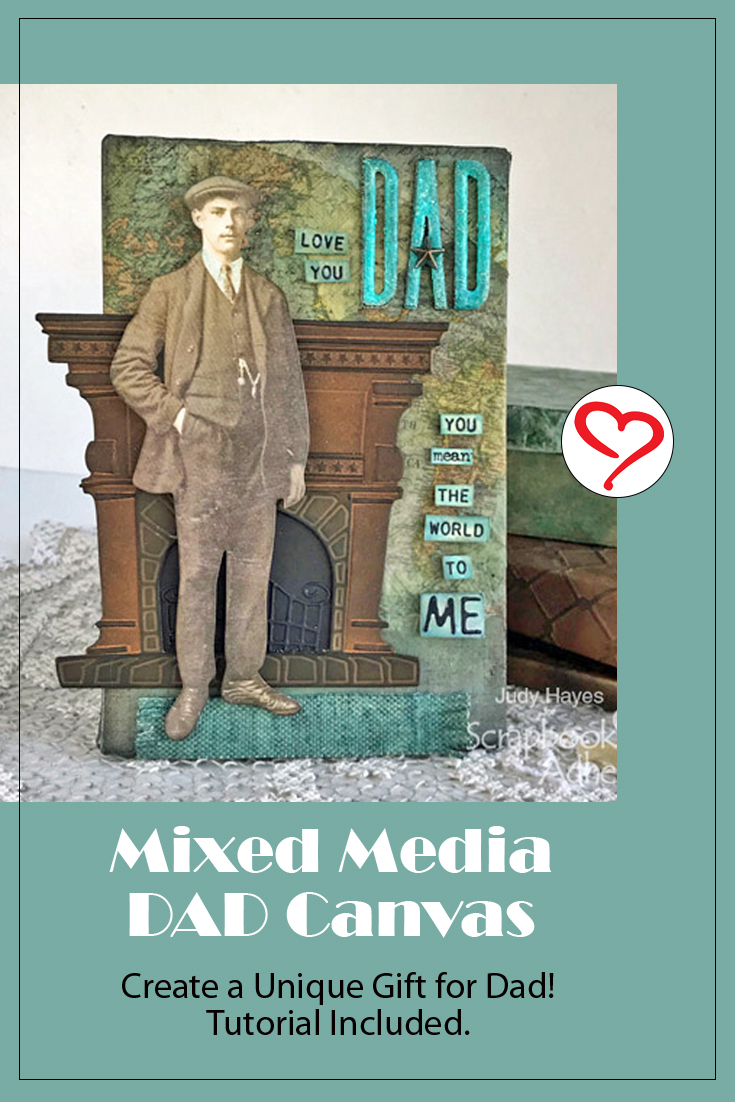 Let's Connect!