Hello crafty friends! Tracy here, and today I have a fun little altered project to share using paper crafting products, a little wooden tray, and some fabulous adhesives. See all the details on how I created my altered serving tray.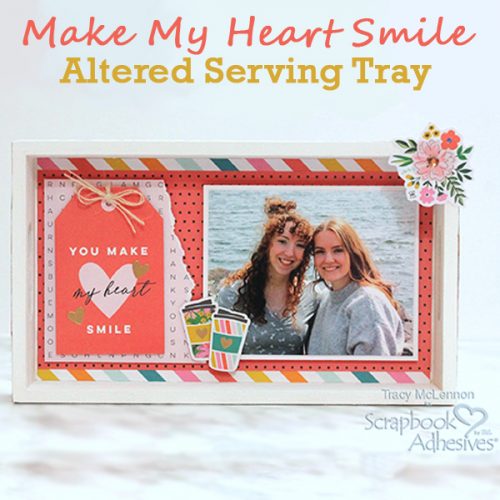 Altered Serving Tray Step Outs – Step 1:
Cover the pine wood mini tray with white acrylic paint using a foam brush and let it dry.
Cut a piece of plaid patterned paper to go all around the outside of the tray and adhere them to the sides with Extreme Double-Sided Tape 1/4in. This tape is fantastic for adhering things onto tough to stick surfaces like wood.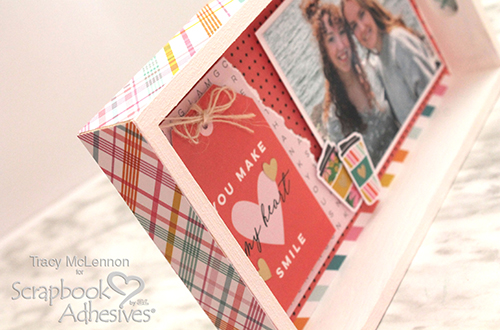 Step 2:
Let's make pretty layers in the altered serving tray with patterned papers. Cut two strips of the striped patterned paper that fit the long side of the inside bottom, and a large piece of the pink polka dot pattern to layer on top to cover the rest of the space. Adhere all the pieces using Extreme Double-Sided Tape 1/4in.
Mat the photo in white cardstock and adhere inside the tray using Crafty Foam Tape White for a little lift.
Cut a piece of the light pink patterned paper, slightly smaller than the tray, and tear the right-hand edge. Adhere to the left-hand side of the tray using Crafty Foam Tape White.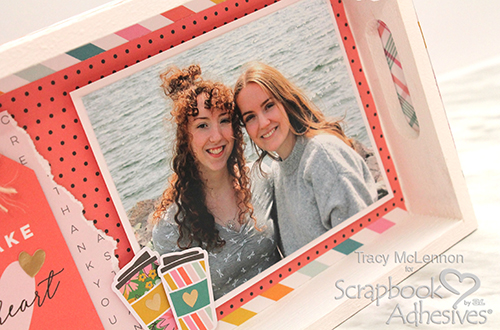 Step 3:
Let's start adding embellishments to finish off the altered serving tray! First, tie a burlap string bow on the sentiment tag and secure it with an Adhesive Dots Small. Then adhere the tag using 3D Foam Squares White Regular Size on the left side of the tray.
For a fun touch, I added the coffee cup embellishments to the corner of the matted photo using Thin 3D Foam Squares White Mix.
Lastly, I added the embellishment to the upper right corner of the tray using Adhesive Dots Small, along with a few gems for some sparkle.
Done! This altered serving tray is perfect for a personalized gift or a great pick me up for someone who needs one!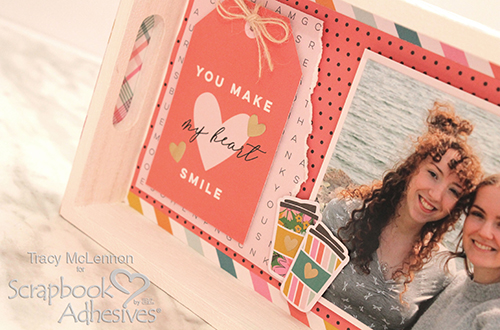 I hope you enjoyed the Make My Heart Smile Altered Serving Tray project. Thanks so much for stopping by!
Tracy McLennon
Creative Time: 60 Minutes
Skill Level: Intermediate
Materials Needed:
Scrapbook Adhesives by 3L®
Thin 3D Foam Squares White Mix
3D Foam Squares White Regular Size
Adhesive Dots Small
Crafty Foam Tape White
Home Hobby by 3L®
Extreme Double-Sided Tape 1/4in
Other
Patterned Papers and Embellishments: Pebbles Inc.; Wood Serving Tray; Paint: DecoArt (Acrylic Paint in White); Foam Brush; White Cardstock; Gems; Burlap String
Save it on Pinterest!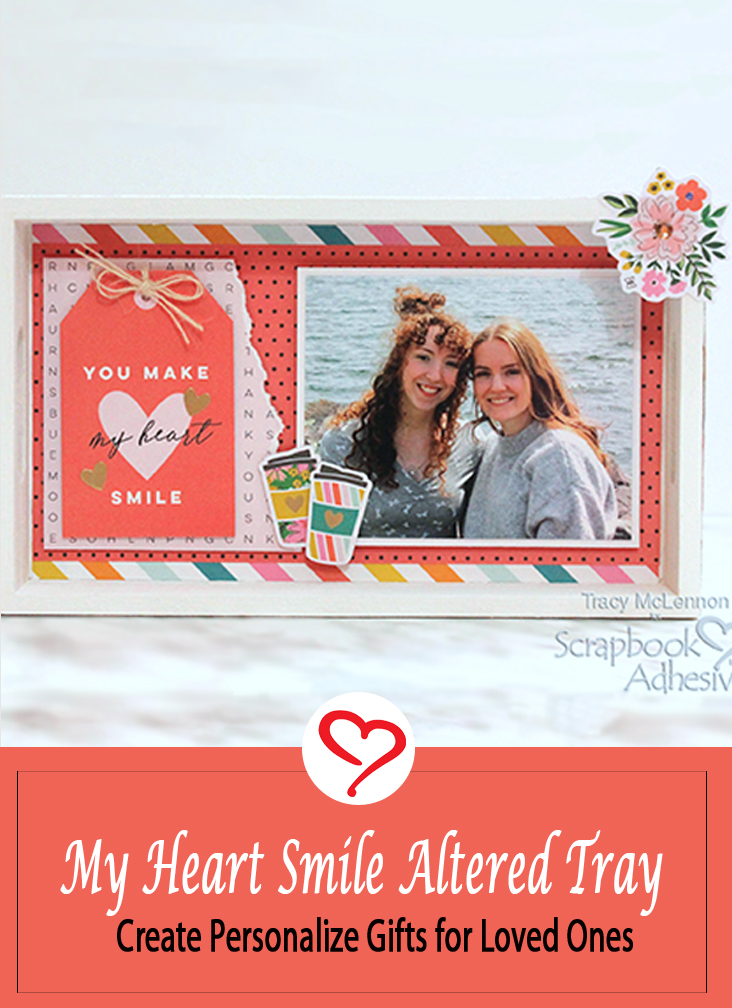 Let's Connect!