Hi friends! Dana here today sharing a fun décor project for Halloween. A large part of my interior ambiance comes from the flickering light of candles. I thought it would be fun to spook my guests with an embellished glass pillar candle featuring one of my favorite designs: a sugar skull.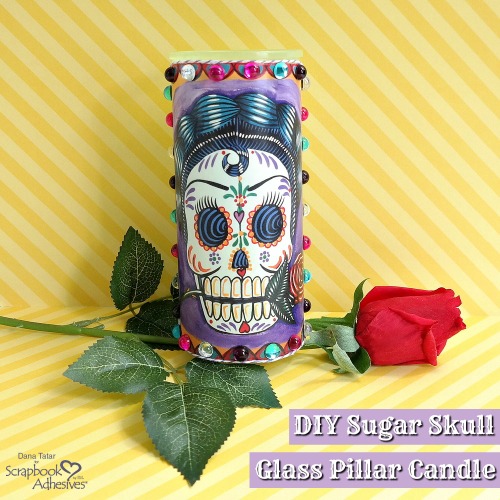 I've had a sugar skull iron-on t-shirt transfer in my stash for some time and this project was the perfect excuse to finally use it. There is something about the cooler Fall months that always has me reaching into my fabric stash. I used a square of muslin and an adhesive sheet to transform this transfer into a sticker embellishment. This was the perfect way to wrap a glass pillar candle!
T-Shirt Transfer Sticker Embellishment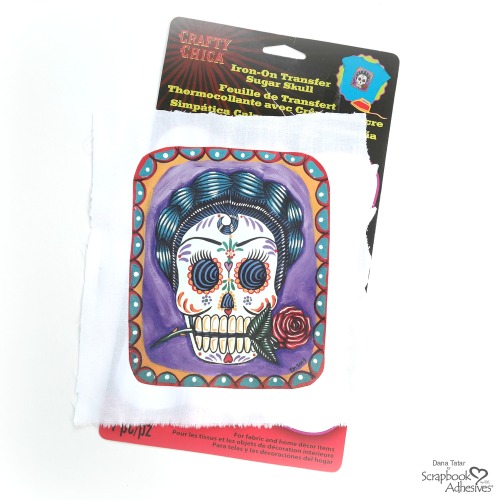 To begin, position the sugar skull t-shirt transfer onto a piece of muslin and cover with a thin cloth. Next, empty the water from a household iron and heat on the wool setting. Press the iron over the transfer for about one minute, using a circular motion to evenly spread the heat. Once the design in transferred to fabric, set aside to cool.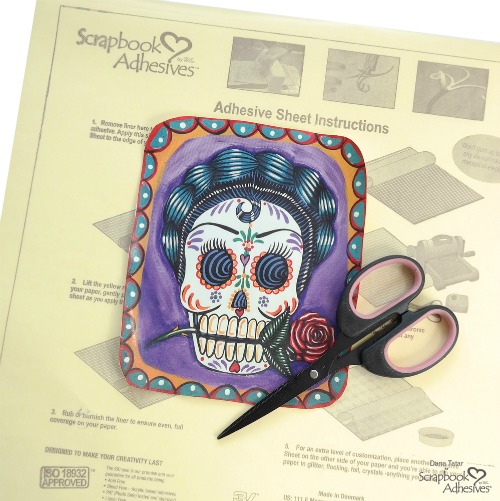 To create a sticker embellishment from the fabric transfer, lift the yellow release liner from a 12×12 inch Adhesive Sheet and place the fabric onto the adhesive. Re-apply the yellow sheet and rub to transfer the adhesive to the back of the fabric. Next, use scissors to cut around the piece of sugar skull fabric.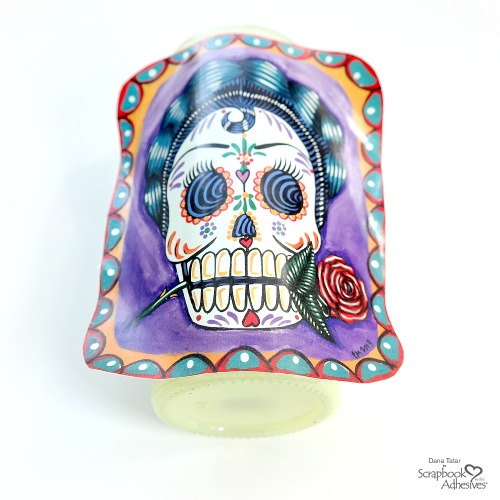 Remove the release liner from the sugar skull fabric and place the sticker embellishment onto a glass pillar candle. Press the design firmly starting from the center and working out towards the edges to secure to the glass.
Sugar Skull Candle Embellishments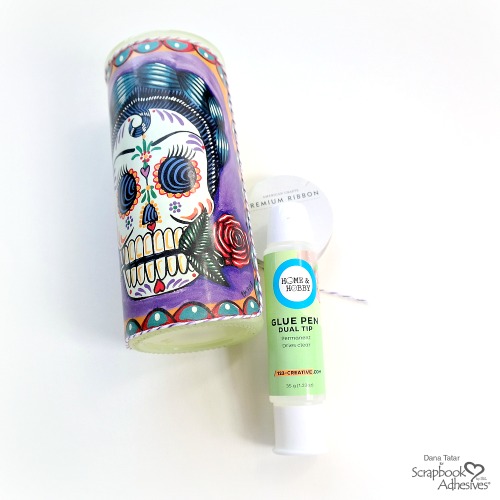 Add a finished edge to the sugar skull sticker by using a Dual Tip Glue Pen to secure a length of twine around the embellishment.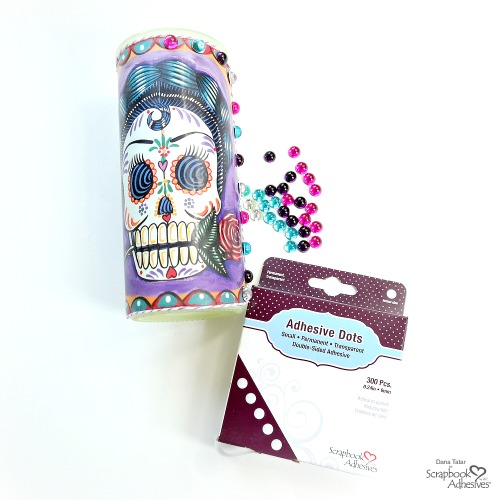 Use Small Adhesive Dots to apply colorful rhinestones around the edge of the sugar skull sticker.
Thanks for stopping by today! I hope I have inspired you to create your own large stickers for use on home décor projects.
~Dana Tatar
Creative Time: 45 minutes
Skill Level: Intermediate
Materials Needed
Scrapbook Adhesives by 3L®
Adhesive Dots Small
Adhesive Sheets 12×12 inch
HomeHobby by 3L®
Dual Tip Glue Pen
Other Muslin; Iron-on Sugar Skull T-Shirt Transfer (Crafty Chica); Glass Pillar Candle; Twine (American Crafts); Rhinestones
Pin It!