Hi, friends! December is just around the corner, and it's a good time to start thinking about documenting the month. A journal is a good place to do it.
Teri here to show you how to get a head start on documenting December and listing some of the activities you want to take part in. All you need is a journal and a few basic paper crafting supplies.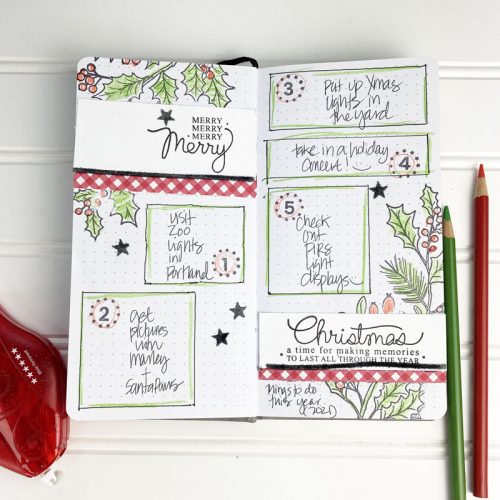 Documenting December Layout Ideas
Start with a journal that suits your needs. You might need a larger journal. I use one that's fairly slim. Stamp a couple of Christmas images on the two pages. Got a poor stamp impression? That's OK! Just go with it and use some pencils to add a little color to the images. It will help hide the poor impressions!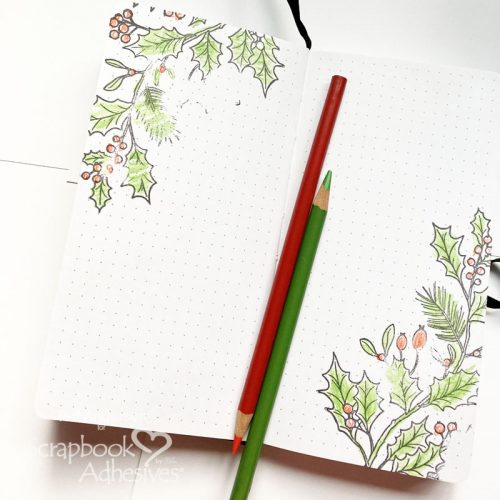 Stamp or print a couple of December sentiments on thin cardstock. Trim them, as well as a couple of thin strips of patterned paper, to fit in your journal. Secure them down over the stamped images, covering up where your stamping was bad!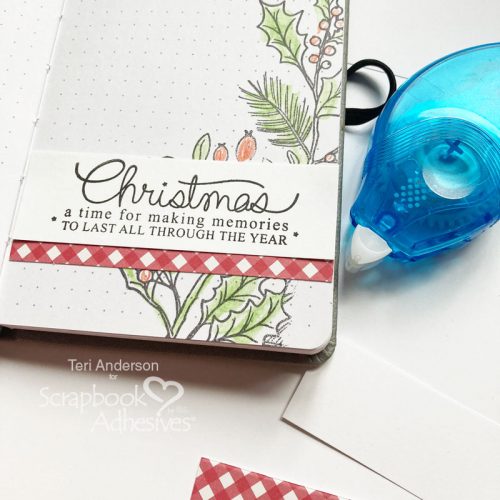 Now, use a pen and ruler to draw boxes on your pages and to jot down your plans. Just have fun and decorate the boxes with additional stamping, as well as colored pencil doodles.
Embellish with Flock
When I craft, I really love to embellish my projects. With a bound journal, you don't want to add a lot of bulk or it won't close all the way. An easy way around this is to roll a few of the E-Z Runner® Stars to your pages. These are double-sided adhesive star shapes. Cover them with the flock. Flock adds very little bulk. Just be sure to press the flock with your fingers to secure onto the stars. Reapply if you feel any stickiness. Quick and easy without any special tools. Other mediums can be used too such as foil, pigment powder, and glitter.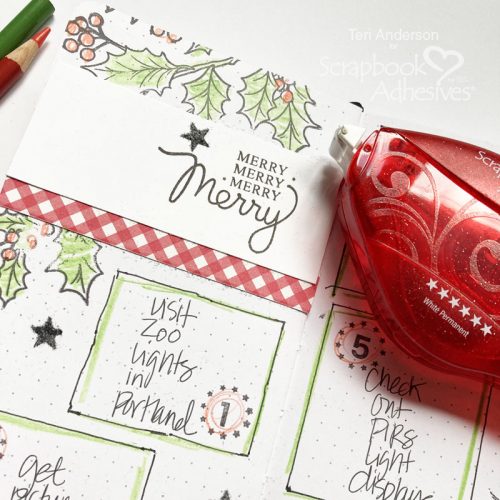 Create more texture by adding flocked lines above the patterned paper strips. How? Runner a line of E-Z Runner® Micro and apply flock on top, using the same step as above with the stars. Lines can be straight, a little wavy…up to you. On my right page, I didn't mean to make my flock line wavy but I left it so you can see what I mean about making your line wavy. You could easily fix that by making a new sentiment strip, rolling a straight line of adhesive, and then adding flock, or you could just go with it.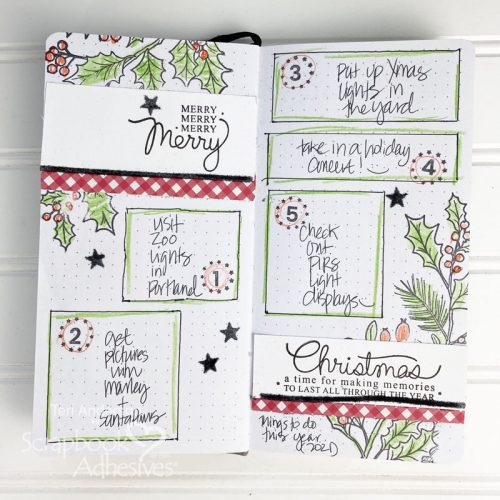 Made a Mistake? There's a Solution!
By the way, if you start decorating a page in your journal and you make a mistake and think there is no way to save your page, I have an easy solution for you! Take some adhesive and put it all over the page. Attach the page to the facing page and turn to the next page in your journal and start over!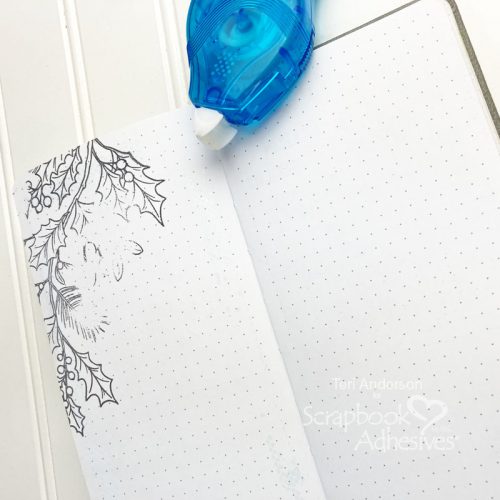 Make sure the adhesive you use is a thin adhesive so you don't add a lot of bulk to your journal, plus you can write or stamp on your journal pages without feeling bumps.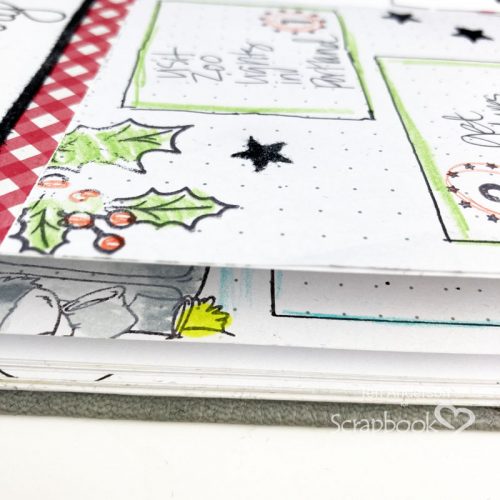 I hope you are inspired to start documenting your December plans in a journal as well! Thanks for stopping by today.
Happy creating!
Teri Anderson
Creative Time: 60 Minutes
Skill Level: Intermediate
Materials Needed
Scrapbook Adhesives by 3L®
E-Z Runner® in Stars Refillable Dispenser, Micro Refillable Dispenser, and Petite Permanent Dots Refillable Dispenser
Other
White Cardstock: Neenah Paper; Journal: Sunshine Sticker Co.; Stamps: Hero Arts (Holly Berries), Mama Elephant (Merry Greetings), InkbyJeng (STMP-3×4-033); Patterned Paper: Echo Park Paper Co.; Black Ink Pad: Ranger Ink; Pen: Copic; Flock: Stampendous!; Pencils: Prismacolor; Ruler
Save to Pinterest!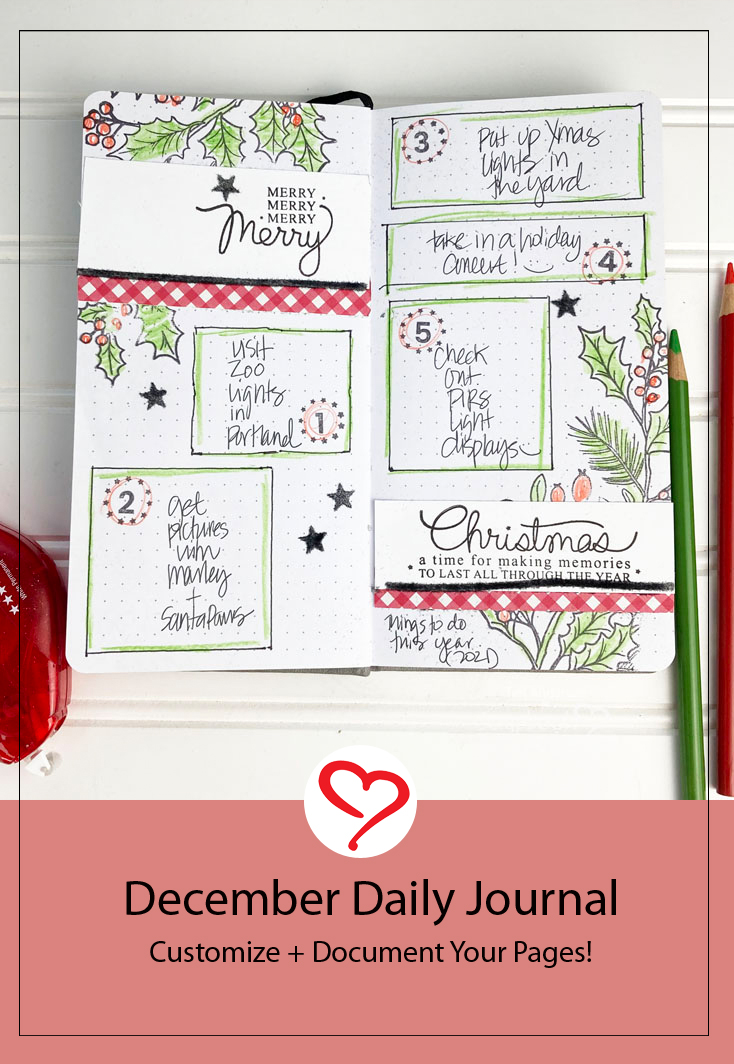 Let's Connect!