Today I have a mixed media mini book to show you. For me, this was a joy to make! I love to make books! There are lots of products on this book including NEW Metallic Foils plus bits and pieces of patterned and gel printed papers used as collage. I give you a little tour of it below.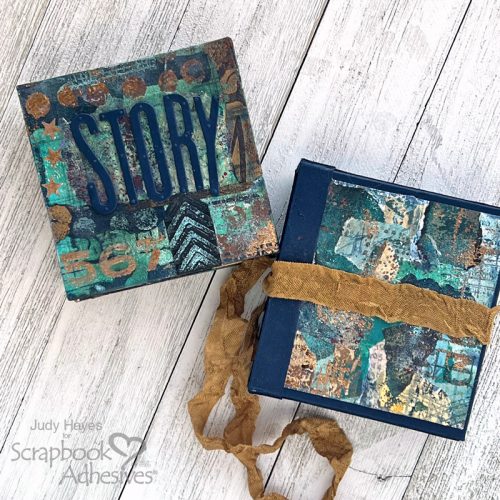 The book is about 3.5 inches square and has an accordion fold binding made from cardstock. Cardboard covered with gel printed papers fastened with Adhesive Sheets 4×6 inch form the covers. Decorate a coordinating sleeve made from cardstock to protect the book. Wrap seam binding around the sleeve and attach it with Extreme Double-Sided Tape 1/2in on each side. It ties to hold the book inside.
Mixed Media Mini Book Front Cover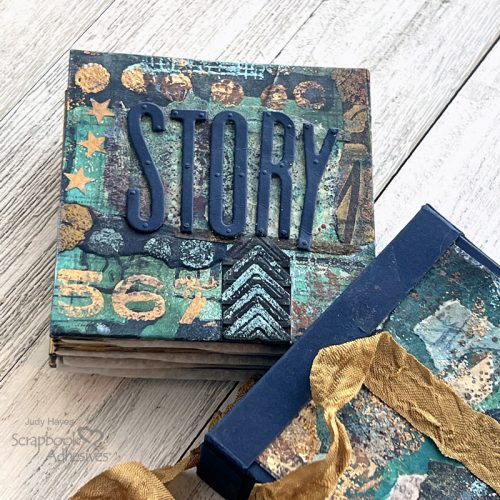 To make letters for "Story", die cut 3D Foam Creative Sheets Mix(black) with cardstock on one side, peel liner and fasten to book cover. For the gold accents, use Metallic Transfer Foil Sheets Nature Colors applied over stamped images that are heat embossed with sticky powder. It's a fun technique! The stars are from E-Z Runner® Stars Refillable Dispenser and covered with gold foil. Do you see the photo corners that point to the title? Layers of several Creative Photo Corners Black form an arrow with some aqua foil on them. To do this, rub embossing ink over them, cover with sticky embossing powder, heat to activate and then rub Metallic Transfer Foil Sheets Pastel Colors (aqua) over them. Use that same technique of foil over sticky embossing powder to stamped circles and grid.
Peek into Individual Pages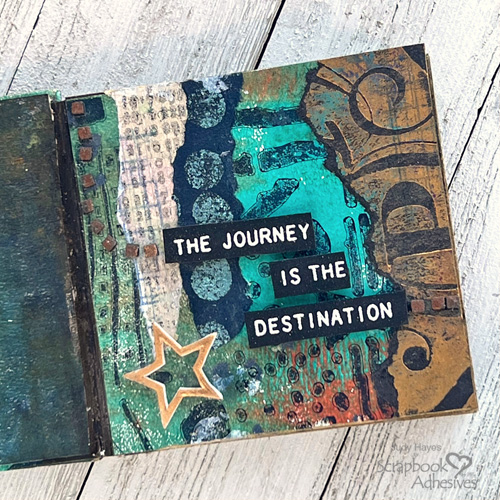 The background of each mini book page is a collage of gel print or other collage papers held in place with glue from Dual Tip Glue Pen. The words are from my stash of pre-stamped and heat embossed words. On this page, it's white embossing on black cardstock. 3D Foam Strips Black hold the words in place. Tiny foil covered 3D Foam Squares Micro Black curve across the page to words. An open star from 3D Foam Stars has gold foil applied to it.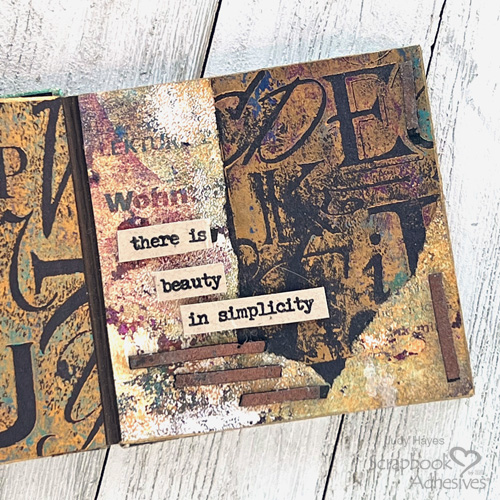 On page two apply 3D Foam Strips Black to back of words and fasten. Add 3D Foam Strips Black under the words and cover with foil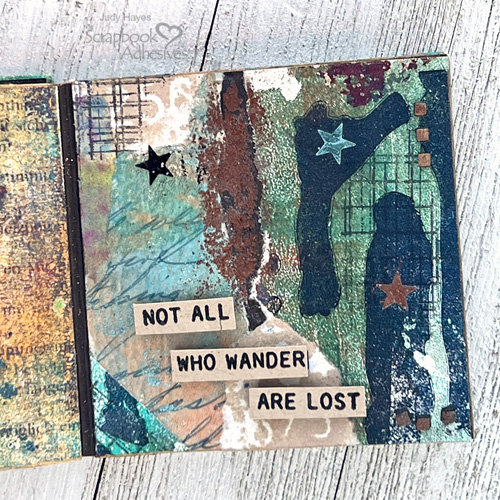 On this page, apply stars with E-Z Runner® Stars Refillable Dispenser and cover with aqua and copper foil. Place a few 3D Foam Squares Micro Black at bottom corner and cover with copper foil. Stamp random images with black ink. Fasten words with 3D Foam Strips Black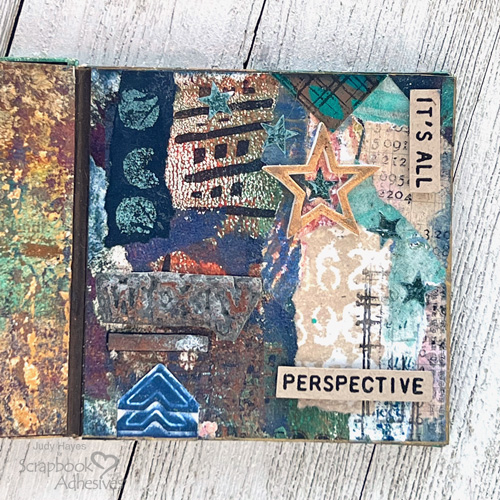 Foiled circles are same as described for cover. Stamp grid designs over page with black ink. Stars are done same as described for cover and previous page. Fasten an open star from 3D Foam Stars over one of aqua stars and apply bronze foil from Metallic Transfer Foil Sheets Nature Colors. Fasten words with 3D Foam Strips Black. Rub blue ink over two fastened together Creative Photo Corners White and stick in place on page. Add a strip of 3D Foam Strips Black above photo corners and apply bronze foil over it.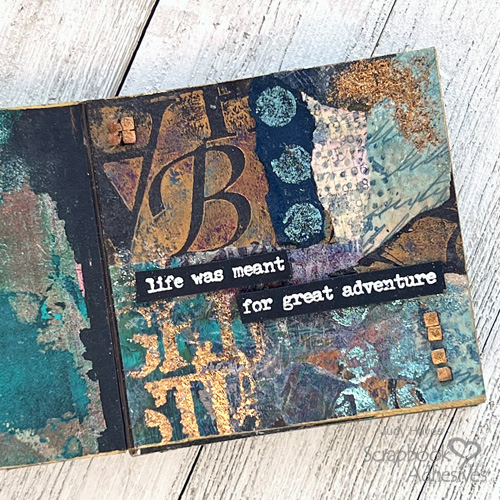 Similarly, this page has circles and alphabet stamped on background that have foil over them. Fasten words with 3D Foam Strips Black. Add 3D Foam Squares Micro Black to top and bottom corners and cover with bronze foil.
Back Cover of the Mixed Media Mini Book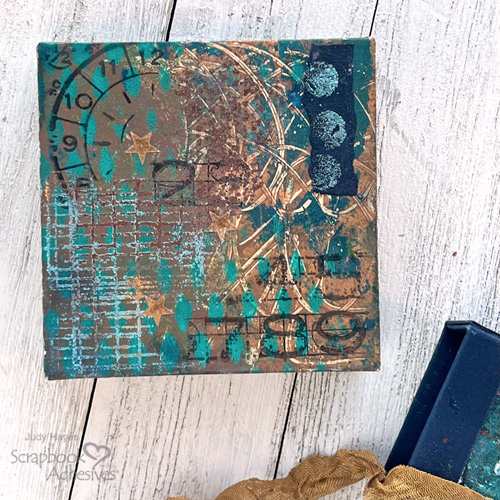 On back mini book cover use same techniques to stamp images, emboss with sticky powder and press foil onto it. Stamp some random images with black ink.
The Matching Book Sleeve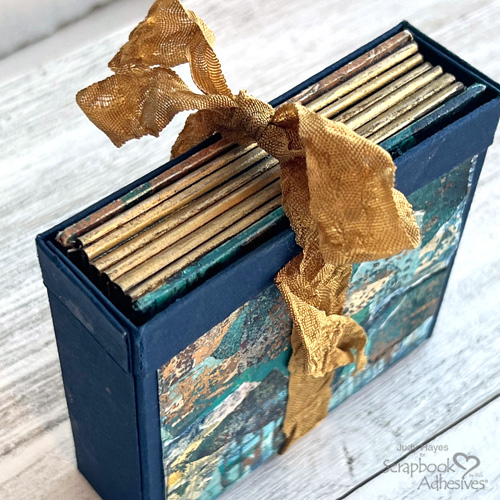 The mini book slides into the sleeve to protect it. Gold metallic marker gives the book spine a pretty sheen.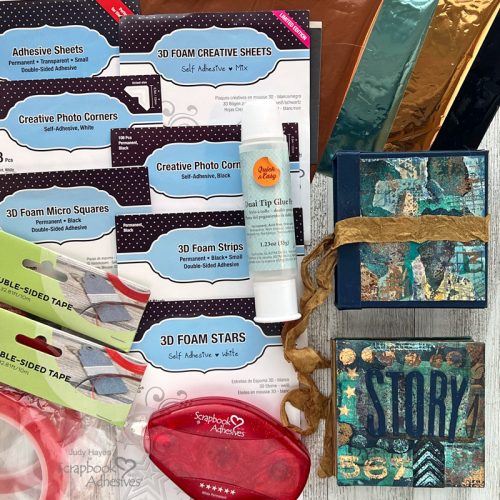 I hope you enjoyed my Mixed Media Mini Book tutorial. Give it a try and share it with us. Thanks for visiting!
Judy Hayes
Creative Time: 90 Minutes
Skill Level: Advanced
Materials Needed
Scrapbook Adhesives by 3L®
HomeHobby by 3L®
Other: Ranger – Ranger Ink – Sticky Embossing Powder, Sizzix – Tim Holtz Dies (Alphanumeric Stretch Upper); Stampers Anonymous – Tim Holtz Stamps (Tiny Text, Assorted Other Stamps), Collage Papers – (Gel Printed, Patterned Papers, Old Book Pages), Seam Binding, Cardstock – Black, Kraft, Navy, Cardboard
Save to Pinterest!