Hi, everyone! Teri here with a fun watercolor resist technique to help you channel your inner artist next time you make handmade cards!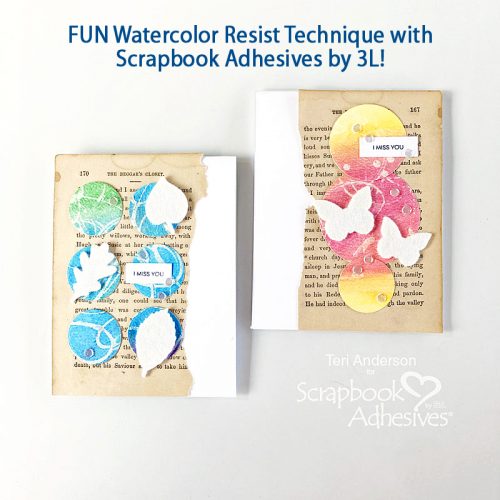 This is such a fun mixed media technique! If you are new to mixed media, this great technique for whetting your appetite!
Make the Watercolor Panels
Start by cutting some panels of watercolor paper. Randomly apply the Dual Tip Glue Pen. Let the glue dry completely. I let mine dry overnight.
Randomly apply watercolor paint onto your panels. Use a paper towel to pat the excess color off. Rub a baby wipe along the panels, softening the color and removing any paint left on the glue. Let the paper panels dry.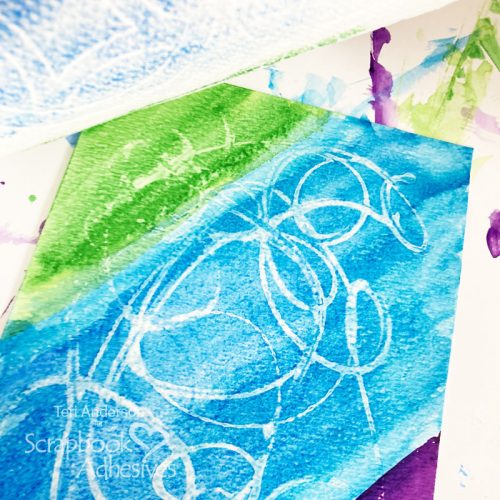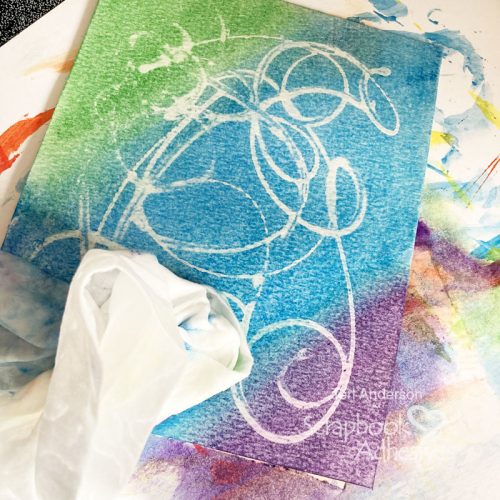 You can make just one resist panel, but I like to make several at one time. That allows me to have panels for lots of projects and to experiment with different color combinations.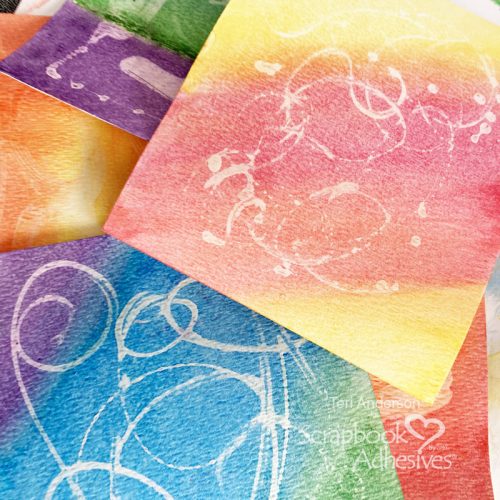 Once your panels are completely dry, you are going to use them to make some cards.
Make the Card Fronts
Cut a couple of card bases from cardstock. Add a torn page from an old book to each panel. The book pages I used are from a 100-year-old book so the paper is fairly fragile. I recommend putting the E-Z Runner® Grand Ultra Strong Refillable Dispenser on the cards and then adding the torn book pages onto them.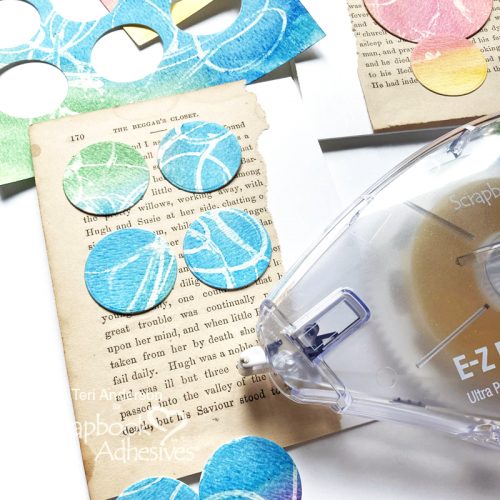 Die-cut some circles from your watercolor paper panels. Adhere them to your cards and then add some 3D Foam Shapes (I used the 3D Foam Leaves and the 3D Foam Butterflies) on top. Cover the shapes with flock or glitter.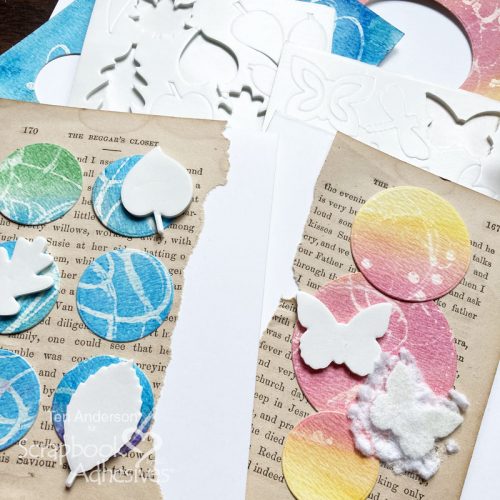 Complete your cards by stamping sentiments on strips of cardstock and adding them to your cards. You'll also want to add a few sequins to your cards as well. Want your cards to have an even more mixed media look? Flick some ink or paint drops on them too!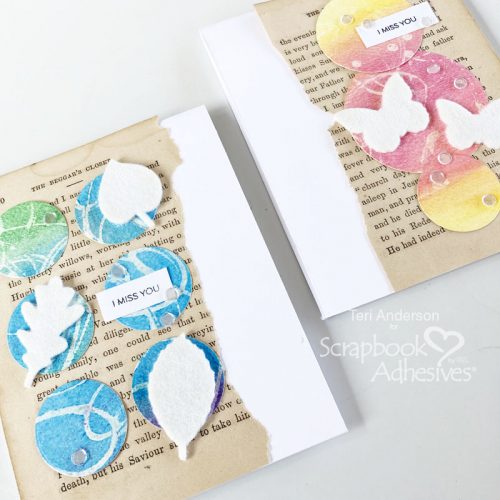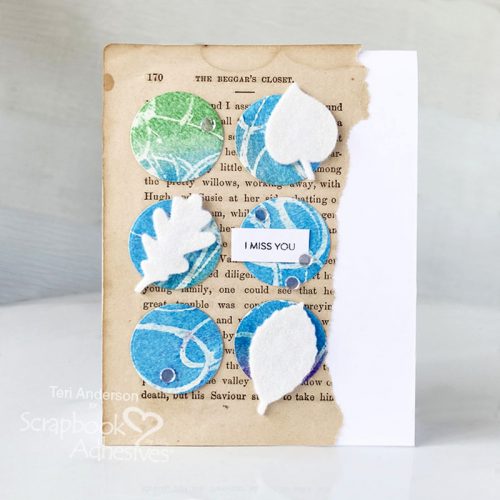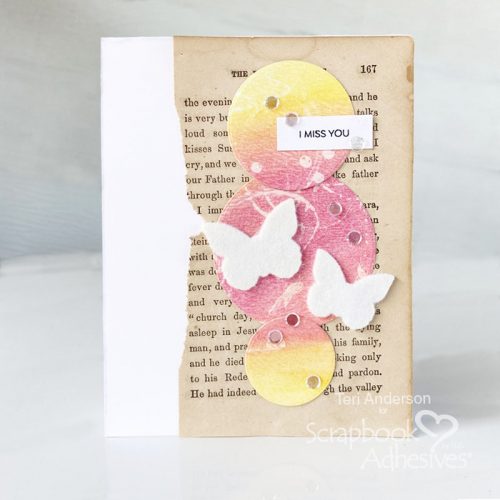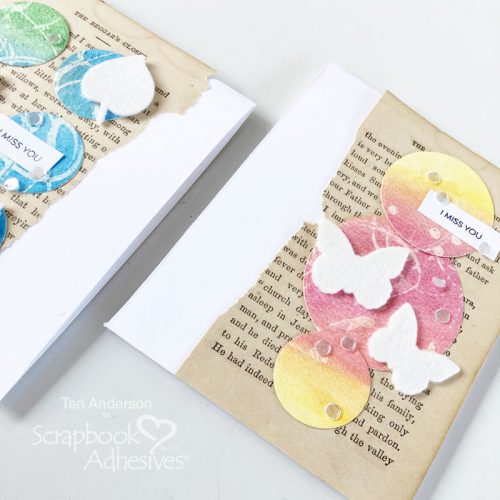 I hope you are inspired to give this technique a try! This is a fun and easy way to get artsy and have fun too!
Happy creating!
Teri Anderson
Creative Time: 45 Minutes
Skill Level: Intermediate
Materials Needed
Scrapbook Adhesives by 3L®
HomeHobby by 3L®
Other
White Cardstock: Neenah Paper; Watercolor Paper: Canson; Stamps: Photo Play Paper Co. (Say It With Stamps Smile Stamp Set); Cutting Dies: Waffle Flower (Circles); Flock: Stampendous!; Sequins: Cartwright's Sequins; Watercolors; Old Book Pages; Paint Brush or Water Brush
Save to Pinterest!
Let's Connect!