Hi, Judy here today! I put together a home decor piece, Joy Collage Frame Canvas, using a canvas board. It's created with paper scraps, Adhesive Sheets 6 x 12 in., Metallic Transfer Foil Sheets Pastel Colors, a 3D Foam Heart, and a stamped verse. The collage technique is easy and can be adapted to other projects.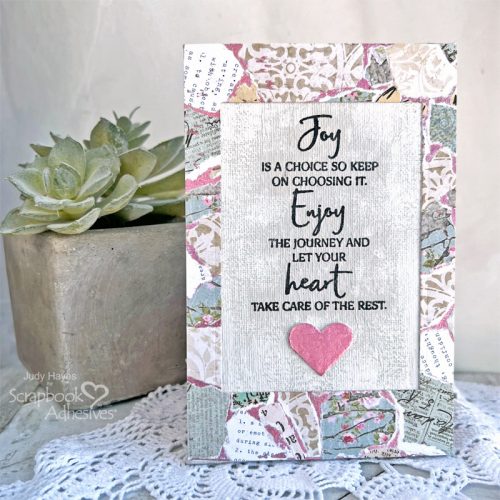 Make Collage Frame Sheet
Cut a piece of white cardstock 6 x 12 inches. This will make a collaged sheet large enough for several projects. Apply Adhesive Sheets 6 x 12 in. to cardstock and rub well to transfer adhesive. Partially peel back the liner at one end and place assorted torn pieces of patterned paper on the adhesive. Allow small space between papers. Continue to peel back the liner and fasten the paper over the entire cardstock. Cut any extending pieces even with the edge.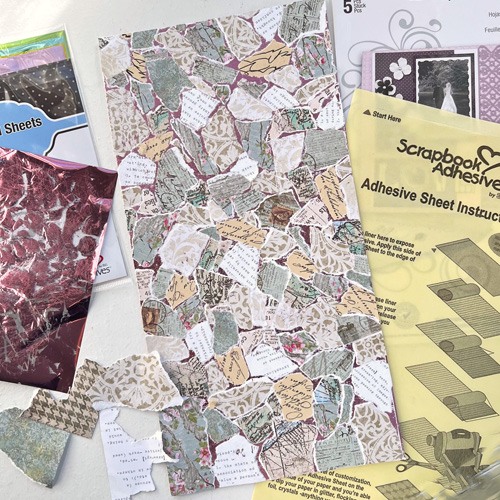 Place a piece of pink foil from the Metallic Transfer Foil Sheets Pastel Colors over the collaged paper (color side facing you). Press/rub firmly to transfer foil to spaces between papers. Lift the foil away and repeat until all spaces are covered with the foil.
Prep the Canvas
Stamp the verse with black ink on a piece of 3.5 x 5.5-inch white tissue paper slightly above the center (allow space for the heart). Next, cover it with clear embossing powder and heat emboss. Pencil mark the center at the top and bottom. Set aside.
Paint the canvas front and sides with Distress Pumice Stone Paint. Allow it to dry slightly. Apply a second coat. While wet, place the verse over it and press it into the paint with your fingers or a dry brush. Add more paint over the tissue as needed. When dried slightly, carefully rub any paint off the verse with a slightly damp paper towel. Dry brush with white gesso around the verse towards the edges of the canvas. Let dry completely.
Cut Frame
Cut a piece of 4 x 6 inches from the collaged sheet. On the back side, pencil draw lines about 0.5 inches from each long side and 0.75 inches from top and bottom. The rectangle drawn will be about 3 x 4.5 inches, large enough for an opening to fit around the verse and heart. Cut out a rectangle with a craft knife or scissors to open the frame.
Designer's Tip: I prefer to use a craft knife with a ruler to cut the opening so I can use the cut piece for another project.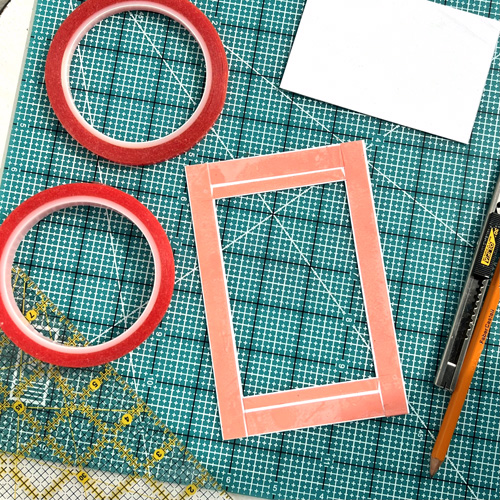 Apply Extreme Double-Sided 1/2in. and Extreme Double-Sided 1/4in. tape on the back of the collage frame. Peel the liners and attach the frame to the painted canvas.
Add Foiled Heart
Place medium size heart from 3D Foam Hearts below verse on canvas and press firmly in place. Remove the liner and cover with pink foil from Metallic Transfer Foil Pastel Colors, press firmly to transfer foil, and peel away.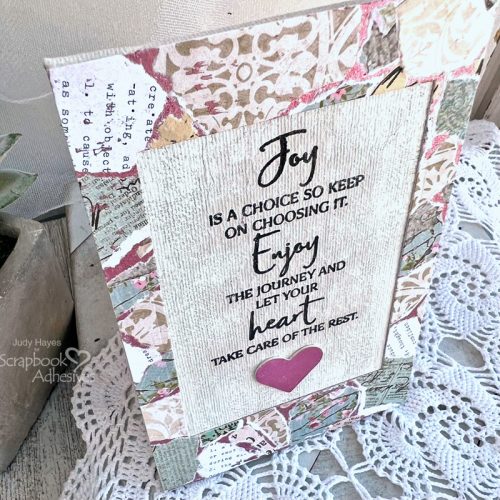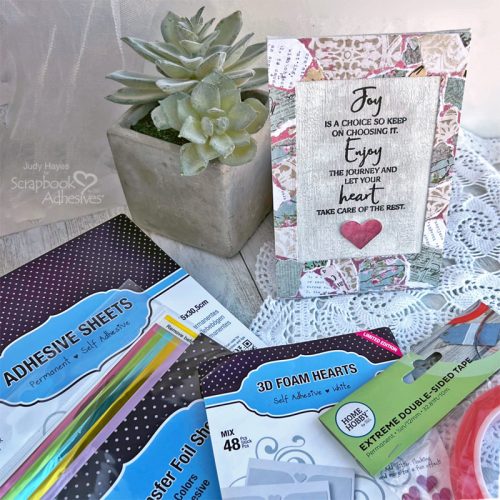 Thanks for Visiting!
Judy Hayes
Creative Time: 45 mins
Skill Level: Intermediate
Materials Needed:
Scrapbook Adhesives by 3L®
Metallic Transfer Foil Sheets Pastel Colors
Home Hobby by 3L®
Extreme Double-Sided Tape 1/2in. and Extreme Double-Sided Tape 1/4in
Other: Papers, Stickers + Ephemera: Assorted Patterned Papers; Stamp: Penny Black (Sentiments); Ink: Imagine Crafts/Tsukineko (Versafine Onyx Black); Paint: Ranger Distress Paint (Pumice Stone); Embossing Powder: Ranger (Clear Embossing Powder); White Cardstock: White Tissue Paper; White Gesso; 4 x 6-inch Canvas Board
Save to Pinterest!