Michele here with a Fourth of July card to share! I was going through my stash of adhesives and when I pulled out the 3D Foam Squares in white, it reminded me a bit of a flag shape.  I love the idea of the squares being perfectly spaced, so I decided I would glitter them to resemble the American flag! Using 3D Foam gives dimension to the project!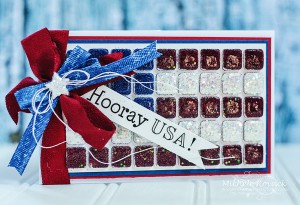 Would you like to see how I created these fun glittery tiles using the 3D Foam Squares? 
The Flag Tutorial
First, get out your package of 3D Foam Squares.  🙂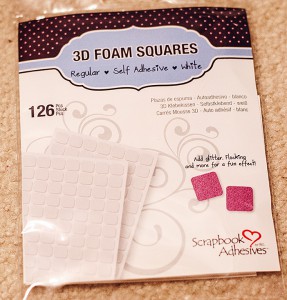 If you want your "flag" to be a bit more narrow,  cut the bottom row off.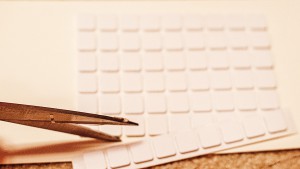 You  will use that bottom row later on.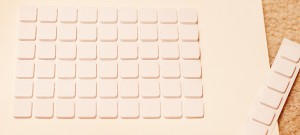 Carefully, peel off only the top layer of the squares. Be careful not to pull them off the sheet.  Sprinkle with blue glitter.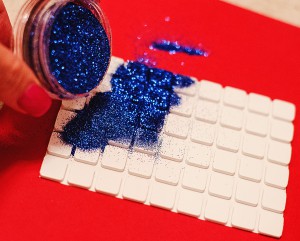 If the glitter between the squares bugs you, you can take a dry paint brush later and brush it off.  Peel liners from every other row and sprinkle with red glitter, then repeat with white glitter.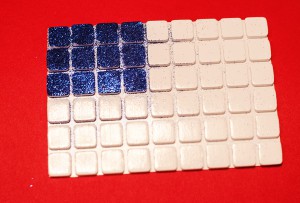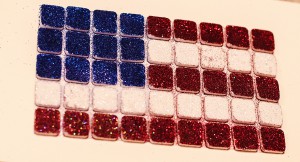 If you want to achieve a faux tile look to your flag, add Dual Tip Glue Pen to each square, set aside, and let it dry. You will notice I changed my white glitter, because I felt the finer glitter didn't have enough impact.  (photo above) The chunkier white glitter looks much better! (photo below)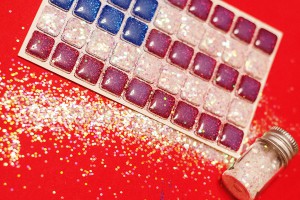 Layer the flag over blue card stock, using the E-Z Squares® to adhere it.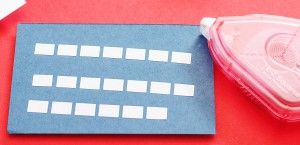 To add a red layer with dimension pull out  that extra row of 3D Foam Squares  that was cut off earlier and use them here!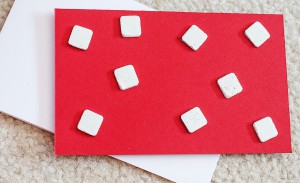 To add  ribbon to the card,  you will notice there is a bit more room on the left side of the card.  This is where the ribbon will go and not cover up too much of the flag.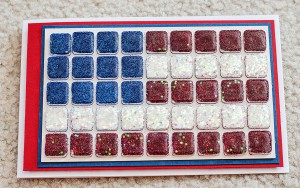 To layer two colors of ribbon, attach the second ribbon with a Dodz Adhesive Dots Small.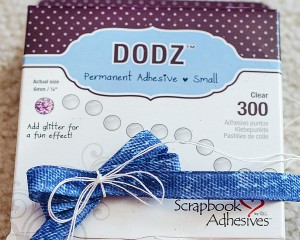 Place the Dodz Adhesive Dots Small under the blue ribbon to attach it to the red ribbon.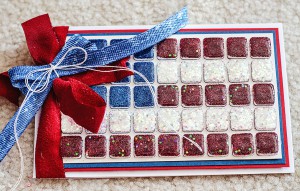 To add a sentiment coming out from under the ribbon, use Dodz Adhesive Dots Small to attach it.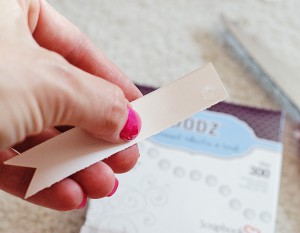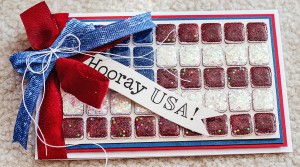 I like to add something to the middle of my ribbons, in this case a glittery star. I found the perfect sized star in this package of 3D Foam Party Shapes.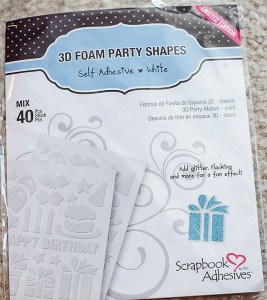 Since it is sticky on both sides,  just plop it right in the middle of the ribbon.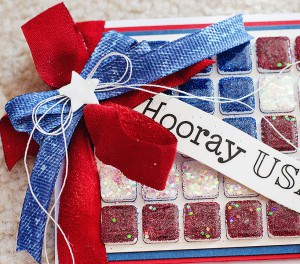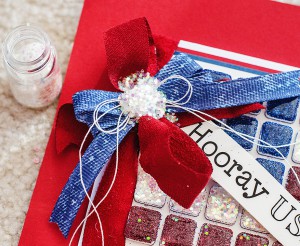 And one last look at the finished project.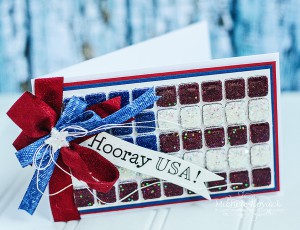 Thank you so much for stopping by! I hope I've inspired you to look at your adhesives in a different way!  Happy 4th of July!
Supplies used:
Glitter
Card stock
SRM Sticker
Ribbon
String
Save