Today we're talking about texture! Good morning! Michele here with a fun Valentine card to share with you!  Some cards just beg to be touched…and this is definitely one of them 🙂
Isn't this an interesting looking surface? Care to guess what it is? It's bead pop embedded in Dual Tip Glue Pen with glitter in between! I love how this effect came together. Let me tell you how I created it.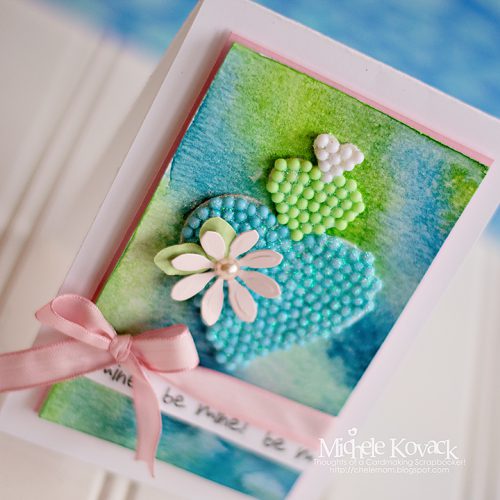 Making Fun Texture
Water color the background.  I chose colors that aren't typically Valentine's Day colors.
Adhere 3 varying sizes of 3D Foam Hearts to the watercolor panel.
Normally the sticky side is enough for adhering glitter and such. Since the solid bead pops were bigger, I removed the top liner and added glue to the surface of each heart using the Dual Tip Glue Pen. After carefully placing the solid bead pops, I sprinkled a bit of glitter on top to sort of fill in the gaps. The Dual Tip Glue Pen dries clear, and quickly!
Once it was dry, I used Adhesive Dots Small to add my leaves and flower.
Using Crafty Foam Tape, I adhered the sentiment to the front and tied a pink ribbon on top of it.
The watercolor panel was adhered to a slightly bigger pink panel and then on to the white card base using Crafty Foam Tape.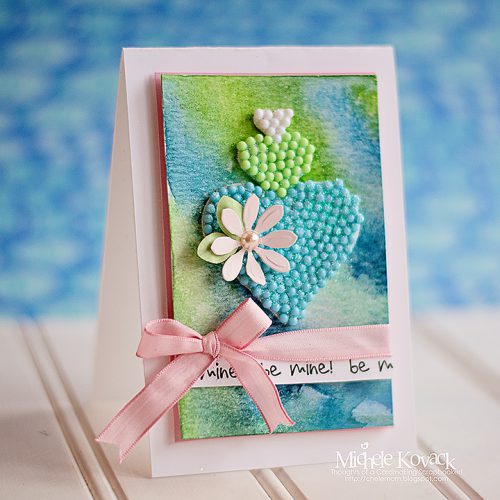 Try a different color palette for your next Valentine card. Thank you so much for stopping by today!
Scrapbook Adhesives by 3L®:
3D Foam Hearts
Crafty Foam Tape
Adhesive Dots Small
HomeHobby by 3L®:
Dual Tip Glue Pen
Other:
Watercolors; Cardstock; Glitter; Sticker; Ribbon; Pearl; Solid Bead Pops