This ensemble is child's play when it comes to a party and who doesn't like a party?! Hello friends, Vicki here. Today I thought I would share with you some fun party decor ideas for a child's party.  Who's game?!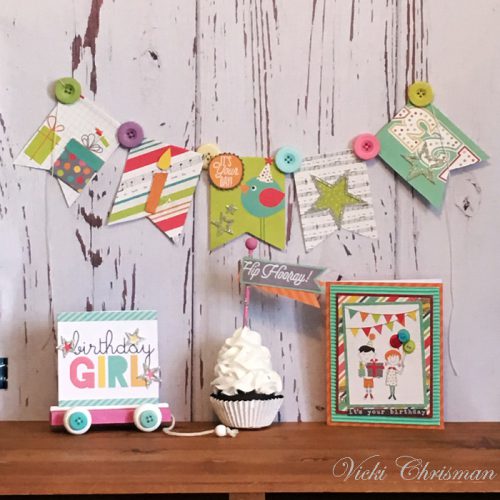 Child's Party Cards
Below is my card, but you could easily add it to a really inexpensive frame and put it on the table for added decor. I really realize when I'm putting a number of things like this together, how much easier it comes together when you have the right adhesive for each specific job.
My basic card papers come together using E-Z Runner® Grand Refillable Dispenser. This is also what I used as my general adhesive putting the banner together. I love how it holds great to even corrugated paper.  I added some glittery stripes to the already striped paper by adding Crafty Power Tape Dispenser 20' and sprinkling fine glitter over it.  It's a fun and easy way to dress things up. I also love using Crafty Power Tape for thin pieces like the Birthday sentiment.  Dodz Adhesive Dots Mini hold my button accents in place.
When I'm in the craft stores, I enjoy looking for fun little wood pieces.  With those pieces, I add them as part of my decor such as by my "Birthday Girl" paper and dressed it up with  3D Foam Stars shapes and glitter. The dowel pieces are used as a base to hold the paper piece in place. Pieces of Crafty Power Tape Dispenser 20' were added to the two dowels' bottom to be placed them side by side and the paper piece slides in between. Buttons were secured with Adhesive Dots Large to embellish the wheels.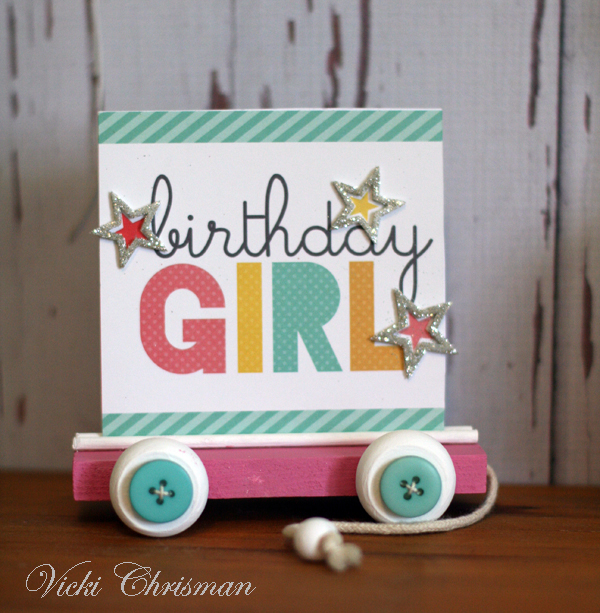 Child's Party Cupcake
How about some fun little flags for your cupcakes? They are easy and fun to make.  After painting my dowel and adding a little wood bead piece to finish off the top, I wrapped Crafty Power Tape Dispenser 20' around the pole and sprinkled glitter on it. Adhesive Dots Large worked great for adding the paper flags to the wood dowel.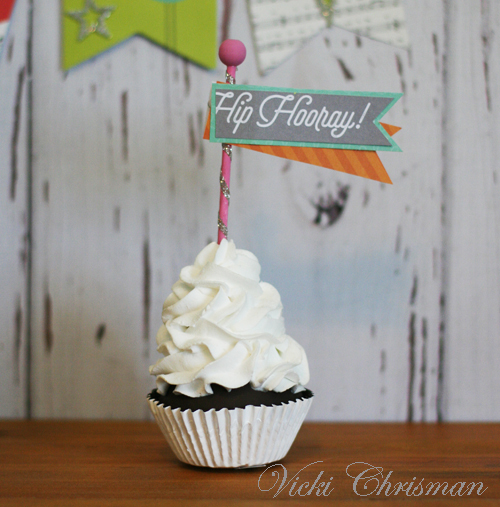 Well, are you in the mood to have a party now?  Well, at least to have a cupcake? lol
Scrapbook Adhesives by 3L Supplies
Dodz Adhesive Dots Mini
E-Z Runner® Grand Refillable Dispenser
Crafty Power Tape Dispenser 20'
Adhesive Dots Large
3D Foam Stars
Other Supplies
Simple Stories (Lets Party Collection)