Hi! Dana here today sharing how to create a piece of 3D origami wall art for the home. Did you know that Adhesive Sheets come in 3 sizes? Strong, clear, permanent edge-to-edge adhesive coverage is available in 4×6-inch, 6×12-inch, and 12×12-inch sheets! I went big with this project and created artwork using an entire 12×12 Adhesive Sheet.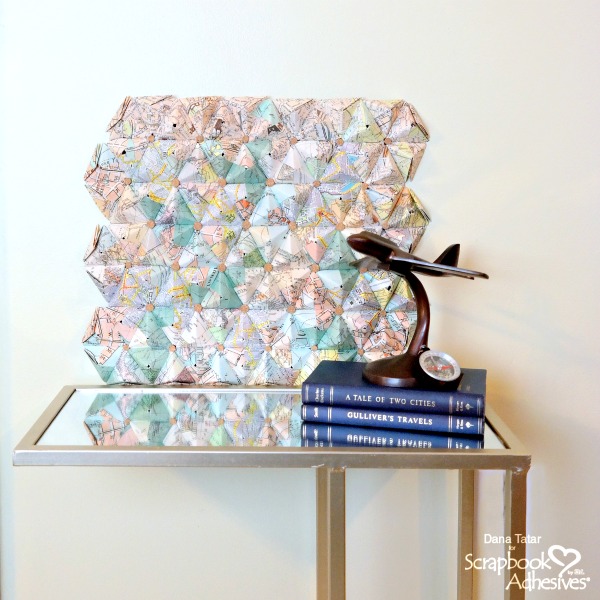 I chose map print patterned papers for this project. While these papers were purely decorative, I think it would be a fun way to remember a great vacation and use maps from a favorite travel destination. I folded up 132 4×4-inch pieces of patterned paper for this piece of wall art that measures just over 12×12 inches.
How to Create 3D Origami Wall Art
I find that I can learn new techniques much faster visually, so I created a process video.
Not all of my paper folds were perfect, and as a result, my finished piece did not fit together as tightly as I would have liked. If you have a similar problem, it is OK!
I fixed this problem with embellishments. The new 3D Foam Circles were the perfect way to secure small cork circles to the center of each hexagon shape.
I hope I have inspired you to use paper to create a fun home décor piece! If you would like to see how to use Scrapbook Adhesives by 3L products to create 3D home décor that can sit on a shelf, click over to my previous post about how to create a 3D Paper Cactus Trio.
Thanks for stopping by today!
~Dana Tatar
Scrapbook Adhesives by 3L Supplies:
Adhesive Sheets 12×12 Inch
3D Foam Circles White Mix
Adhesive Dots Medium Ultra Thin
Other Supplies: Map Print Patterned Paper (Pepin van Roojen); Cork Circles (Recollections); Cardboard
Find more Wall Art inspiration on our blog, click the links below, or on our Home Decor Pinterest Board
Pin It!