Today is World Ocean Day and I simply could not pass up the opportunity to create a fun, colorful card to honor the occasion.  I've traveled various parts of the world and been up close and personal with many amazing sea creatures, on my snorkeling adventures.  Hello, Terri here, with foiling and dimensional tips for this oceanic card!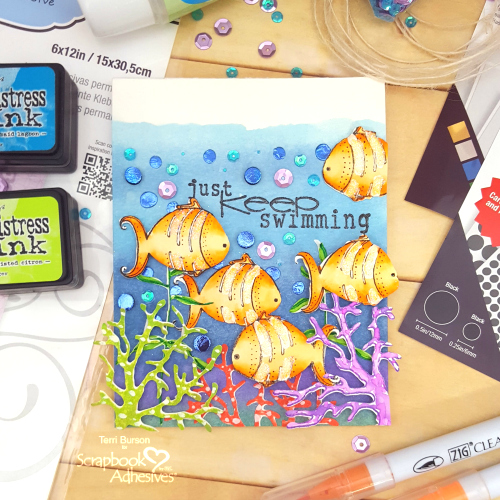 Create Die Cuts With Adhesive Sheets
Let me share some creative tips, starting with my die cut elements.   All of my images were stamped, then colored on mixed media paper, sized to accommodate my adhesive sheet.  After applying the Adhesive Sheets 6×12 inch to my paper, I then cut the images using my electric die cut machine.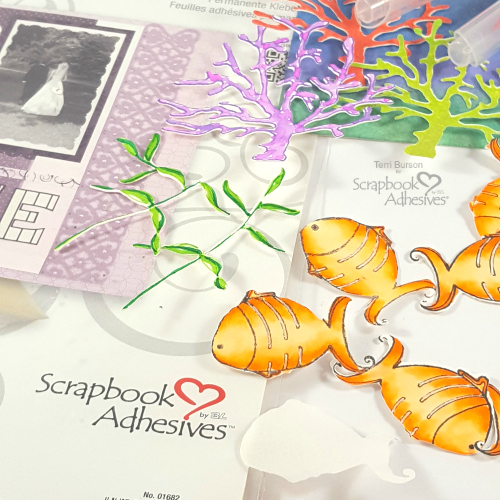 Ocean Scene Foiling Tips
Before applying die cuts, we need to set the scene for this ocean card.  First,  I created a distress ink blended background onto an A2 sized piece of watercolor paper.  Next, I applied various sizes of adhesive dots in a random pattern, including the Adhesive Dots Micro and the Adhesive Dots Small.   Add foil from the 3D Foam Creative Embellishment Kit, shiny side up and gently rub onto your adhesive dots,  carefully lifting the foil.  If you still have clear spots, place your foil back down and rub some more.   When I was finished, I decided to add small black foam circles from the 3D Foam Black Circles Mix.  This offers additional dimension, along with a shadow effect that is more visually appealing for my ocean theme.  Plus, these are great ways to Wear Your Adhesive On The Outside!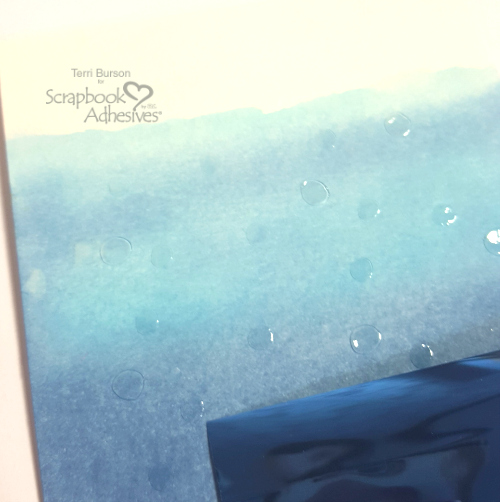 Adhesive Sheets – To Peel Or Not To Peel?
Here's a tip that will change your sticky life.  Don't peel the adhesive sheet backing on your popped up elements!   By leaving the backing in place, it offers the added benefit of stabilizing your image.  Plus, you won't have to worry about sticky elements adhering to your card on your popped up images.   Of course, go ahead and peel the backing on the cuts that will lie flat.  I've used the 3D Foam Circles White Mix, as you'll see further down.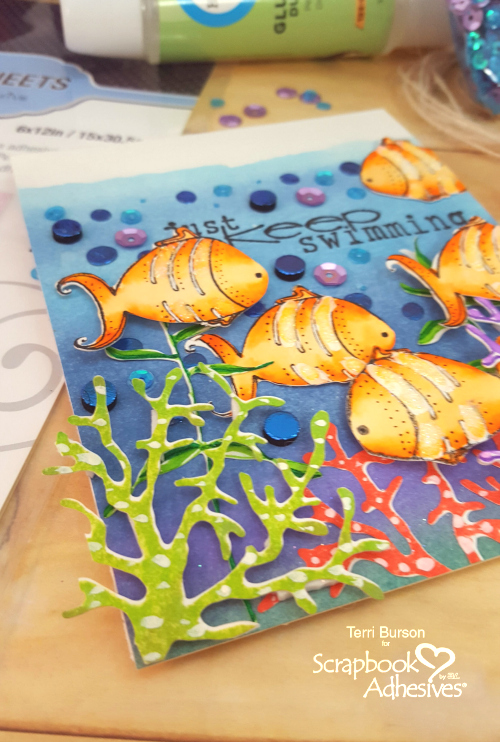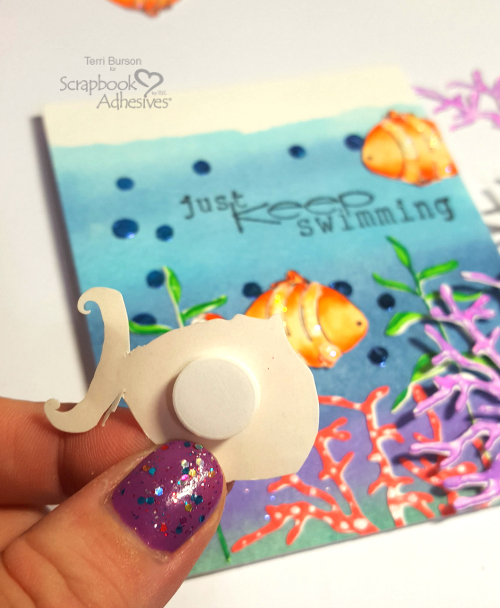 Add Sparkle With the Dual Tip Glue Pen
To finish off this card add a touch of sequins using the Dual Tip Glue Pen, along with a bit of glitter and glue on the fish.   Adhere the panel to an A2 card using the E-Z Runner® Grand Refillable Dispenser and you are done!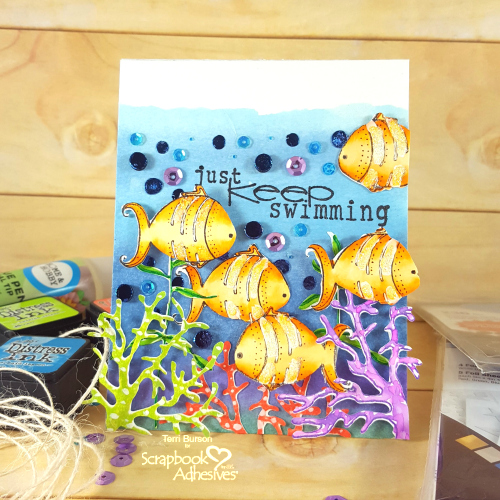 I'm so happy with this colorful card in celebration of World Ocean Day.  For a full product list, visit my blog at Waving My Wand.
Thanks so much for stopping by,
Terri
Creative Time: Intermediate Level  (30 -45 min)
Materials Needed:
Scrapbook Adhesives by 3L®:
E-Z Runner® Grand Refillable Dispenser
3D Foam Creative Embellishment Kit
Adhesive Dots Micro
Adhesive Dots Small
3D Foam Circles Black Mix
3D Foam Circles White Mix
HomeHobby by 3L®:
Dual Tip Glue Pen
Other:
stamps, distress ink, sequins, brush markers, mixed media and watercolor paper, trimmer, paint, ultra fine black pen, glitter, electric die cut machine