Hi friends! Dana Tatar here today sharing a Spring home décor tutorial. One of my favorite flowers is the cherry blossom. I know it is Spring when I see floral branches full of these beautiful blooms. I created my own floral branches to decorate a frame using brown paper bags and Adhesive Sheets.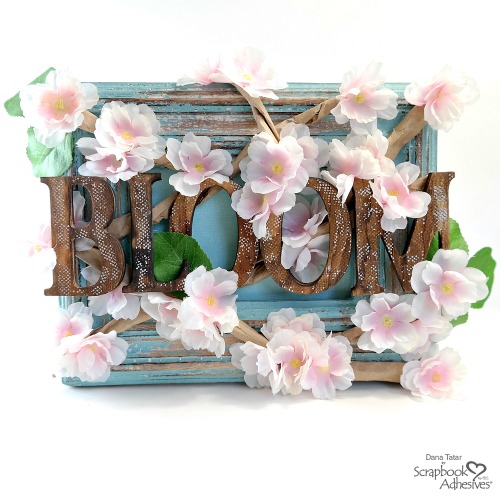 Cherry Blossom Branches from Paper Bags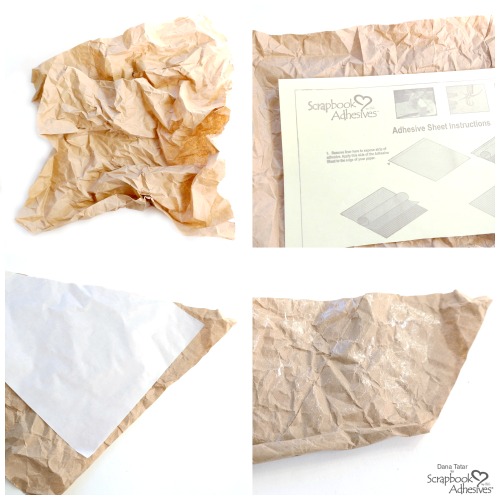 Cut a paper bag to lay flat. Crumble the bag and then smooth out onto work surface.
Cut a piece of Adhesive Sheets 12×12 Inch to cover the paper bag.
Remove the yellow backing paper. Place the adhesive sheet onto the bag and press.
Remove the white backing paper. Starting from one corner, roll the paper bag up into a thin roll. Crunch and press the bag while rolling to create texture.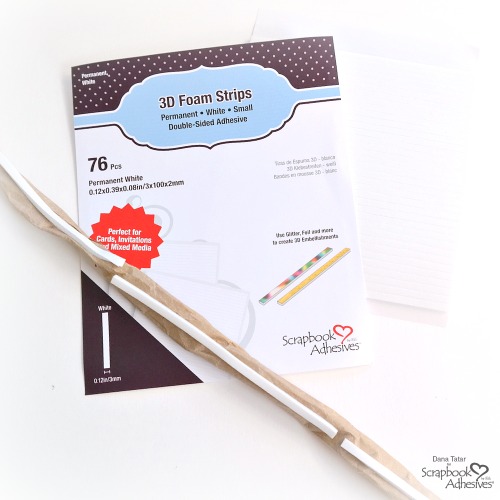 Apply 3D Foam Strips to the paper branches. Press the branches onto the frame, bending and connecting several branches into a realistic design.
Embellishing the Frame for Spring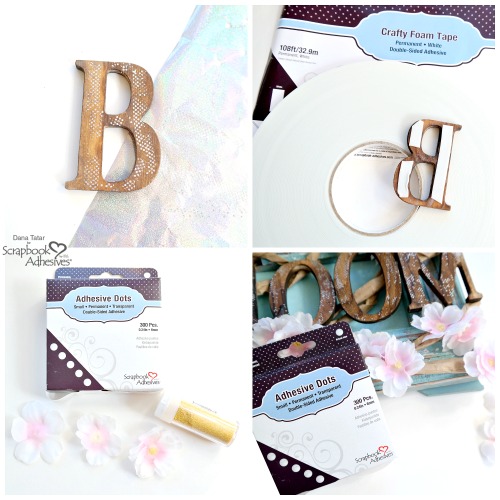 Note: For a more distressed look, like the one on this finished frame, rub away some of the foiled adhesive dots immediately after foiling.
Apply Crafty Foam Tape 108ft. to the back of each wood letter. Press onto the frame over the paper branches.
Stack layers of fabric cherry blossom petals, holding them together with Adhesive Dots Small. Apply a Small Adhesive Dot onto the center of each flower and cover with yellow glitter.
Stick the glittered cherry blossoms to the paper branches using Adhesive Dots Small.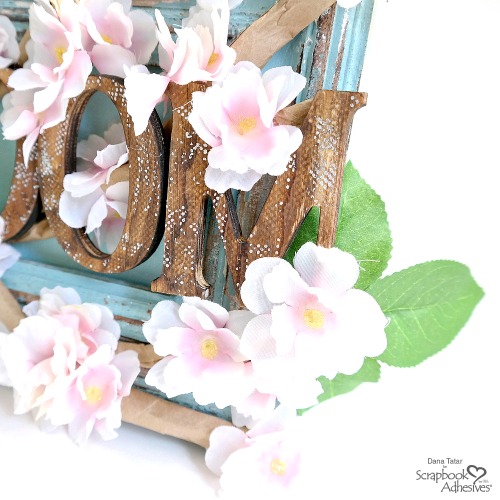 To finish, attach several bright green leaves to the frame.
I'm really enjoying the way this beautiful décor piece freshens up my space. I used cherry blossoms for this project, but any flower would look fantastic on an altered frame.
Thanks for stopping by today!
~Dana
Creative Time: 60 minutes
Skill Level: Intermediate
Materials needed:
Scrapbook Adhesives by 3L®
3D Foam Strips
Adhesive Dots Small
Adhesive Sheets 12×12 Inch
E-Z Runner® Grand Permanent Dots Refillable Dispenser
Crafty Foam Tape 108ft.
Metallic Transfer Foil Sheets Holographic Colors
Other
4×6 Photo Frame; Wood Letters; Brown Paper Bags; Fabric Cherry Blossoms; Fabric Leaves; Yellow Glitter; Patterned Paper
Love It! Save It to Pinterest!