Hello everyone, Asia King here. Lovely to see you again and I am delighted to take you today on a trip to Serengeti! This is a gift I made for my friend's daughter who absolutely adores elephants. Ok, let's begin!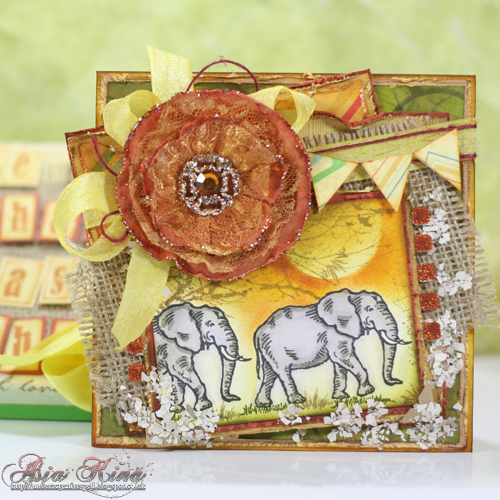 1. Prepare your cardstock for mats (various sizes in coordinating colours, whatever you have to hand), 6×6″ card blank, matching patterned papers and also plain-ish patterned papers (doesn't matter what colour as they will be inked over). Gather a selection of distress inks and blending tools for your chosen colour scheme.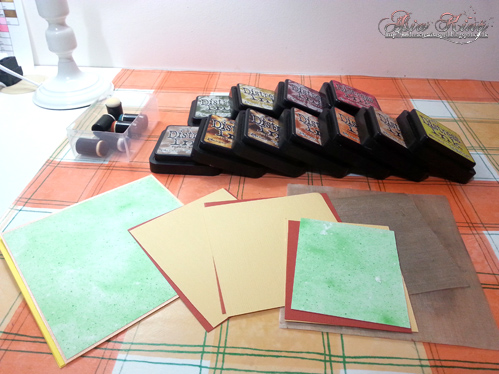 2. Ink up the patterned paper panel to match your chosen colour palette. Stamp some coffee mug rings using Stampendous clear stamps. Crinkle and distress the edges.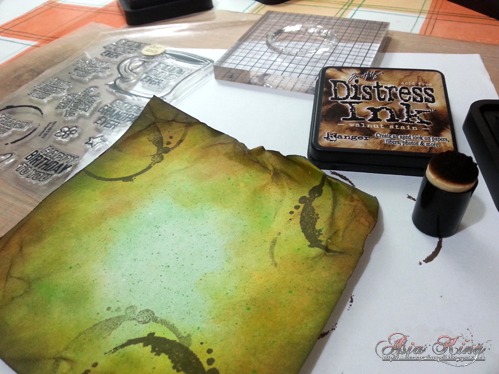 3. Mount a couple of mat/paper panels onto the card blank using E-Z Runner® Permanent Strips – Refillable, varying the angles slightly.
4. Stamp the elephant from the Serengeti stamp set twice onto a cream card and colour with your favourite medium (I used Spectrum Noir and Distress markers). Stamp the elephants again onto scrap paper and cut out the outlines. Use E-Z Dots® Repositionable at the back to help the mask stay in place whilst inking. Mask of the images and ink around to create a warm Serengeti setting.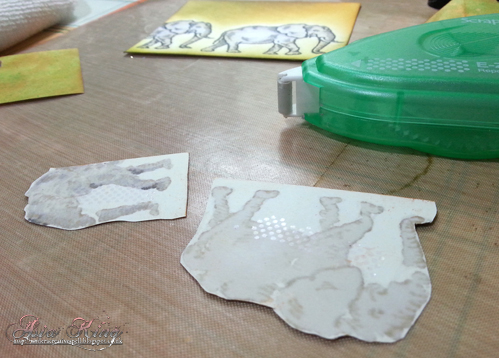 5. Mat the image panel and embellish with Kraft Creative Photo Corners. This will be mounted over a piece of burlap. Cover the area that will go over the burlap with Crafty Power Tape. For the rest of the panel use black Thin 3D Foam Squares. Adhere all elements to the card.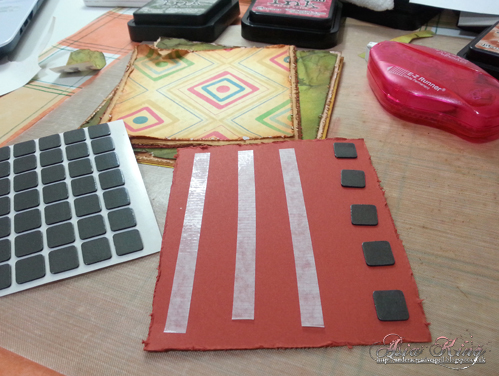 6. Cover a handful of 3D Foam Pennants with the patterned papers and adhere to the card over a decorative ribbon to create a banner.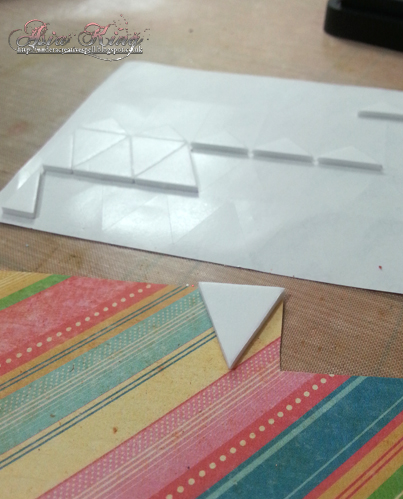 7. Use several DODZ™ – 3D to adhere additional embellishments.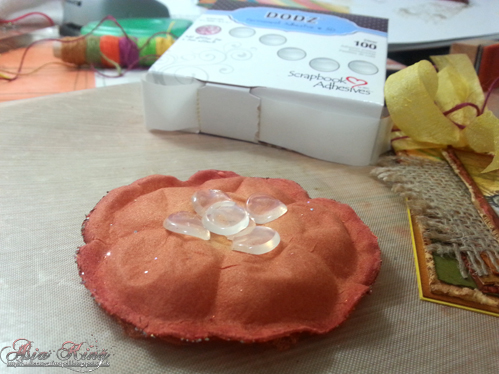 8. Crumple a piece of 4×6″ Adhesive Sheet and partially remove the yellow protective layer. Dab the sticky side of the sheet randomly over the burlap and the rest of the card.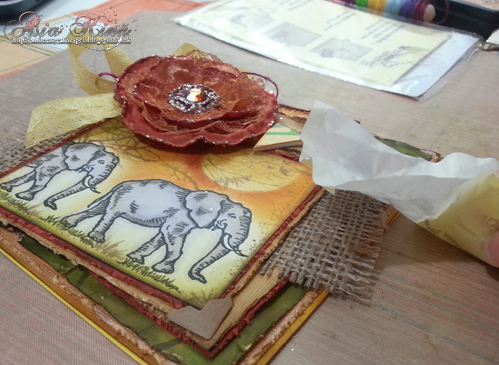 9. Sprinkle the adhesive with Taupe Colour Fragments. Press gently with your fingertips to help them adhere. Shake off the excess fragments.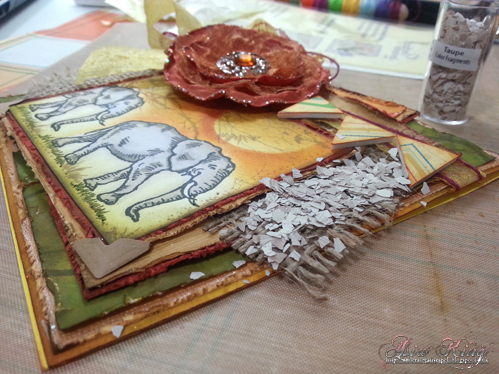 10. Sprinkle a handful of 3D Foam Squares – White, Small with the Copper Micro Glitter. Add to the card as desired.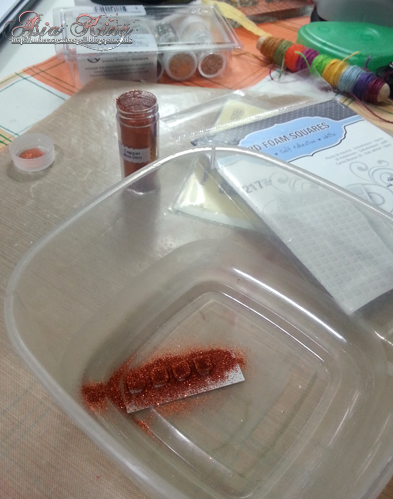 11. Decorate the inside of the card with patterned papers using E-Z Runner® Permanent Strips – Refillable. Add a Keepsake Envelope inside for a gift voucher.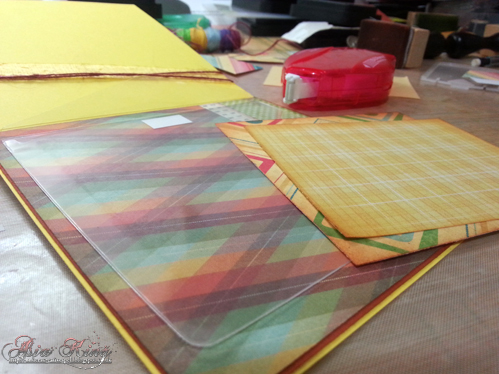 And here is a picture of a box I decorated as well to hold the card as part of the gift set.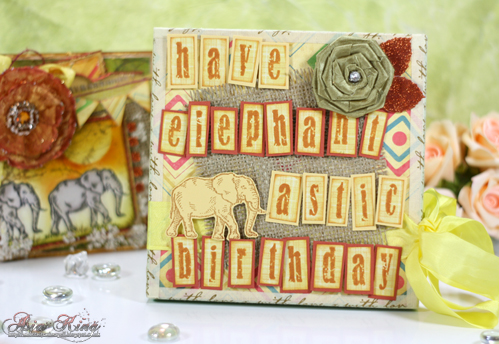 If you'd like to see some close up photos of the project, please pop over to my blog here. I hope you enjoyed this sunny trip. Thank you for visiting and I hope you have a wonderful weekend!
Supplies: E-Z Runner® Permanent Strips – Refillable, E-Z Dots® Repositionable, Kraft Creative Photo Corners, Crafty Power Tape, black Thin 3D Foam Squares, 3D Foam Pennants, DODZ™ – 3D, 4×6″ Adhesive Sheets, 3D Foam Squares – White, Small, Keepsake Envelopes, 3D Foam Leaves.
Other: Serengeti, Coffee Mug & Vintage Lowercase clear stamps, cling Crowscape, Taupe Colour Fragments, Copper Micro Glitter (all Stampendous);
Cardstock and papers (Ambrosia collection) – Bazzill Basics; Distress Inks various colours (Ranger Ink); crinkly ribbon (May Arts); flowers (Prima Marketing).
Big crafty hugs