Hi There, it's Stephanie here today.
Welcome to Day 1 of our Blog Hop with Penny Black Stamps!
I want to show you my first christmas card I made this year using a beautiful stamp of Poinsettia from Festive Florals and a script stamp "Merry Christmas" from Joy Filled set from Penny Black and E-Z Dots® Permanent – Refillable and Crafty Foam Tape from Scrapbook Adhesives by 3L®.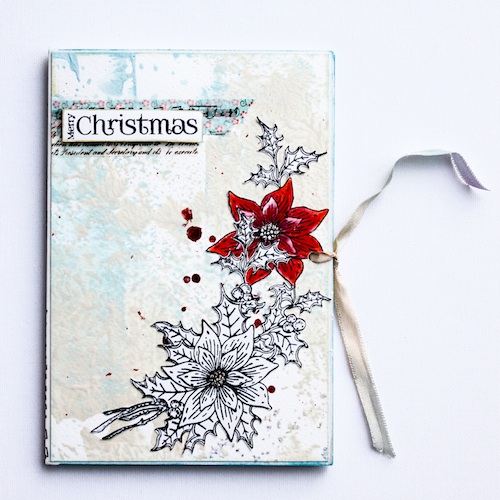 Here we go, I have a tutorial for you.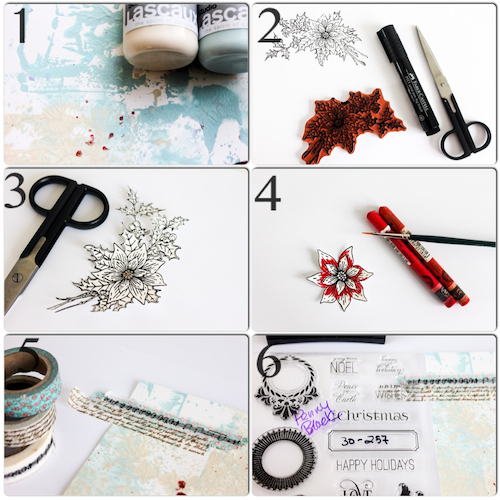 1 – I love to create my own backgrounds for cards and layouts. If you also love to create with paint, cut a piece of watercolor paper in 11,7×17,2 cm and use some blue and beige acrylic paint with a sponge to give the background of the card a little bit texture. Splash a little bit with red paint.
2 – Stamp the motife of the Poinsettia twice with a Big Brush Pen.
3 – Cut out a hole motife and only one flower and some leaves and give the middle point some Stickles glitter.
4 – Use  red Neocolor II (or other watercolor paint) to give the flower red color. I only colored one flower.
5 – Make three lines with Washi Tape at the upper right corner in matching colors.
6 – Stamp your text or wish on a white piece of paper and cut it out.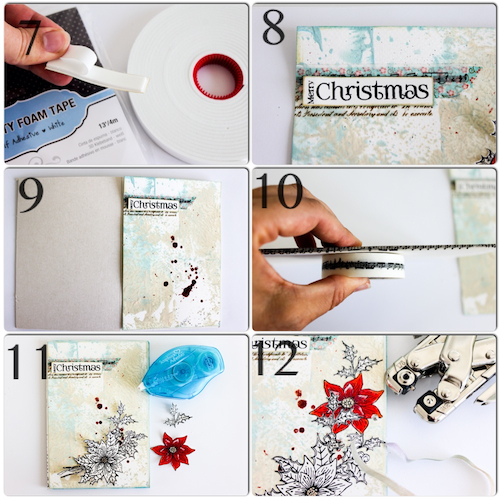 7 – Use Crafty Foam Tape to adhere the text over the washi tape. It gives a nicely 3D effect.
8 – Distress the edges of the text stripe.
9 – Cut out a piece of chipboard twice as large as the card and gives 1mm more on each side. Then use your cutting pad to make a cut at the middle. The chipboard is thick enough not to cut. It will be like a book cover.
10 – Now use washi tape to enclose the folded edge.
11 – Adhere all together with E-Z Dots® Permanent – Refillable.
12 – Punch holes through the chipboards and use a ribbon to close the card. Distress the edges with blue color.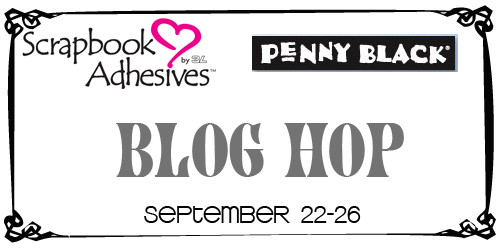 Christmas will be coming early for one lucky winner! Comment to enter to win on each blog post this week for a chance to win $25 in Scrapbook Adhesives by 3L adhesives and 1 Penny Black stamp set. Entries from Monday 9-22-14, through 11:59 PM PST Saturday 9-27-14. Be sure to visit the Penny Black Blog to see their projects and enter their giveaway too!
We'd love to connect with you on social media, find Scrapbook Adhesives by 3L on Facebook, Pinterest, Instagram and Twitter!  Find Penny Black on Facebook and Twitter too!
Enter Here:
Supplies from  Scrapbook Adhesives by 3L®
E-Z Dots® Permanent – Refillable
Other supplies:
Stamp of Festive Florals and Joy Filled from Penny Black
Watercolor paper
washi tape
Stickles glue
Acrylic paint
ribbon
watercolor paint
Thanks for visiting! I wish you a nice creative day and a lot of fun with our blog hop this week!