Do you ever wonder why you might possibly need both 3D Foam Squares and 3D Foam Circles? They both add dimension to your projects and made of the same awesome uncrushable, high density foam, with permanent adhesive on both sides. But they can serve two very different roles in your adhesive arsenal. Let's do an Adhesive Showdown comparison between 3D Foam Circles and 3D Foam Squares.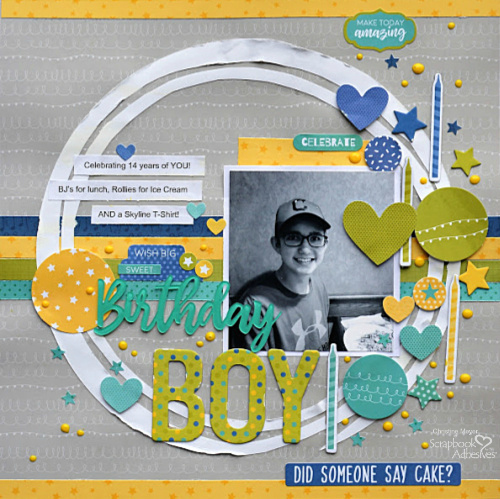 A Comparison of 3D Foam
This Birthday Boy layout is the perfect example of how you can use both to enhance your projects! Join me as I walk you thru how I used both of these adhesives on the same layout but for very different reasons!
Birthday Boy Process Video
Birthday Boy Close-Ups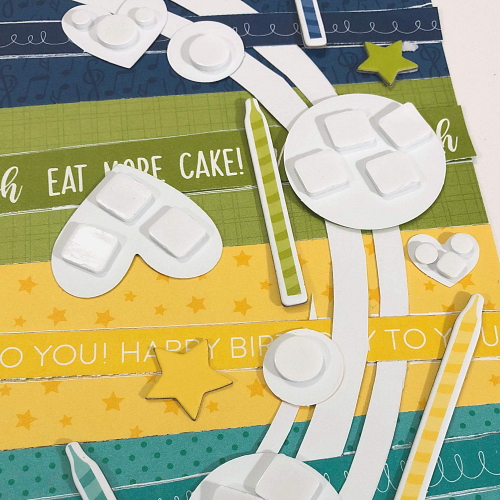 3D Foam Circles are obviously great for circle and curve shapes. You can see that illustrated in my hearts above! As you can see I have both hearts with 3D Foam Squares and hearts with 3D Foam Circles. Take a look at how perfectly the combination is on the one with both shapes! There are some obvious fits for the 3D Foam Squares as well – such as straight edges, pictures, etc.  They can be really helpful when rotated to a diamond shape to fit some tighter spaces (as seen on the heart combo).
Lest we forget, there's more adhesives out there than the 3D Foam Products! The Adhesive Dots attach my acrylic word to the scrapbook page in the strongest manner possible! Additionally the Dual Tip Glue Pen and E-Z Runner® Grand help secure most of the rest of the layout. Both of these are never far from my hands when I am working on a project.
The next time you are getting started on a project and consider whether you actually need both the 3D Foam Squares and 3D Foam Circles keep in mind, that they are both useful and serve different needs on your projects!
Thanks for joining me today!
Creative Time: 60 minutes
Skill Level: Intermediate
Materials needed:
Scrapbook Adhesives by 3L®:
E-Z Runner® Grand Refillable Dispenser
Adhesive Dots Mini
3D Foam Squares
3D Foam Circles
HomeHobby by 3L
Dual Tip Glue Pen
Other Supplies Used: Bella Blvd Wish Big Collection
Pin it to save for later!