We're continuing with our holiday inspiration featuring Graphic 45. For Day 2 we have fabulous projects by Dana Tatar and Teri Anderson. We hope these will inspire you to get creative too! Don't forget to look for our Holiday Gift Giveaway details at the end.
Did you miss our inspiration yesterday? We've got you covered!
Visit here: Christmas Box, Cards and Tags Abound with Graphic 45
Check out Day 3: Handmade Christmas Banner and Card Box with Graphic 45
Day 4 here: Christmas Diorama and Keepsake Box with Graphic 45
Our last day: Holiday Keepsake Box and Scrapbook Page with Graphic 45
December Daily Holiday Album by Dana Tatar
I created a December Daily Album with the beautiful Christmas Magic collection. The Tag and Pocket Album is the perfect way to store and display photos and keepsakes from the month.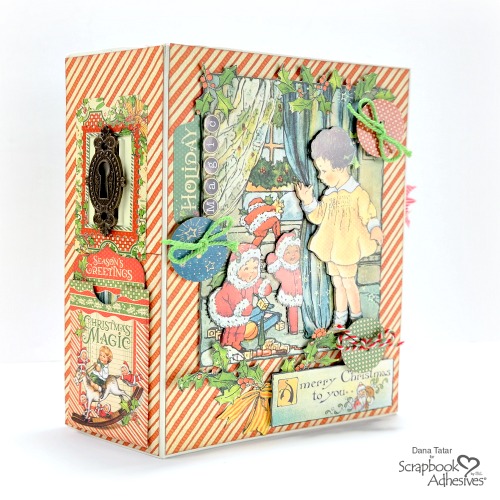 I used Extreme and Ultra Strong adhesive products so I know this album will stand up to handling for many years to come.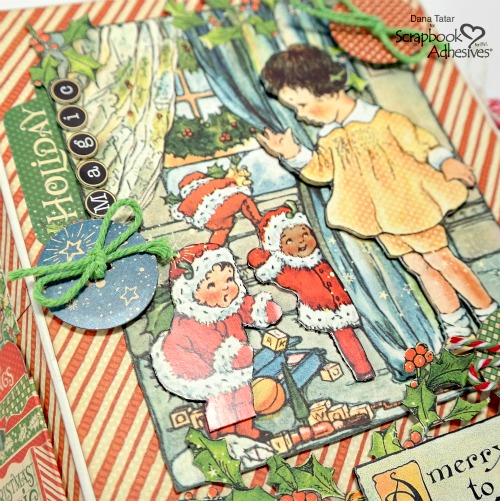 The Thin 3D Foam Squares add just the right amount of dimension to die-cuts and tags when space is limited.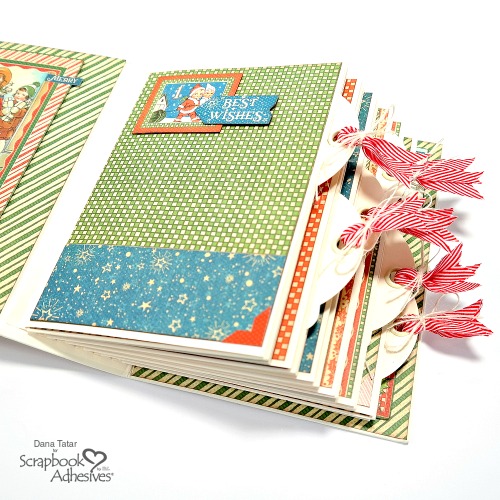 Visit my blog for a flip-through video and more photos of the album by clicking: Christmas Magic December Daily Album Project.
Creative Time:  4 Hours
Skill Level:  Intermediate
Materials Needed
Scrapbook Adhesives by 3L®
E-Z Runner Ultra Strong Refillable Dispenser
Thin 3D Foam Squares White Mix
3D Foam Circles White Mix
HomeHobby by 3L®
Extreme Double-Sided Tape 1/8in.
Graphic 45
Christmas Magic 12×12 Collection Pack
Rectangle Tag and Pocket Album – Ivory
Antique Brass Ornate Metal Key Holes
Christmas Magic Tags and Pockets
Christmas Magic Ephemera Cards
Pin It!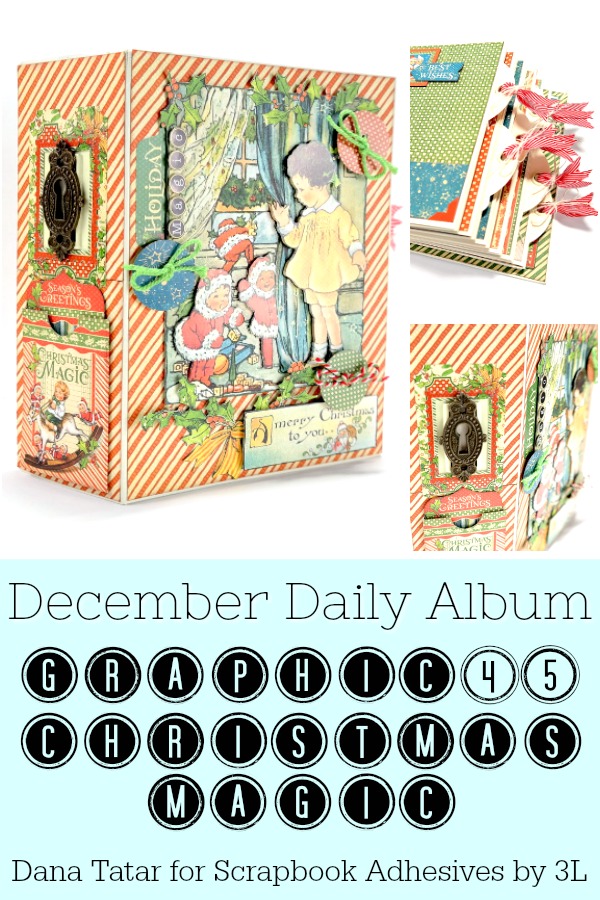 Holiday Magic Tag and Card Set by Teri Anderson
Hi, everyone! Like the vintage look? It's easy to put together a cool set of vintage-inspired Christmas tags and cards with products from Graphic 45 and Scrapbook Adhesives by 3L.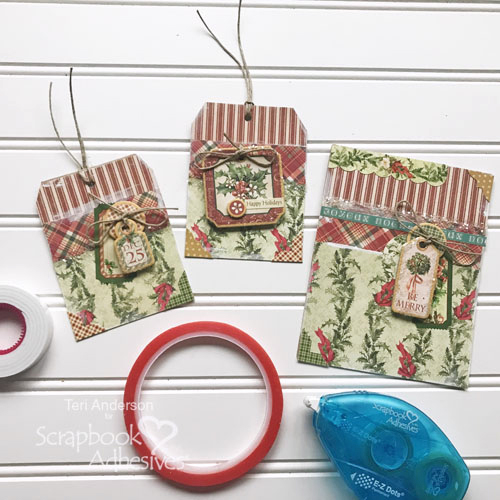 Cut two bases for tags from cardstock. Apply several strips of patterned paper to them and then dry brush some white paint along the edges of the tags and the paper seams. Give the tags a little glitz by applying a strip of Extreme Double-Sided Tape 1/4 inch to each tag. Remove the red backing and apply glitter onto the line of tape.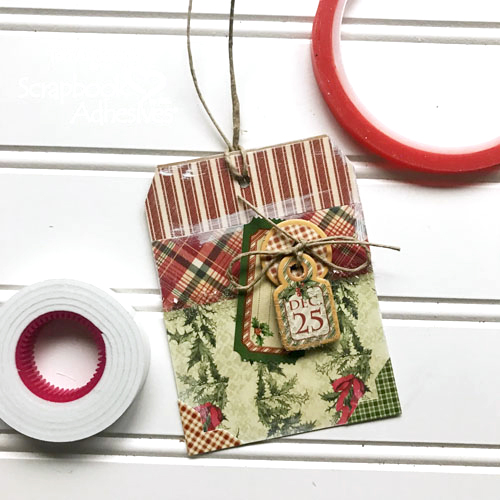 Complete the tags by adding some embellishments created by stacking chipboard and sticker accents together. Want the embellishments to have a bit of sparkle? Simply roll an E-Z Dots Permanent Refillable Dispenser along their edges and dip them in glitter. Complete your tags by punching holes in the top of them and then adding some twine!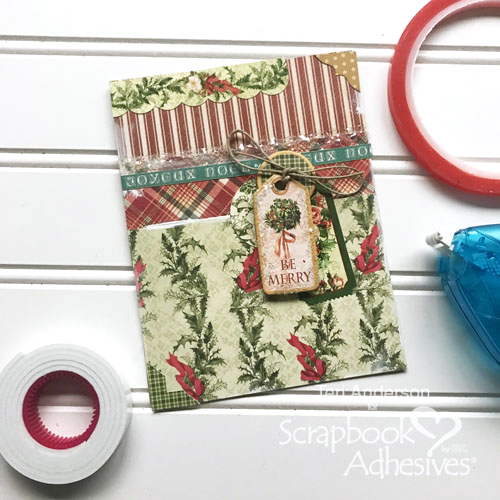 To make a card to go with your tags, create a card base from cardstock. Then repeat the steps you did to make the tags. The only thing you will not do is poke a hole in the top of the card!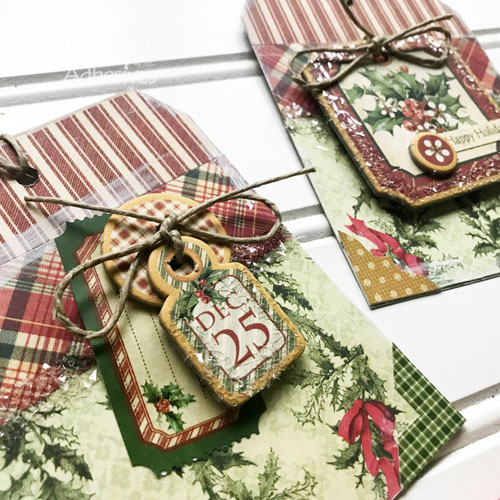 Thanks for visiting today!
Teri
Creative Time: 1 hour
Skill Level: Beginner
Materials Needed
Scrapbook Adhesives by 3L®
E-Z Runner Grand Dispenser
E-Z Dots Permanent Refillable Dispenser
Crafty Foam Tape White
HomeHobby by 3L®
Extreme Double-Sided Tape 1/4 inch
Graphic 45
Twelve Days of Christmas – Deluxe Collectors Edition
Other: Glitter; White Paint; Twine; Hole Punch; Cardstock
Pin It!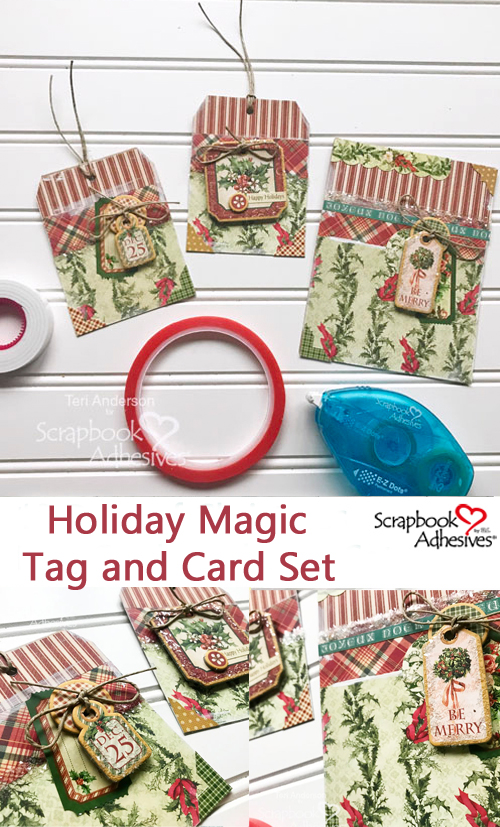 Holiday Gifts Giveaway Details
To enter to win, click through the Rafflecopter App. Winners will be randomly picked.
International Entries are welcome!
We love to hear from you! If you cannot see the comment section at the bottom of this post, please CLICK: Holiday Album, Card and Tags with Graphic 45 and scroll down to the bottom of the post.
Connect and Stick with 3L!
Visit our Website and Bookmark our Blog!
Sign up for our Newsletter so you never miss a contest or giveaway!