If you recall from a previous post, I was working on an Advent Journal (see it here: Creating an Advent Journal Cover Tutorial) this year instead of a December Daily. Today I am sharing a bit more this journal with you. Here is a bit how I created the pages shared, specifically the one pictured here.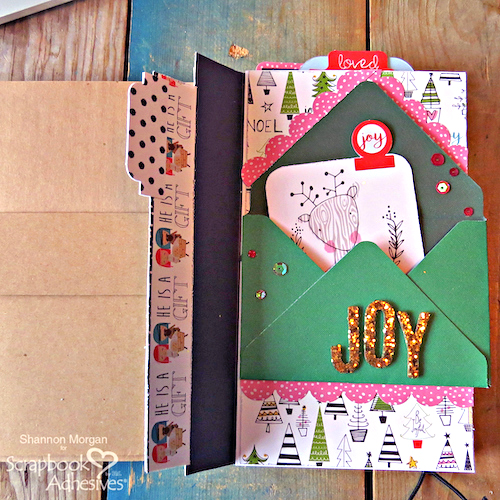 Adding Tabs and Paper Strips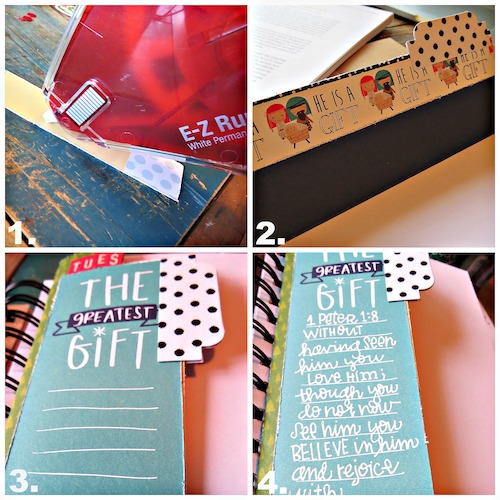 Using my trusty, go-to E-Z Runner Grand Permanent Strips dispenser, I added adhesive to a strip of double-sided Christmas patterned paper.
I had a flap that overlapped from a previous entry, I wanted to use it in a neat way, so I used it as a tip-in. A tip-in is adding a separate piece of paper into your journal. It will add extra space to the entry allowing you to journal or add other elements that wouldn't normally fit.
Then I added a tab to the tip-in. Again, I used the E-Z Grand Runner to do this, adhering it to either side of the paper.
Journaling is now added, I used a white pen because I wanted to have some softness to the page.
What About That Envelope?
Wondering about that envelope I have in the middle of the page? I have step-out pictures on how it was placed. My envelope was created with an envelope tool, but you can use any envelope you may have around. Maybe you have a favorite envelope you've been waiting to use on the perfect project? Pssst?!? I'm telling you, use it now!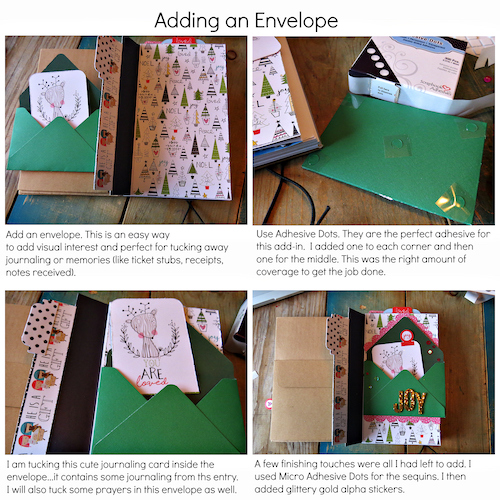 I used Adhesive Dots Medium to affix the envelope to the page. Look at the picture above and see how I used 5 dots to do this. Adding the envelope to the page, I then began to add finishing touches here and there to complete the page.
Sharing The Entries
Here is a bit more of the details, I wanted to share as much as possible with you on these pages, the previous entries all kind of run into each other. It's continuous as the Advent period goes on, I will document pages and have even more ready to share with you next time!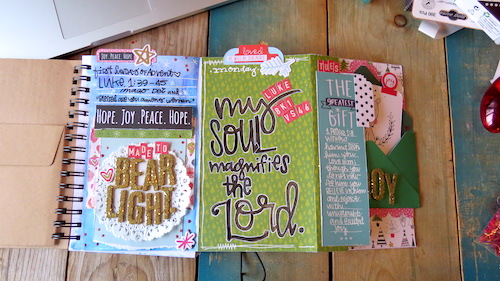 Creative Time: 1 Hour
Skill level: Intermediate
Materials Needed
Scrapbook Adhesives by 3L®
E-Z Runner Grand Refillable Dispenser
Adhesive Dots Micro
Adhesive Dots Medium
Other:
Illustrated Faith Advent Collection, Alpha Stickers, Sequins
Pin It!