Hello! Valerie here today, and Valentine's Day is right around the corner, so today I have a pink Valentine's Day card featuring a pretty heart backdrop and an adorable koala!
Koala Valentine's Day Card Instructions
Step 1 – Attach Red Front Panel
The first thing you need to do is attach the top red panel base with E-Z Runner Grand Ultra Strong Refill; I use this amazing adhesive inside the E-Z Runner® Grand Refillable Dispenser.
Here it is attached, and this panel is not going anywhere! This permanent adhesive is super strong and immediately tacky.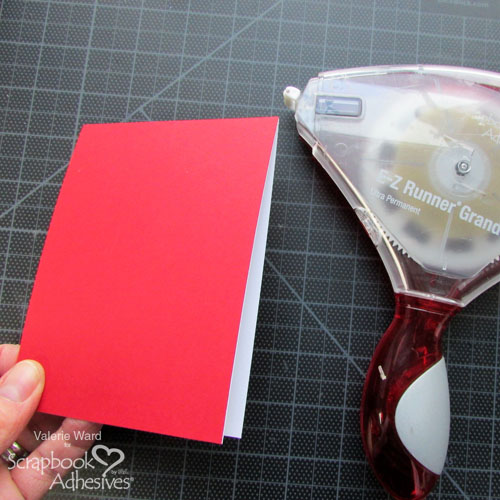 Step 2 – Attach Heart Backdrop
Now I have the next panel to attach on top of the red panel base; it is a piece of pink cardstock that I die cut using a polka heart backdrop die. I want it raised up, so I used my 3D Foam Circles Black Mix because these little black circles are the perfect size to fit in between all the little heart openings; they are also nice & thick, so the panel will have a nice raised up effect. AND, they're BLACK, so they will not be easily seen! One more cool thing about this adhesive is the leftover piece of foam after you use the circles can be used cut it up and it becomes more great foam adhesive to use on future projects!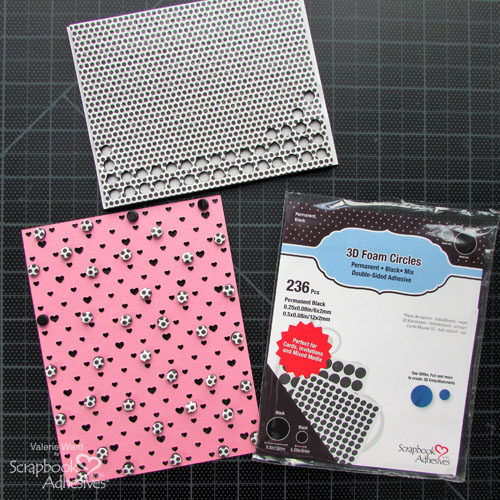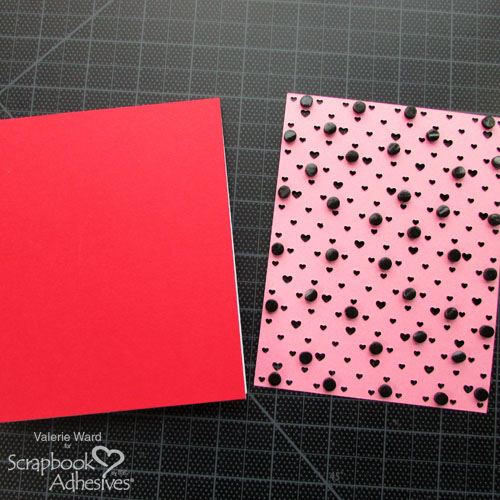 Step 3 – Adhere the Scalloped Circle
I used my E-Z Runner Permanent Fine Adhesive Dispenser to adhere the scalloped circle scene to the top of the card.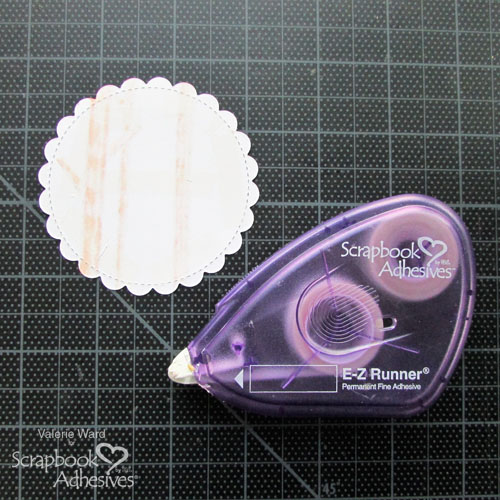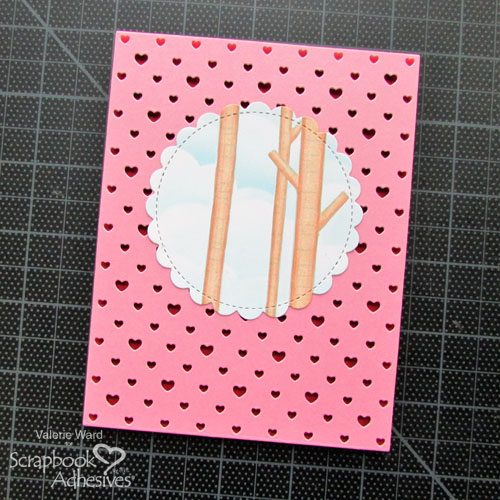 Step 4 – Assemble and Attach Koala & Banner
My colored images needed to be glued together, so for this step, I used my Dual Tip Glue Pen.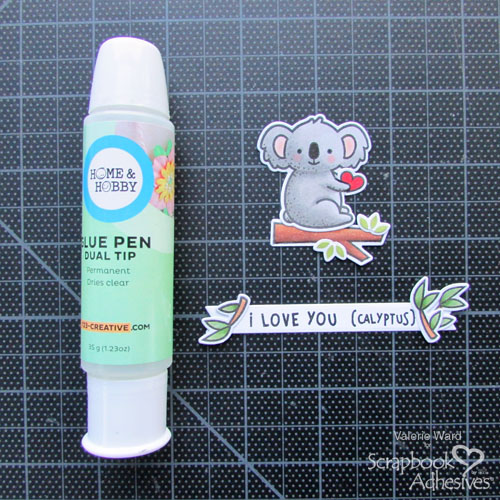 Once the images were glued together and dried, I flipped them over and attached 3D Foam Squares White Mix squares to the backs. I'm using white 3D Foam here so it blends better with the white papers.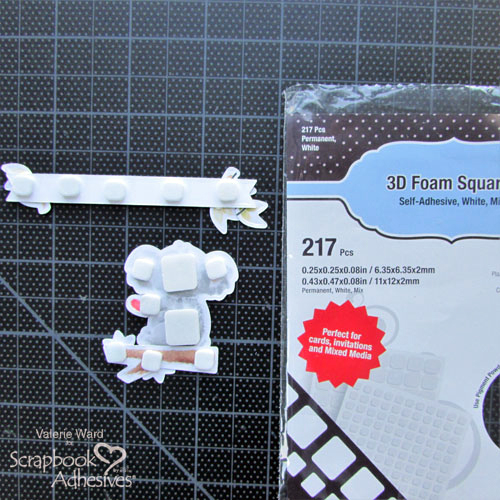 Then I applied the images to the front scalloped circle.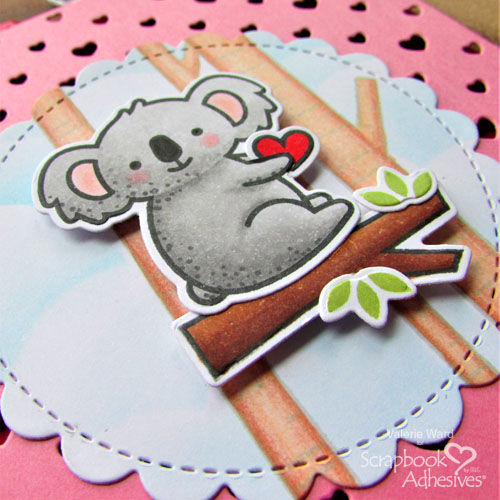 Here we are, all complete! A couple of images of the finished card 🙂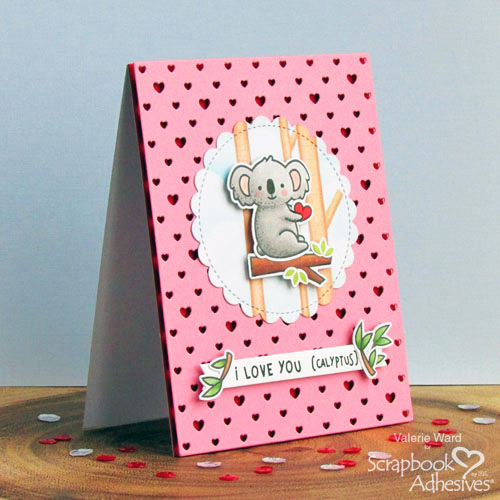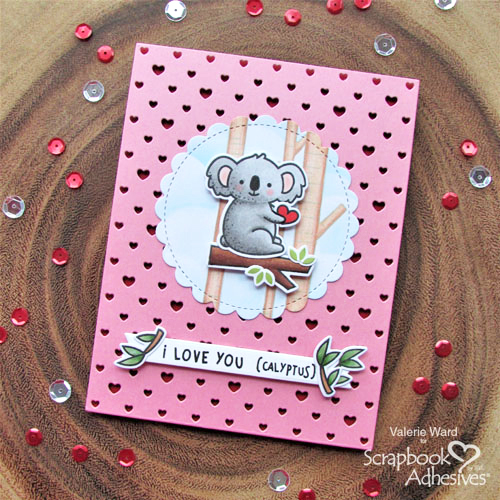 Thank you for joining us today! Have fun with your Valentine's Day cards for not only a special someone but for friends and family, also, because who doesn't like to receive Valentines?! I know I do!
Creative Time: 30 Minutes
Skill Level: Beginner
Materials Needed
Scrapbook Adhesives by 3L®
E-Z Runner® Grand Refillable Dispenser and E-Z Runner Grand Ultra Strong Refill
3D Foam Circle Black Mix
E-Z Runner Permanent Fine Adhesive Dispenser
3D Foam Squares White Mix
HomeHobby by 3L®
Dual Tip Glue Pen
Other
Heart Backdrop Craft Die; Scalloped Circle Craft Die; Banner Craft Die; Stamp and Coordinating Craft Die Set; Coloring Medium
Pin It!