Hi everyone, Yvonne here with a romantic Circle Frame Card with some gorgeous and easy to create details like a double bow and a glittered frame. Using the E-Z Squares® Refillable Dispenser it's super easy to create a glittered circle frame!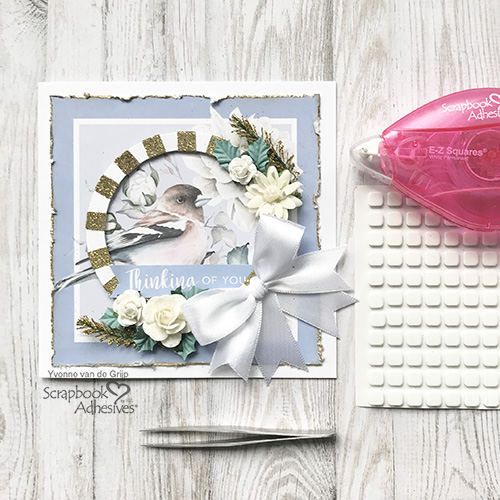 Bonus! I have the secret to transforming a single bow in a double-tailed bow is… well… let me first show you how to make the Double Bow Frame Card. Then I will let you in on my bow secret (wink wink)! Shall we get started?
The Circle Frame
Let's create the base of the frame by nesting two circle thin metal dies to die-cut a ring shape with white cardstock. I used washi tape to secure the dies to avoid shifting while cutting.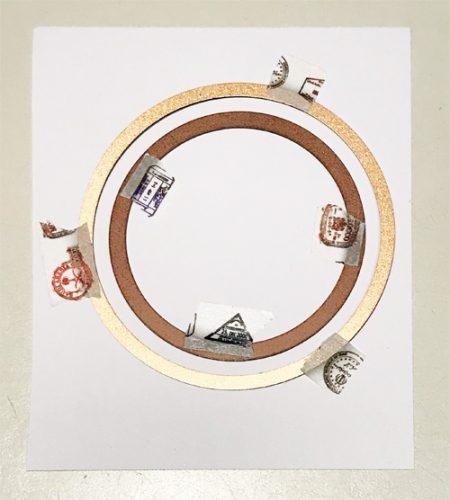 To start to embellish the frame, use tweezers to pick up a square from the E-Z Squares® Refillable Dispenser and place onto the circle frame. Repeat this step, leaving a small gap in between, until you complete the circle.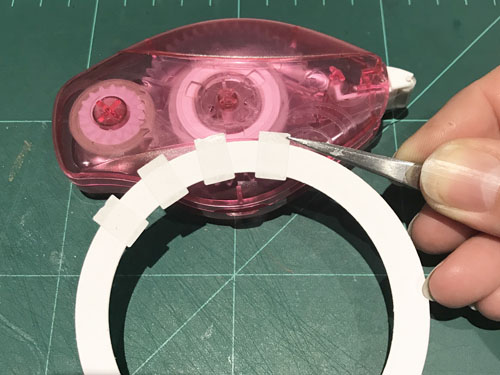 Next, fold in the square ends to the back of the frame.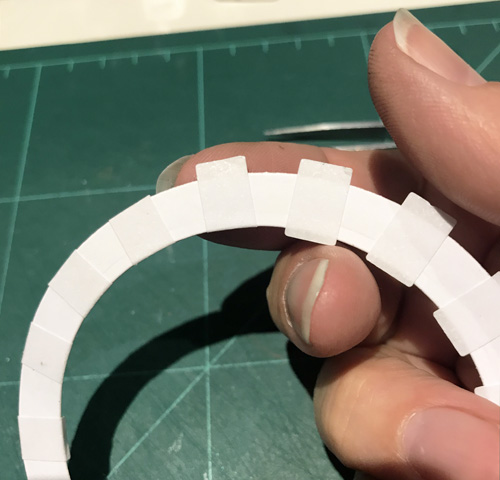 Sprinkle gold glitter embossing powder over the E-Z Squares. Make sure to press the powder into the squares to secure before tapping off the excess.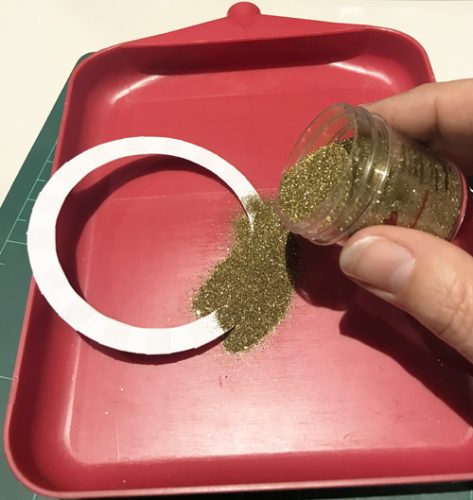 Use a heating tool to melt the powder. Yes…the E-Z Squares are heat resistant! This technique is called Wear Your Adhesive on the Outside.
The Card Panel
For my card panel, I used a pretty design from a patterned paper. Then adhere the glittered circle frame over the bird image with some 3D Foam Squares White Mix to create a beautiful dimensional effect.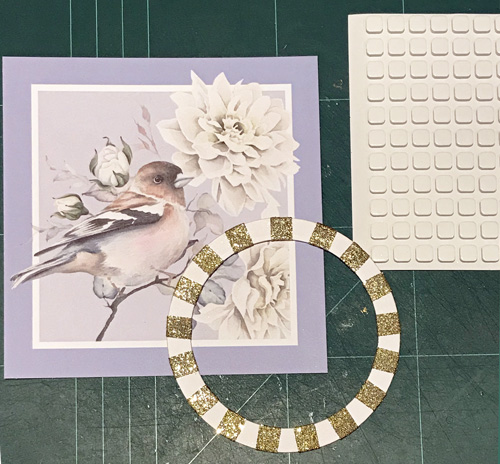 Lastly, distress the edges of the square image and slightly ink the edges using brown ink.
Fold a square card from white cardstock and adhere the circle frame card panel on top with the E-Z Squares® Refillable Dispenser.
Double Tail Bow
Let's start with a simple white satin bow and set that aside. Next, cut two pieces of white satin ribbon, cut the ends like a fishtail and adhere them together with Premium Double-Sided Tape 1/4in on the top, as shown in the picture.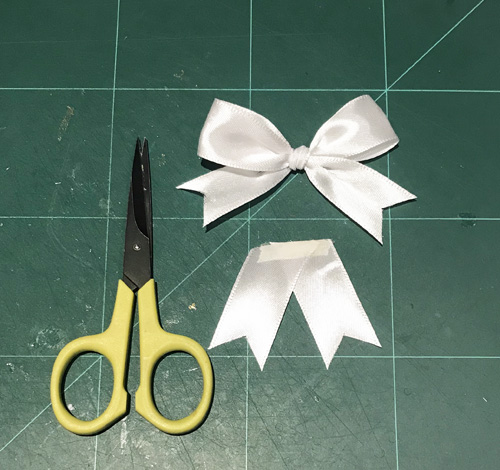 Connect the tails and the bow using Premium Double-Sided Tape 1/4in to create the double bow embellishment. Yep…it's that simple! Try it on your next card creation!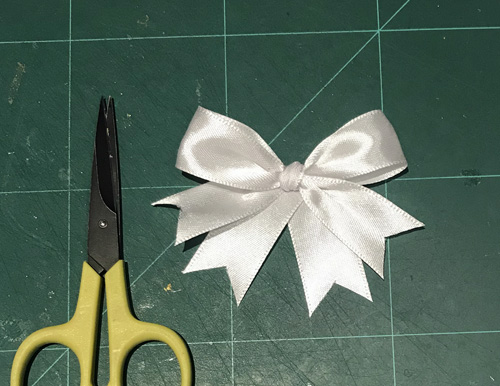 Embellishing Touches
Adhere the double tail bow to the circle frame with Premium Double-Sided Tape 1/4in. Lift and add the sentiment using 3D Foam Squares White Mix to the circle. Finally, use the Dual Tip Glue Pen to adhere clusters of flowers, stamens, and leaves around the bow.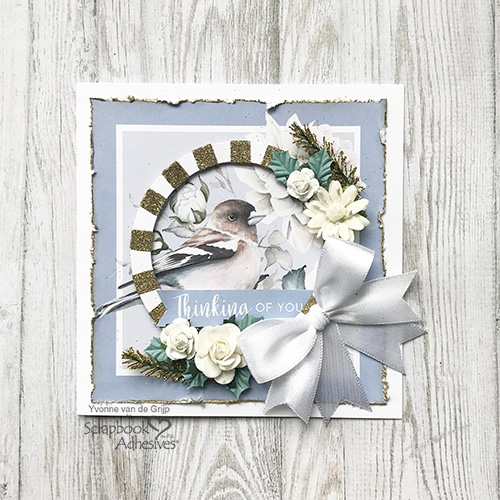 Voila…your Thinking of You Circle Frame Card is ready to be sent! I hope you enjoyed this tutorial and wish you happy crafting.
Yvonne van de Grijp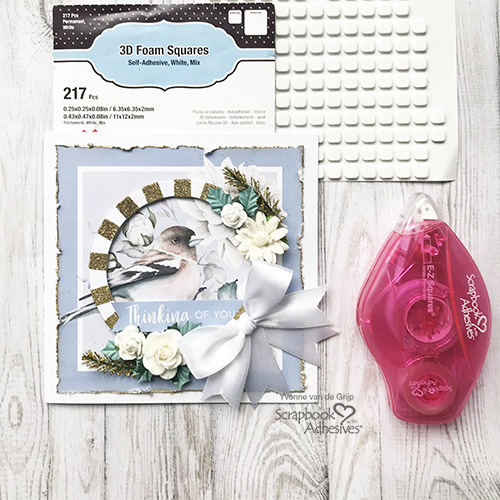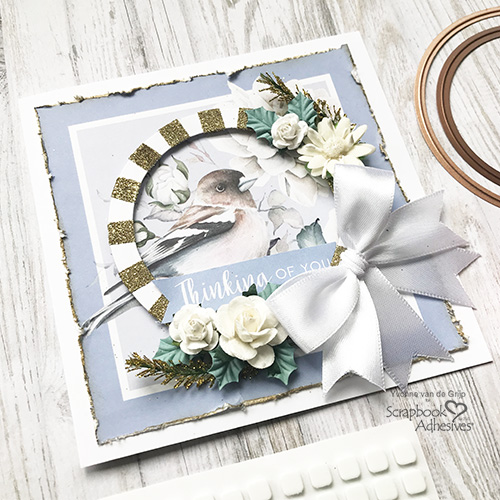 Creative Time: 30 minutes
Skill Level: Intermediate
Materials Needed
Scrapbook Adhesives by 3L®
E-Z Squares® Refillable Dispenser
3D Foam Squares White Mix
HomeHobby by 3L®
Dual Tip Glue Pen
Premium Double-Sided Tape 1/4in
Other
Etched Dies and Die Cutting Machine: Spellbinders® Paper Arts (Standard Circles Small, Standard Circles Large, Platinum 6 Machine); White Cardstock; Patterned Paper: The Paper Boutique (Morning Whispers 12×12" Paper Pad); Embossing Powder: WOW! Embossing Powder (Gold Tinsel); Heat Tool; Paper Distress Tool; Ink: Ranger Ink (Distress Ink in Frayed Burlap); Mulberry Flowers and Leaves; Stamens: White Satin Ribbon; Tweezers; Scissors; Washi Tape; Paper Trimmer
Save to Pinterest!