Edit to Add: The Insta Hop & Giveaway is Closed. Thank You for Participating!!
Congratulations to the winner, @pegasong! 🎉
What makes you happy? How about a Happy Llama birthday card created with our friends at Whimsy Stamps? Make it special by creating your own background with colors on your card. I make mine so I don't have to worry about having the right color of decorative paper on hand. Today's card shows how to make a pretty diagonal striped background with Crafty Power Tape and embossing powders to Wear Your Adhesive on the Outside. It's the final day of our collaboration with Whimsy Stamps over on Instagram so after you visit here, visit our hop! The link is towards the end of the post!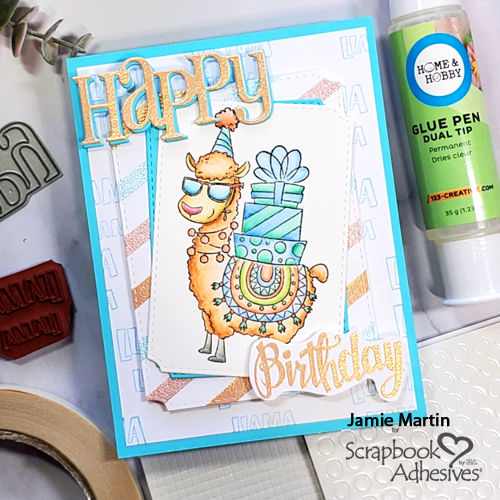 Happy Llama Card Background
Place rows of Crafty Power Tape diagonally across a panel of white cardstock.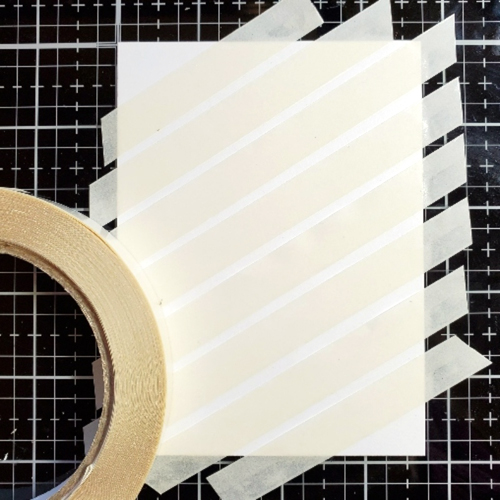 Remove the first liner from the tape and every third one. Sprinkle the tape strips with Ice Blue and heat emboss.
Remove the second liner and every third one and emboss with Rose Gold Embossing Powerd.
Now remove the remaining liners and emboss with Ice Pink Embossing Powder.
Die-cut the panel with a Notched Rectangle Die and set it aside.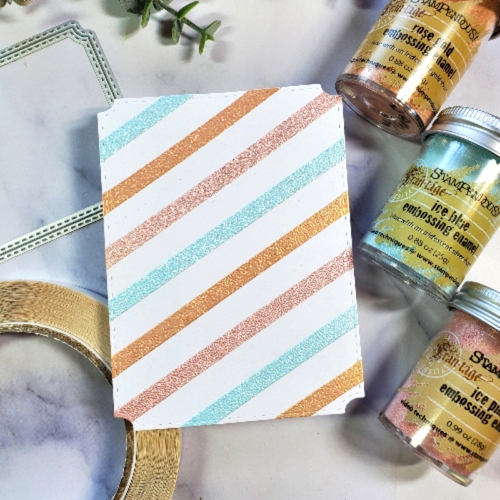 Arrange the Card Layers
Stamp the Llama on watercolor paper with Onyx Black Ink and emboss with Clear Embossing Powder.
Watercolor the image with Inktense Pencils.
Die-cut the Llama panel and a blue panel with a Notched Rectangle Die.
Glue these two panels together with Dual Tip Glue Pen and move the panels so they are offset and the blue panel is peaking out from behind the Llama.
Adhere this on top of the embossed panel using the E-Z Runner® Grand Dispenser and set aside.
Repeatedly stamp Llama on a white cardstock panel with light blue ink and attach to a blue card using the E-Z Runner® Grand Dispenser.
Pop up the completed panels on the card using 3D Foam Circles White Mix.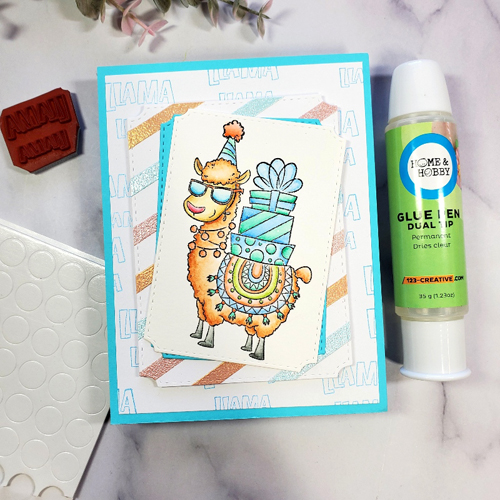 Let's Work on Happy
Apply a piece of an Adhesive Sheet to white cardstock, place the Happy Large Word die on top of the Adhesive Sheet and run it through your die-cutting machine.
Remove the liner from the top of the Adhesive Sheet, sprinkle with Rose Gold Embossing Powder and heat emboss.
Die-cut two additional Happy pieces from blue cardstock and glue these together using the Dual Tip Glue Pen.
Now glue the embossed Happy on top of the blue Happy, offsetting it so that the blue can be seen under it.
Place 3D Foam Squares Micro White underneath each letter at the top of the letter. Now place a second 3D Foam Square Micro on top of the first and pop it up on the card.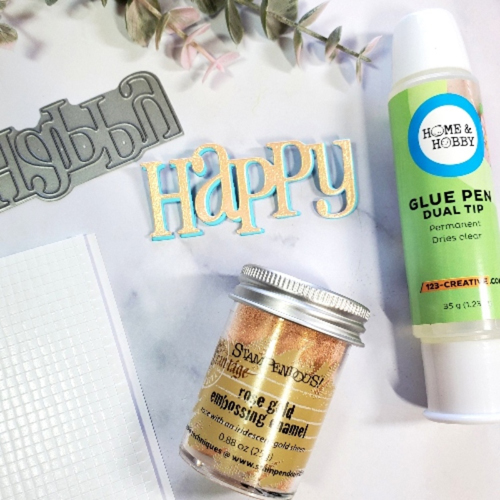 Stamp Birthday on white cardstock with VersaMark Ink, emboss with Rose Gold Embossing Powder and cut it out.
Pop this up on the bottom of the Llama panel using 3D Foam Circles White Mix.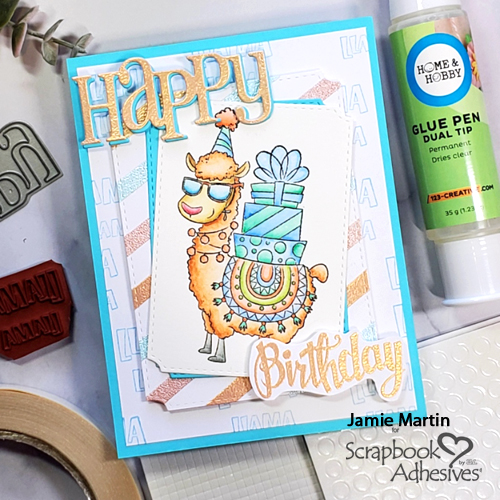 Creative Time: 60 minutes
Skill Level: Intermediate
Materials Needed
Scrapbook Adhesives by 3L
Crafty Power Tape Polybag 81ft.
E-Z Runner® Grand Dispenser
3D Foam Circles White Mix
3D Foam Squares Micro White
Adhesive Sheets 12 x 12-inch
Home Hobby by 3L®
Dual Tip Glue Pen
Other
Whimsy Stamps- Llama Birthday, Happy Large Word Die, Notched Rectangle Die Set Stampendous- Embossing Powders (Rose Gold, Ice Blue, Ice Pink, Clear) Inktense Pencils
Save to Pinterest!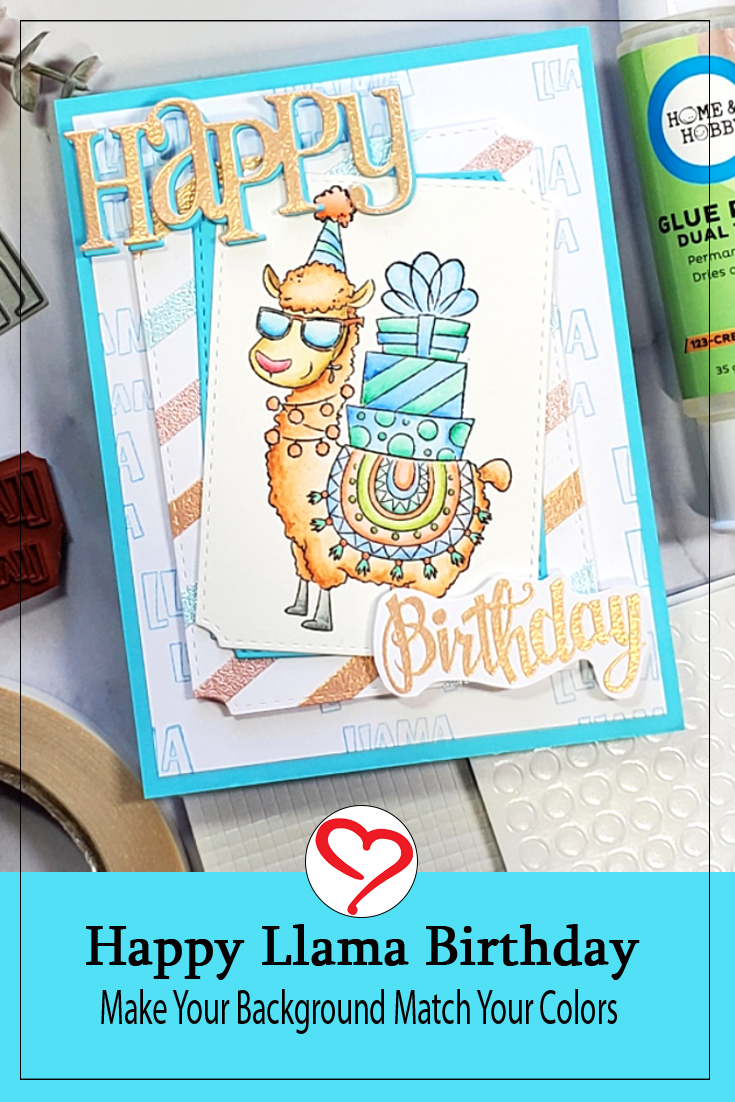 Instagram Hop & Giveaway with Whimsy Stamps!
Scrapbook Adhesives by 3L and Whimsy Stamps are collaborating on each company's Instagram accounts this week! It's Day 5 and the final day! We hope you are enjoying all the inspiration. Find this below image on Instagram for the other days' projects and details on our giveaways. To start, CLICK THE IMAGE & enjoy!!