Do you have someone that needs a pick me up? This You're the Bees Knee Pouch is the perfect solution! It's cute and so fun to make. I shared this project at a trade show in January and I am excited to show you. There are step-outs and then there is a video tutorial from the show. Let's get started!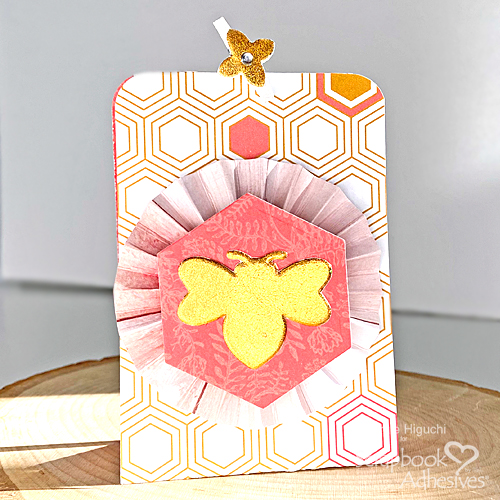 Bees Knee Pouch Base
With a piece of 3 x 10-inch patterned paper, score on the long side (10-inch side) at 4.25, 5.00 and 5.75 inches.
Round all four corners.
Burnish the score lines. Mountain-fold the middle score line (5-inch). Then valley-fold the other two score lines to create a W-shape.
Make the Rosette
On the long side of a 1.5 x 10.5-inch patterned paper, score at every 0.25-inch increments.
Then start with a mountain-fold on one end and accordion-fold through the strip. Make sure the other end ends with a mountain-fold.
Apply a strip of Premium Double-Sided Tape 1/8-inch on each side of the mountain of one end.
Remove liners and adhere the ends together to create a pleated ring.
Apply two to three Adhesive Dots 3D on a 1.5-inch circle and remove liners.
Place the pleated ring over the circle, form a rosette and press down onto the Adhesive Dots.
Embellish the Rosette
On a hexagon shape, center a 3D Foam bee. Remove the top liner and place a piece of Metallic Transfer Foil Sheet in Gold (color side UP). Rub gently to transfer the color.
Place an Adhesive Dot 3D in the center of the rosette and adhere the embellished hexagon on top.
Adhere the rosette in the center of the pouch with an Adhesive Dot 3D or an E-Z Runner Ultra.
Adding Final Touches to Bees Knee Pouch
Open the flap of the Keepsake Envelope and add item(s). Peel off the liner and seal the flap.
Take off the back liner of the Keepsake Envelope and place it inside the pouch.
Take off the top liner of a small 3D Foam flower and repeat the foiling step. Peel off and place on a mini clothespin. Add a rhinestone in the middle if desired. Then place the clothespin on top of the pouch to close.
You're the Bees Knees Video Tutorial
Materials Needed:
Scrapbook Adhesives by 3L®
Adhesive Dots 3D
Metallic Transfer Foil Sheets Holographic
3D Foam Garden Shapes
Keepsake Envelopes
3D Foam Creative Sheets White Small
E-Z Runner® Ultra Refillable Dispenser
Home Hobby by 3L®
Premium Double-Sided Tape 1/8in.
Other:
Patterned Papers: Photo Play Paper Co. (Honeycomb Patterned Paper from the Wild Honey Collection) and Pink Wood Panel Patterned Paper; Hot Foil System and Dies: Spellbinders® Paper Arts (Glimmer Hot Foil System, GLP-237 Just Bee-cause Glimmer Hot Foil Plates and Dies, DI-0290 Hexagon Die Set, and T-013 Tool 'n One 16 pc DIY Kit); Punch: Dress My Craft (1.5-inch Circle Punch); Corner Rounder; Scoreboard; Clear Rhinestones; White Mini Clothespin
Save it to Pinterest!