Hi friends! Dana here with you today sharing a fun upcycle tutorial. I hope you are all staying healthy and safe, and are finding some time to be creative while social distancing. One benefit of not being able to make a run to the craft store is that I'm finding ways to incorporate what I already have at home into my art. I've become aware of how wasteful I can be and am going to try to be more green in my crafting. Earth Day is next week, so my revelation couldn't have come at a better time!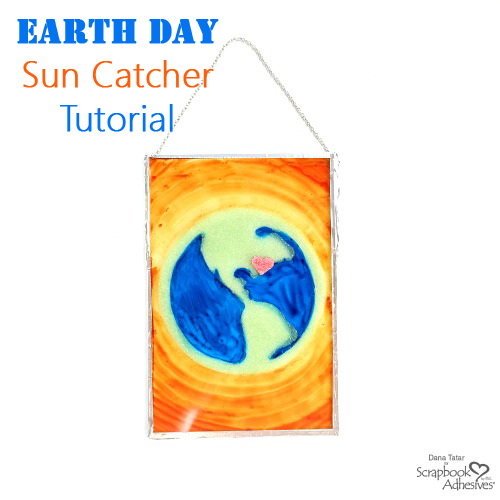 I upcycled the glass insert from the frame that I used for a previous Spring décor project, a segment of a broken necklace chain, and some of my favorite adhesive products to create this colorful Earth Day suncatcher. An everyday kitchen staple and some Double-Sided Tape were perfect materials to apply a faux soldered edge to the glass for a more polished finish.
Earth Day Suncatcher Embellishment
Adhesive Sheets adhere to a variety of surfaces, including glass! The clear permanent adhesive is perfect for this project where embellishments need to be translucent for light to shine through.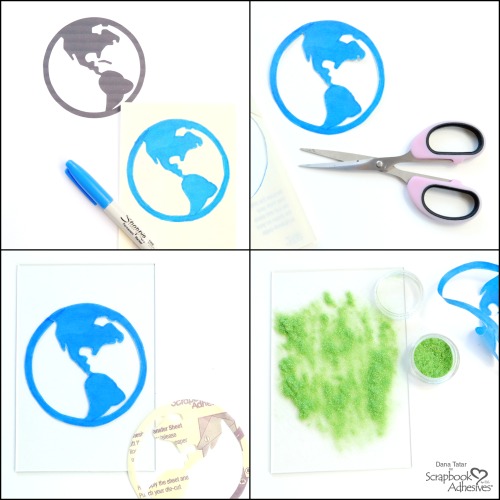 Begin by using a permanent marker to transfer a simple image of the Earth onto a 4×6 Adhesive Sheet. I used an icon from a word processing document for my design.
Next, use scissors to carefully cut away the Adhesive Sheet both inside and outside of the design.
Then, peel away the yellow liner and press the Earth embellishment onto the center of a piece of glass.
Finally, remove the top protective layer from the Earth die-cut and sprinkle on green flocking power. Tap away the excess powder and flip the glass over for the next step.
Adding Color to the Suncatcher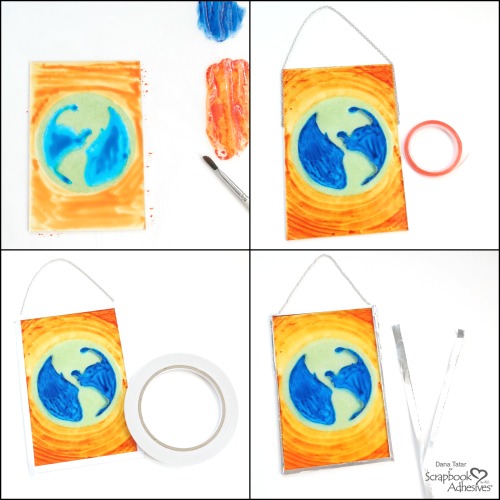 Apply glass paint to the back of the design and let dry.
Then, attach a length of chain to the glass for hanging. Start by cutting two short pieces of 1/8 inch Extreme Double-Sided Tape. Apply the tape to the top left and top right edges of the glass. Next, remove the red liner and press the chain onto the tape.
Cut pieces of 1/4 inch Double-Sided Tape to fit along the edges of the glass. Then, remove the white tape liners and press the tape around the edges of the glass, also coving the small length of the chain on the top sides of the glass.
To finish, press 1/4 inch strips of aluminum foil onto the double-sided tape.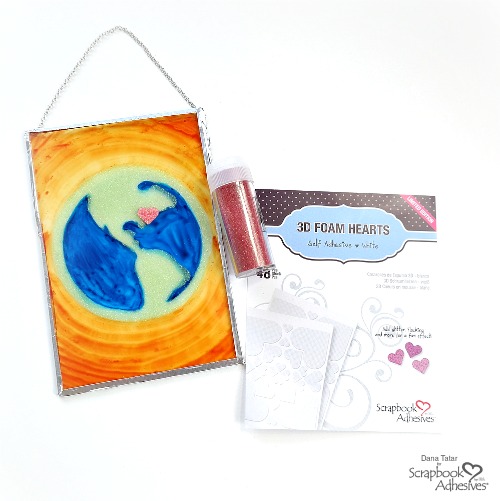 Lastly, apply a small 3D Foam Heart onto the Earth. Remove the top white liner and sprinkle on red glitter. Tap of any excess glitter.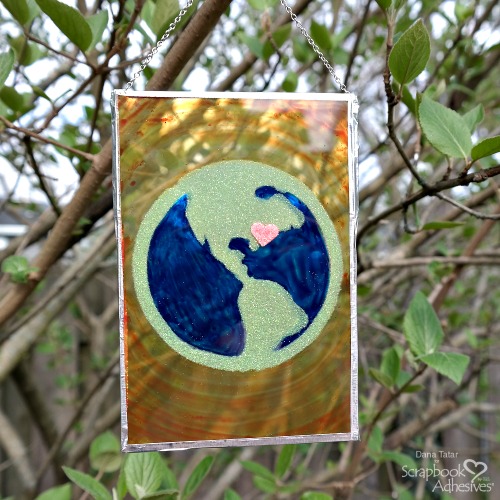 Hang in the sun and enjoy!
Designer Note: This project is not weather-proof. Hang the finished project inside where it can filter the sunlight but is safe from the environment.
I hope I have inspired you to create with recycled materials to celebrate Earth Day! If you don't have a piece of glass or glass paint on hand, try making this project using a clear plastic food container, permanent markers, and string.
Thanks for stopping by today!
~Dana
Creative Time: 60 minutes
Skill level: Intermediate
Materials Needed:
Scrapbook Adhesives by 3L®
3D Foam Hearts
Adhesive Sheets 6×12 inch
HomeHobby by 3L®
Extreme Double-Sided Tape 1/8″
Premium Double-Sided Tape 1/4″
Other
4×6 Glass Panel; Glass Graffiti (Clearsnap); Flocking Powder (Martha Stewart); Glitter; Permanent Marker; Aluminum Foil; Chain
Save It to Pinterest!