Did you know the Easter egg has special meaning?  Although Easter eggs are especially fun for children, egg hunts and Easter baskets, it also represents the Resurrection of Christ.
Hello, Terri here, with an Easter Egg card that features foil, adhesives and creative ways in personalizing your card.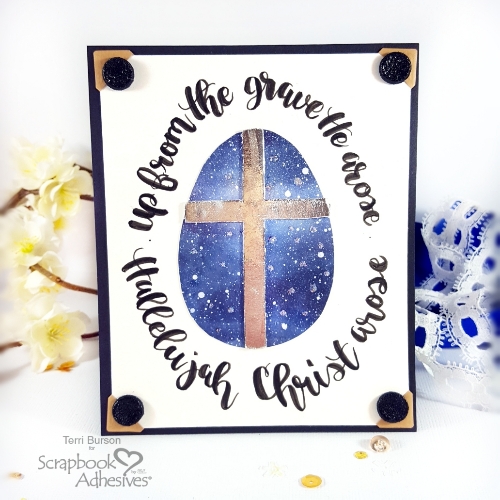 Personalizing an Easter Egg Card: Hand Cut versus Die Cut
If you don't have shaped metal dies for this project, fear not. Draw your own images and hand cut!  It doesn't get any easier than drawing an egg, so give it a try. Mine is approximately 3 inches and layered with various ink and splattered with acrylic white paint. You can also use pretty patterned paper, if you prefer. For the cross, use a ruler and trace onto the sticker backing of a foam sheet from the 3D Foam Creative Embellishment Kit. Make it a little larger than the egg, then trim the edges.  Lay silver foil on the foam cross, shiny side up, gently rub and peel back the lining.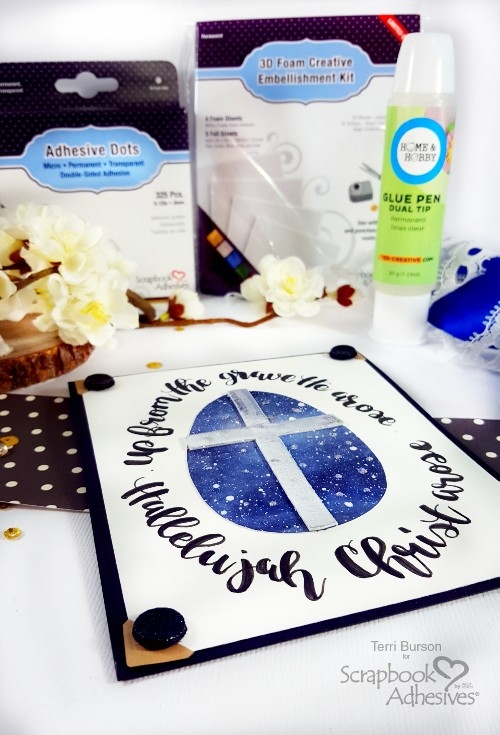 Other Creative Ways to Embellish
To enhance and give dimension to the card edges, use the Creative Photo Corners Kraft and the brand new 3D Foam Circles Black Mix, heating the top with black embossing powder. For a little sparkle, tap tiny dots of glue from the Dual Tip Glue Pen onto the egg, sprinkling with extra fine glitter. There are so many ways to Wear Your Adhesive On The Outside!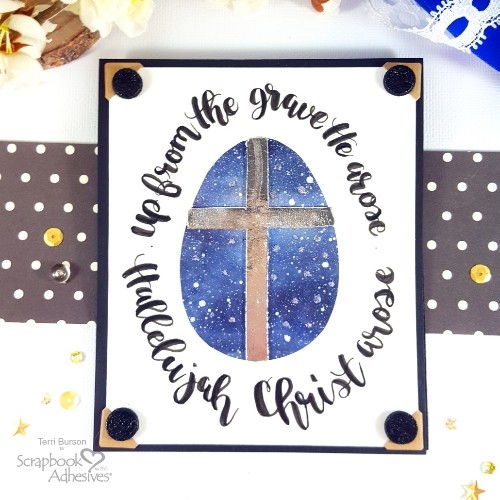 Finish with a Phrase or Sentiment
If you don't have lettering skills, simple handwriting looks great too!  Just pick your favorite phrase or quote and hand write plain or cursive, but take your time.  Don't rush!  I'm using lyrics from an old hymn for my quote.  A nice sentiment works as well if you prefer to stamp or add a die cut phrase.  Lastly, adhered the panel to a black top-fold card with the E-Z Runner® Grand Refillable Dispenser.
I've had several friends ask how I previously made this galaxy background. I hope to do a video soon, so be sure you're following me on social media if you're interested in this.
Check out this blog post for more Easter inspiration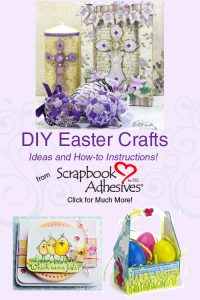 Scrapbook Adhesives by 3L®:
3D Foam Creative Embellishment Kit
E-Z Runner® Grand Refillable Dispenser
3D Foam Circles Black Mix
Creative Photo Corners Kraft
HomeHobby by 3L®:
Dual Tip Glue Pen
Other:
Fine-tip scissors, black cardstock, white mixed media paper, calligraphy pen, glitter, black embossing powder, trimmer.