Did you know our Adhesive Sheets are perfect for die cutting? Adhesive Sheets are a thin transparent layer of permanent adhesive between two liners. They provide strong, clear, edge-to-edge coverage of permanent adhesive. Use them with paper, fabric, ribbon, leather, and just about any media. They're perfect for acrylics and vellum paper too!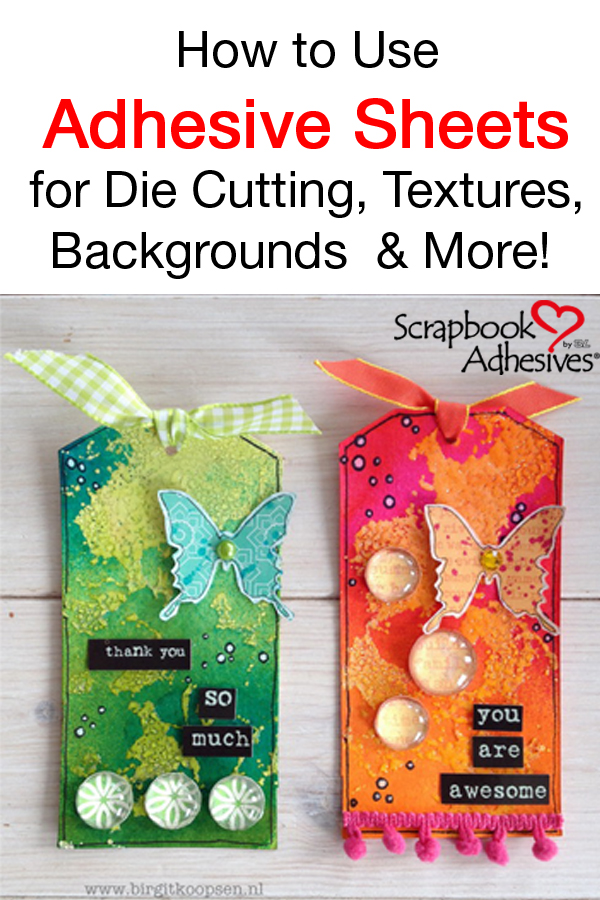 Adhesive Sheets are non-stringy and will not gum up or leave residue on dies, punches, scissors or other cutting elements. They work in manual and electronic die cut machines.
For additional flair, apply Adhesive Sheets to the front side of your project to Wear Your Adhesives on the Outside. Cover with Foil, glitter, embossing powder, pigment powder, micro beads, etc. See how Birgit Koopsen uses embossing powder on her tags, shown above.
Watch our quick video to see Adhesive Sheets in action:
Check out these fun and creative projects and tutorials by our Design Team!
Click on photo or text to get more details.
Find many more tutorials and inspiration, click this link.
How have you used Adhesive Sheets? Tag your projects on Instagram with #scrapbookadhesivesby3L and #adhesivesheets to show us!