Hi friends! Dana Tatar here today sharing how to create a piece of patriotic home décor using 3D Foam Strips and Transfer Foil Sheets. This red, white, and blue wood Uncle Sam is a great way to decorate for national holidays or to show your patriotism all year long.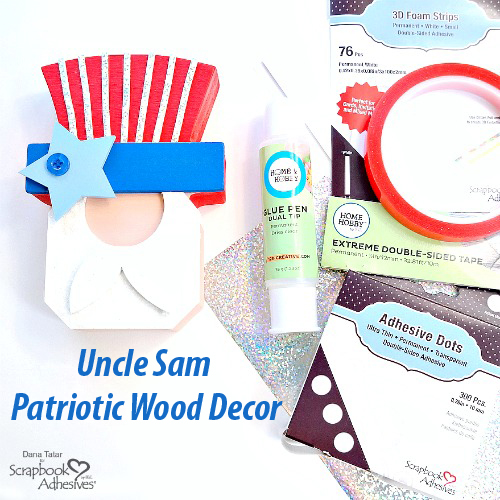 The summer months cover patriotic holidays in the US such as Memorial Day, Flag Day and 4th of July. These occasions are often celebratory in nature, and I enjoy gathering with friends and family, decorating, sharing a meal, and all the entertainment that goes with it. I know I will be able to display this décor piece several times a year.
How to Add Pizazz to Wood Décor
I started this fun project by first adding color to the wood pieces using acrylic paint. After the paint dried, I assembled the Uncle Sam using Extreme Double-Sided Tape. Once the décor piece was painted and assembled, it was time to embellish!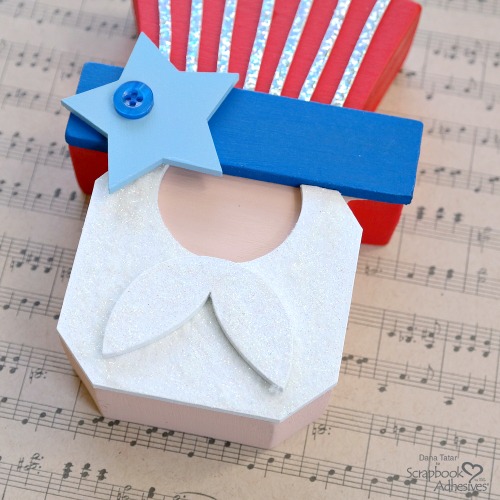 I added a soft sparkly finish to the beard by first applying a layer of glue using the 1/2-inch wide brush on the Dual Tip Glue Pen, and then sprinkling on glittered white flocking powder.
Next, I added a small button to the light blue wood star, securing the embellishment with an Adhesive Dot Medium.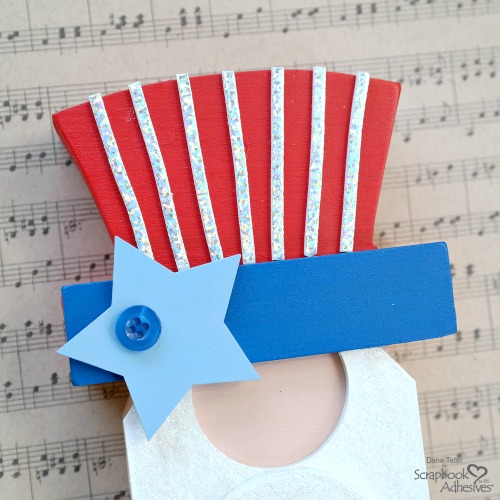 To add stripes to the Uncle Sam hat, I applied 3D Foam Strips to the top portion of the hat at a slight angle fanning out from the center. Next, I peeled away the easy release liner and pressed a piece of Holographic Metallic Transfer Foil over the adhesive. The shimmer really catches the light!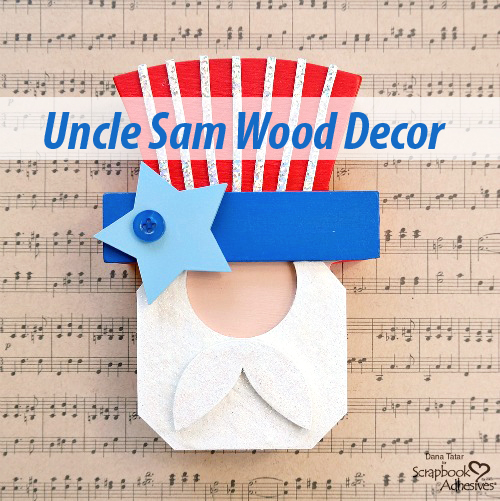 For me, Uncle Sam is a symbol of our great nation, and he serves as a great reminder to pause and give thanks to those who have made sacrifices to secure our freedoms. I want to give special thanks to my fellow military families and friends for their service.
More Patriotic Crafts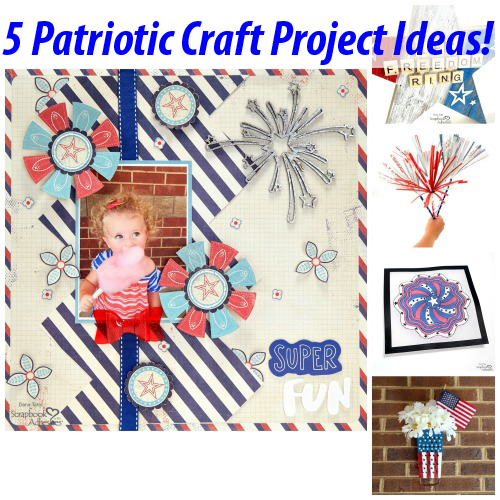 I've created a lot of super fun patriotic crafts over the years. Click on the links below for more of these themed crafts!
Patriotic Scrapbooking with Holographic Foil
Patriotic Wood Star Tutorial
Paper Sparklers Tutorial Featuring Premium Double-Sided Tape
Black Glue Patriotic Mandala Art
Stars and Stripes Grater Décor Tutorial
Thanks for stopping by today!
~Dana
Creative Time: 45 minutes
Skill Level: Beginner
Materials Needed:
Scrapbook Adhesives by 3L®
Metallic Transfer Foil Sheets Holographic Colors
Adhesive Dots Medium
3D Foam Strips
Home Hobby by 3L®
Dual Tip Glue Pen
Extreme Double-Sided Tape 1/2 Inch
Other
Uncle Sam Wood Decor: Foundations Décor; Acrylic Paint: DecoArt; Glittered Flock: Martha Stewart; Button
LOVE IT! SAVE IT TO PINTEREST!